What Polls Say about Booker, McGrath and McConnell in Kentucky Senate Race
Kentuckians will head to the polls Tuesday to decide which Democrat should challenge Senate Majority Leader Mitch McConnell in November and surveys show last-minute surprises.
A new Civiqs poll found Charles Booker, the state's youngest Black lawmaker, surging past former fighter pilot Amy McGrath. Of the 898 registered voters surveyed, 44 percent said they would vote for Booker while 36 percent said they would support McGrath. Four percent of voters polled said they would back progressive farmer Mike Broihier, another candidate for the party's nomination.
McGrath has long been presumed the frontrunner of the primary since the Democratic Senatorial Campaign Committee backed her bid in the summer of 2019. While independent polling of the contest has been sparse—the Civiqs poll was the first public survey—an internal poll from the Booker team released just last week showed her 10 points ahead and another released Saturday had her up by 7 points.
But Booker, a young progressive who supports policies such as Medicare for All and the Green New Deal, has gained momentum in the red state amid his visibility at protests over racial injustice and police brutality. Louisville, his hometown and legislative district, has been the center of the state's unrest following the police shootings of two black residents: Breonna Taylor, a 26-year-old EMT who was shot by police and killed in her own apartment, and David McAtee, a restaurant owner who was shot by the National Guard.
"We're going to win this primary," Booker told NBC's AM Joy on Sunday in response to the latest polling. "We're standing up as regular people fighting back for our future, fighting to end generational poverty and address structural racism, and to say that outside consultants will not dictate our future."
In response to Booker's surge in the polls, McGrath's campaign manager Mark Nickolas told Newsweek in a statement that she "has been outside of the political establishment her entire life, including during her 2018 campaign for Congress when she had to run against the national Democratic party" and that they "have faith that Kentuckians know Amy McGrath is the best candidate to fight for them and to defeat Mitch McConnell."
A spokesman for McGrath also said the campaign has three internal polls ending June 19 that show her leading by double-digits.
The sudden competitiveness of the race is evident by the millions of dollars each campaign has poured into last-minute advertising. According to the political ad tracker Medium Buying, McGrath is shelling out more than $3 million in television and radio spots ahead of the June 23 primary. Booker, who was late to put up any ads at all, purchased his first two statewide buys in these final weeks for just over $1 million.
As Booker and McGrath battle for the Democratic nomination, the Civiqs survey showed McConnell easily beating all of his challengers in potential general election races this fall. In a head-to-head matchup with McGrath, McConnell was ahead by 20 points, with 53 percent backing the incumbent and 33 percent of voters favoring her. Against Booker, his lead was cut down to 14 points—or 52 percent saying they'd vote for McConnell and 38 percent supporting the state legislator.
A large majority of polling conducted in the Kentucky Senate race has shown McConnell ahead, though it's usually been McGrath who is neck and neck with the top Republican. In one poll, conducted by RMG Group in early June, McGrath was ahead of McConnell for the first time. The poll showed 41 percent of voters backed McGrath while 40 percent supported McConnell. A week later, another survey showed McConnell back in the lead.
A Team Mitch spokeswoman told Newsweek that "Neither the self-proclaimed most progressive person in Kentucky nor Bernie Sanders's hand-picked candidate has a viable path forward in a matchup against Mitch McConnell."
Newsweek reached out to the Booker campaign but did not receive comment before publication.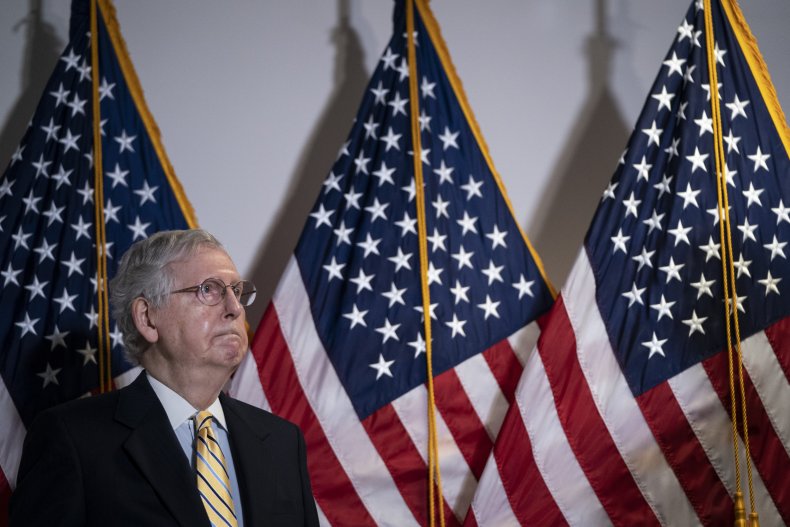 McConnell is also likely to receive a boost from President Donald Trump being at the top of the ticket in November. The president won Kentucky by a whopping 30 points in 2016. The Civiqs survey showed Trump ahead of Democratic nominee Joe Biden in the state by 20 points.
The Civiqs survey was conducted online from June 13 to June 15 and has a margin of error of plus or minus 3.8 percentage points.
Nonpartisan election forecasters like The Cook Political Report and Sabato's Crystal Ball also still see the Senate leader as favored to win his seventh straight term. They are currently rating the race as "likely Republican."