What Polls Say About David Perdue and Jon Ossoff 3 Weeks Before the Georgia Election
With limited polling to go off of, the Senate runoff election between Senator David Perdue and Democratic challenger is shaping up to be a close race with the two candidates within a point of each other.
The January 5 runoff election is just three weeks away and both Democrats and Republicans are pouring resources into the race. Most of the time, a runoff election wouldn't garner the level of attention that's currently on Georgia, but this year, the two runoffs will determine the control of the Senate as former Vice President Joe Biden begins his presidency.
Ossoff attracted 48 percent of support and Perdue earned 47 percent from a sample of 1,377 likely voters in a PoliticalIQ survey released on December 4. When narrowed to a group of people who say they will "definitely vote," Perdue comes out on top with 50 percent of the vote, compared to Ossoff's 47 percent. A survey released a day earlier gave Ossoff 50 percent support and Perdue 48 percent, a gap that's within the margin of error.
As of Monday, Ossoff has a 0.3 point lead on average over Perdue, according to FiveThirtyEight. The average only factors in post-election polling and given the limited number of surveys that have been done, pollsters caution people to take the exact numbers with a grain of salt.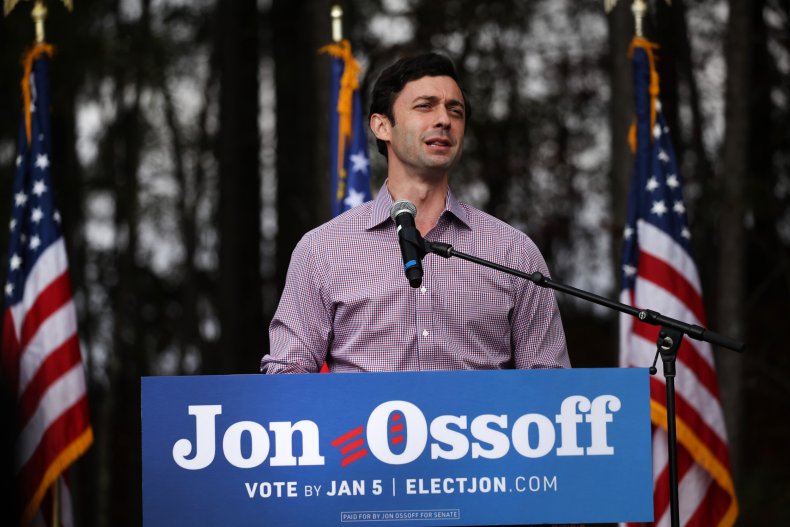 However, if the November election is any indicator of what's coming in January, Perdue isn't guaranteed a victory. In November, Perdue bested Ossoff by just 1.8 points, equivalent to about 88,000 votes. Had he been running in most states, Perdue would have been declared the winner but in Georgia, a candidate must receive at least 50 percent of the vote or it goes to a runoff election between the two candidates with the most votes.
One issue that may be on voters' minds as they head to the polls is another round of stimulus checks. While a bipartisan package is making its rounds through Congress, it doesn't include another round of stimulus checks, meaning the fate of another round could depend on the makeup of the Senate come January.
Ossoff has been a vocal advocate for another round of direct payments and critical of Perdue for opposing them. The incumbent senator said he "personally opposed" the measure but voted in favor of the CARES Act in March, which allocated $1,200 payments for eligible individuals. Perdue hasn't directly addressed the issue of another round of payments.
The deadline to register to vote was on Monday and more than 1 million votes requested mail-in ballots by Tuesday, according to the New York Times. Ryan Anderson, a data analyst in Atlanta, found more than 71,000 people who did not vote in the general election request mail-in ballots, suggesting that voter turnout for the runoff elections will be even greater than was seen in November.
In-person early voting is set to begin on December 14, but about 43,000 Georgia voters already returned their absentee ballots. Under Georgia's election rules, absentee ballots must be requested by January 1 and for them to count in the election, they must be received by January 5.
Mail-in voting benefited Biden in the November election and TK said President Donald Trump's criticism of mail in voting dissuaded his voters from using that method of voting and they didn't turn out on election day in the numbers he needed to win.
On Saturday, Trump posted on Twitter that people should request their absentee ballot "TODAY" and return it the same day they receive it. Voters who weren't casting their ballot by mail should vote early or on Election Day, Trump wrote in the tweet.