What the Polls Say About a Donald Trump vs. Joe Biden Election
The most recent polling suggests that former Vice President Joe Biden would comfortably beat President Donald Trump in a head-to-head general election match-up, despite many of Senator Bernie Sanders supporters raising concerns about his viability.
An average of recent national polls compiled by Real Clear Politics, illustrated in the graphic below provided by Statista, shows Biden beating Trump in a hypothetical match-up by six points, 50.3 percent to Trump's 44.3 percent. The oldest poll in the aggregate was conducted from February 5 to February 9.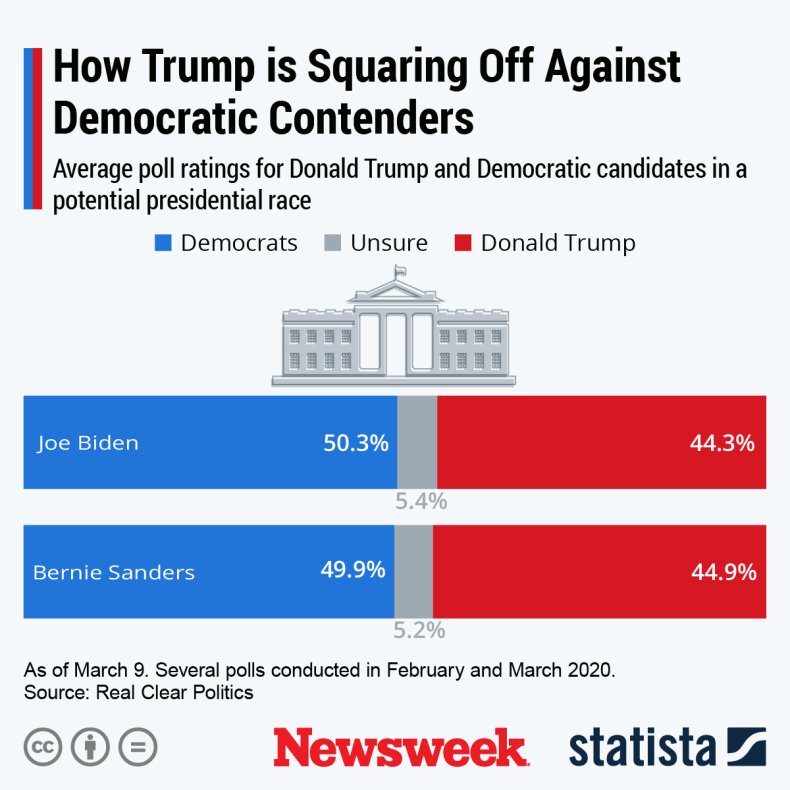 In Biden's best recent poll, conducted by CNN from March 4 to 7, he beats Trump by a full 10 points, 53 percent to the president's 43 percent. In a separate poll conducted by Yahoo News/YouGov at the end of February, Biden bests Trump by nine points, or 50 percent to 41 percent.
The CNN poll had a sampling error of 3.3 percent up or down, while the Yahoo/YouGov data could be off by as much as 3 percent. In both surveys, even with the margin of error factored in, Biden would still beat Trump in the general election.
One outlier poll, which showed Trump beating Biden by four points, was conducted by Emerson College between February 16 and 18. In that survey, the president took 52 percent compared with the former vice president's 48 percent.
Notably, Sanders, who is currently in second place for the Democratic nomination, also fares well against Trump in all recent national polls compiled by Real Clear Politics. His average is slightly lower than Biden's, coming out to five points ahead overall. At the same time, none of the recent polls, including the Emerson College survey, showed Sanders losing to Trump.
But Democrats learned in 2016 that national polling doesn't always provide an accurate picture of the election or voter sentiments. Former Democratic presidential candidate Hillary Clinton was at one point polling double digits ahead of Trump, but she went on to lose to Trump in the general election. Although Clinton won about 3 million more votes than Trump, she lost in the Electoral College after her Republican rival managed a series of narrow wins in battleground states.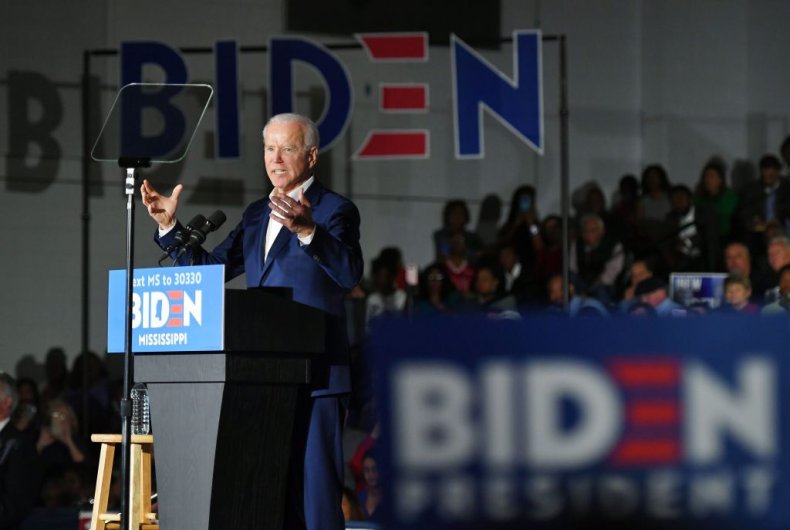 Regardless, Trump has definitely taken note of Biden's front-runner status and upped his attacks against the former vice president in recent days.
"The Obama/Biden Administration is the most corrupt Administration in the history of our Country!" Trump tweeted on Monday morning, taking aim at the former vice president and former President Barack Obama.There is no evidence that Obama or Biden acted corruptly while they led the country from 2009 to 2016.
Senate Republicans pushed forward with an investigation into Biden and his son Hunter's business dealings in Ukraine just as the former vice president surged toward front-runner status in the race for the Democratic nomination last week. Although GOP Senator Ron Johnson, who chairs the Senate Homeland Security and Governmental Affairs Committee, insisted that the probe was unrelated, Democrats argued that the timing was suspicious.
Trump also said last week that he will bring up Biden's connection to Ukraine repeatedly, if the former vice president becomes the Democratic nominee.
"That will be a major issue in the campaign. I will bring that up all the time because I don't see any way out," Trump told Fox News host Sean Hannity in an interview broadcast last Wednesday. "I don't believe they'll be able to answer those questions."
This article was updated to include an infographic.