What the Polls Say About Donald Trump vs. Joe Biden With Less Than 65 Days to the Election
Democratic nominee Joe Biden continues to lead President Donald Trump by significant margins in most national polls as well as surveys conducted in key battleground states, with just under 65 days left until the presidential election.
The FiveThirtyEight average of national polls shows Biden ahead by 8 percentage points, with the former vice president supported by 50.2 percent of voters, compared with the 42.2 percent who back the president. Real Clear Politics' average shows Trump down by a slightly lower margin, 6.9 percentage points, with Biden backed by 49.7 percent of voters, compared with the president's 42.8 percent.
Recent polls conducted in late August by The Economist/YouGov and The Hill/HarrisX show Biden leading by 9 points. In the former survey, the Democratic nominee was supported by 50 percent of voters, versus just 41 percent who backed Trump. The president was supported by just 38 percent in The Hill/HarrisX poll, while Biden was favored by 47 percent.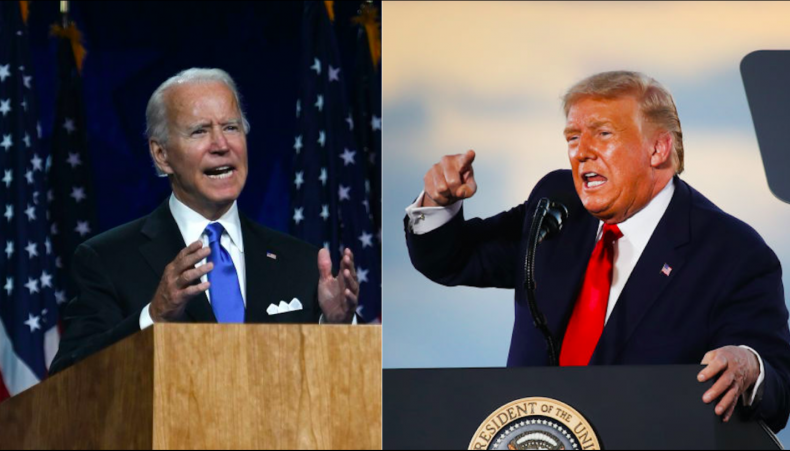 But polling by the conservative Rasmussen Reports shows a much narrower race, with Biden up by just 1 percentage point. That survey, which was carried out from August 19 to 25, shows Trump backed by 46 percent of voters, while Biden is backed by just 47 percent. Another mid-August poll, conducted by CNN, showed the Democratic candidate up by just 4 percentage points. In that poll, Biden was supported by 50 percent of respondents, as opposed to the 36 percent who backed Trump.
The most recent poll conducted by the University of Southern California's Dornsife college, from August 24 to 30, showed Biden with a double-digit lead over Trump. The Democrat was supported by nearly 53 percent of respondents, compared with less than 41 percent who backed Trump. Morning Consult's most recent poll, from August 29, shows Trump down 6 percentage points, with the backing of 44 percent of voters, compared with Biden's 50 percent.
When it comes to swing states like Florida, Michigan, Pennsylvania and Wisconsin, Real Clear Politics' averages show Biden leading in all four. These states are seen as key for the Democrats, as they went blue for President Barack Obama in 2008 and 2012 before shifting red for Trump in 2016. In Florida, Trump is down by about 3.7 percentage points, while he also trails Biden by 2.6 points in Michigan, 4.7 points in Pennsylvania and 3.5 points in Wisconsin.
Notably, Trump also appears to be down in Arizona—a traditionally conservative state that last turned blue for Democrats in the presidential election of 1996. Before that, the state was reliably red in presidential elections going back to 1952. Currently, the Real Clear Politics average for the state shows Biden with the backing of about 48 percent of voters, compared with 45.8 percent who support Trump.
Polling carried out by ABC News/Ipsos following the Democratic and Republican conventions, which were held over the past two weeks, showed that the majority of Americans disapproved of what the Republicans said and did during their convention, while the majority approved of the Democrats. Just 37 percent of voters approved of the Republicans, while 59 percent said they disapproved. Meanwhile, 53 percent said they approved of the Democrats, and 42 percent disapproved.
Trump and officials with his campaign have consistently dismissed negative polling, arguing that most pollsters are biased against the president and Republicans. They have pointed to the 2016 election, when most polls and analysts predicted that Clinton would win. Although Clinton ended up winning nearly 3 million more individual votes than Trump, the president won a series of victories in battleground states that propelled him to victory in the Electoral College.
But a couple of high-profile analysts who predicted Trump's win in 2016—based on their election models—now say they project that Biden will win. Earlier this month, academic Allan Lichtman, a history professor at American University, who has called every presidential election correctly since 1984, told Newsweek he is confident the Democratic nominee will beat Trump this year based on his model.
"This is the system that in defiance of the polls and the pundits predicted Donald Trump's win in 2016. Now, it is predicted that Trump will become the first president since George H.W. Bush in 1992 to lose a re-election bid," Lichtman said.