What the Polls Say About a Donald Trump vs Joe Biden Presidential Matchup
Nearly all recent polls show Democratic presidential candidate Joe Biden beating incumbent President Donald Trump in a hypothetical general election matchup, with several surveys even showing the former vice president in the lead by double digits.
Biden has not yet secured the Democratic presidential nomination, and progressive Senator Bernie Sanders of Vermont is still seeking to be the party's nominee. But the former vice president is significantly ahead of Sanders in the race for pledged delegates, and is widely expected to enter the Democratic National Convention in July with the majority he needs to secure the nomination.
Currently, national polling suggests that Biden is the frontrunner in the general election as well. An average of recent surveys compiled by Real Clear Politics shows Biden ahead of Trump by about 6.5 points.
A poll by Harvard and Harris conducted from March 24 to 26 shows Biden beating Trump by 10 points, with 55 percent compared to the president's 45 percent. Sanders would also beat Trump in that survey, albeit by a narrower margin of 6 points, 53 percent to 47 percent.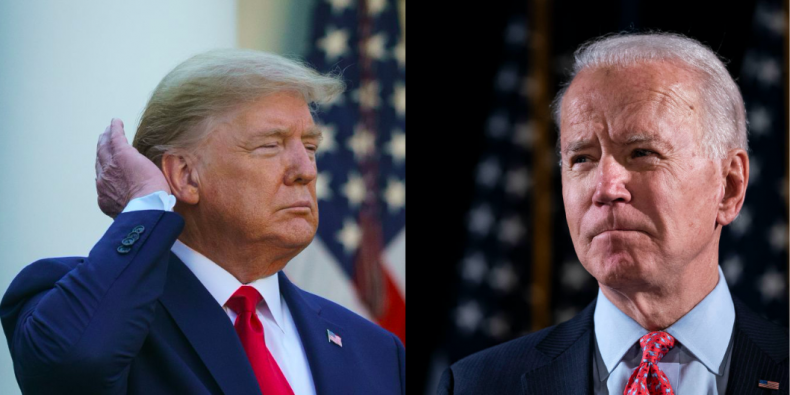 Earlier this month, Fox News released its latest election poll, showing Biden ahead of Trump by 9 points. The former vice president was supported by 49 percent of respondents while the president was backed by just 40 percent. However, 11 percent of respondents in that survey said they were not sure who they would back, or supported a different candidate.
In a survey conducted by Quinnipiac from March 5 to 8, Biden was ahead of Trump by 11 points, 52 percent to 41 percent. Similarly, CNN showed Biden ahead by 10 points, while an NBC News/Wall Street Journal poll had Biden up by 9 points.
At the same time, other polls have shown a much closer race. An ABC News/Washington Post survey published on Sunday had Biden and Trump nearly tied, 49 percent to 47 percent. Additionally, that polling showed that Trump's supporters are largely more enthusiastic than those backing Biden.
While 74 percent of Biden's supporters say they are enthusiastic about the former vice president's campaign, a full 86 percent said the same of Trump. Perhaps even more concerning for Biden, however, is the fact that 55 percent of Trump's supporters said they were "very enthusiastic," while just 28 percent of Biden's backers said the same.
The Washington Post noted that a lack of enthusiasm in the poll during past elections had signaled a loss in November for both Democrats and Republicans. If supporters are more enthusiastic, they are more likely to vote in the election, while unenthusiastic supporters could be more likely to stay home from the polls.
Additionally, as Democrats learned in 2016, significant leads in national polls do not necessarily translate to victory in the presidential election. Former Democratic presidential candidate Hillary Clinton was ahead of Trump by double digits in numerous polls in early and mid-2016. Although Clinton did end up winning nearly 3 million more votes overall, Trump won the Electoral College by pulling off a series of victories in battleground states.
The races in some of those key states–which include Michigan, Wisconsin, Pennsylvani,a and Florida–appear close, according to averages compiled by Real Clear Politics. Currently, Trump appears to be narrowly ahead of Biden in Florida, while the race looks close in Wisconsin. Meanwhile, Biden appears to have narrow leads in Michigan and Pennsylvania.