What Polls Say About GOP Support for Trump Amid 2024 Presidential Run Rumors
Former President Donald Trump hasn't ruled out making another bid for president and polls indicate he could have majority support among Republicans.
Trump maintained his hold on the GOP after leaving office and despite some efforts to move the party past him, the former president established himself as the leader. A clear frontrunner for the Republican nomination for president, it's likely that if Trump enters the race, other GOP hopefuls will take a back seat.
Rumors started swirling about Trump's 2024 run after Undercurrent News journalist Lauren Windsor reported that Representative Jim Jordan told her Trump would announce his bid "any day now." Jordan's spokesperson denied he made the remarks, prompting Windsor to release a video of the congressman saying he spoke with Trump and he "knows" he'll run.
Trump's spokesperson denied the former president told Jordan he's running and told Newsweek that an announcement about a 2024 run wasn't imminent.
The former president has teased a run for months. He often said his decision would make people very "happy" and those close to the former president have expressed the belief that he would run for president again.
"I think he's gonna run. I want him to run. He's proven he can take the heat. We're at a moment now where you've got to have someone who's willing to fight, willing to stand up to all the abuses," Jordan, an ardent supporter of Trump, said on Thursday, according to The Des Moines Register.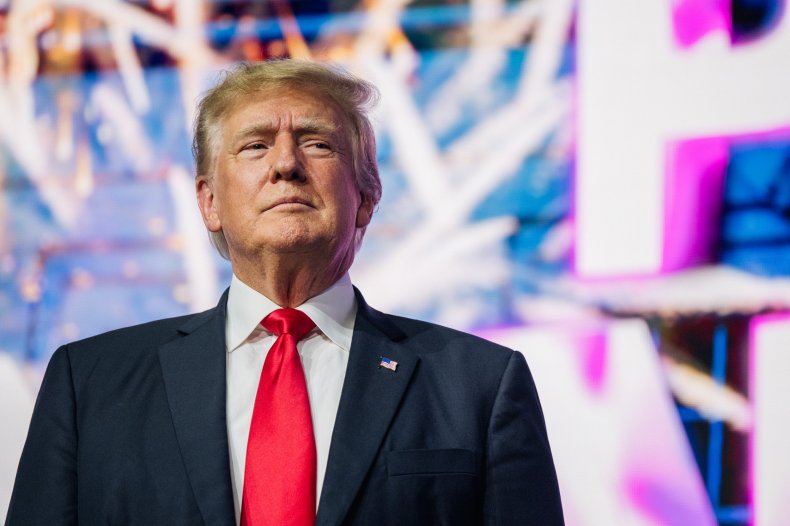 The former president came out on top of a Conservative Political Action Conference (CPAC) straw poll in March and only increased his support over the coming months. When attendees of CPAC in July were asked who they wanted to see run for president, 70 percent said they wanted Trump. It was a 15 point increase from the poll in March.
While the CPAC straw poll isn't necessarily reflective of Republicans as a whole, Trump has been the leading contender in a number of surveys. A May Quinnipiac poll showed a majority of Republicans surveyed backed Trump and a July Hill-HarrisX poll found 55 percent of registered Republican voters would consider voting for the former president.
When it comes to Trump entering the presidential race, there's a partisan split on whether it would benefit or hurt America. More than 70 percent of Republicans think a 2024 Trump ticket would be good for the country and 95 percent of Democrats think it would be bad, according to an August Quinnipiac poll. A little over 60 percent of Independents think Trump shouldn't run.
Another poll, conducted by Echelon Insights and the Washington Examiner, found 60 percent of registered voters don't want Trump to mount his third campaign. However, when broken down by political party, nearly 70 percent of Republicans surveyed would likely cast their ballot for Trump.
Trump maintains that he was the true winner of the 2020 election and that President Joe Biden only ended up in the White House because of supposed election fraud. However, none of the former president's lawsuits successfully proved there was widespread fraud that changed the results of the election and evidence has yet to come out to support his claims.
A vocal critic of Biden's handling of the COVID-19 pandemic and the withdrawal of troops from Afghanistan, Trump's accused his successor of undoing the work he did while in the White House. Along with potentially mounting his own campaign, Trump has vowed to help Republican candidates that espouse his America first agenda in the 2022 midterm elections that could give the GOP control of Congress.
Given the potential for Republicans to regain control of Congress, Jason Miller, Trump's former senior advisor, said in January that the former president is focused on the 2022 midterms. However, that doesn't mean it's the former president's only political ambition.
When asked about the likelihood that Trump will run in 2024, Miller told Cheddar News on Friday that it's between "99 and 100 percent" that he will join the race.
"Had a good conversation with him last night," Miller said. "He has not said the magical words to me but if you talk to him for a few minutes it's pretty clear that he's running."