What Polls Say About Kelly Loeffler and Raphael Warnock 2 Weeks Before Georgia's Election
Candidates in Georgia's crucial Senate runoff elections have just two weeks to campaign and appeal to voters until the polls close on January 5. In the case of Republican incumbent Senator Kelly Loeffler and Democratic challenger Reverend Raphael Warnock, their contest is poised to be a battle to the very end.
Loeffler, who Governor Brian Kemp appointed to fill a vacant seat in 2019, trailed Warnock in the November election by seven points. However, Warnock fell short of the 50 percent threshold needed to be declared the winner.
With early in-person voting underway, the two candidates are in a close race, according to polls.
Averaging the limited number of polls that have been done since the November election, FiveThirtyEight put Loeffler and Warnock each at 48.4 percent support.
An Emerson College poll conducted between Monday and Wednesday gave Loeffler a slight edge over Warnock. Of the 605 voters polled, 51 percent said they were supporting Loeffler and 48 percent said they were going for Warnock.
An identical split was found in the race between Republican incumbent Senator David Perdue and Democratic challenger Jon Ossoff. The gap between the candidates is within the poll's margin of error.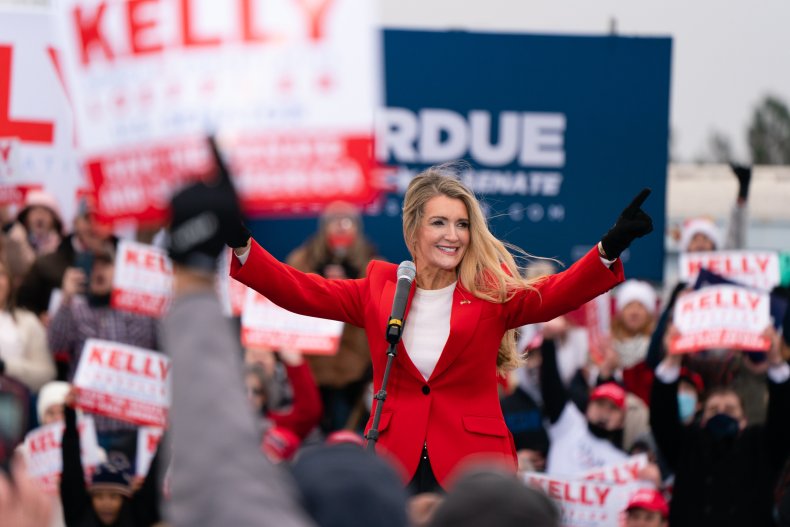 Mail-in ballots have already been returned and early in-person voting began on Monday in Georgia. Emerson's poll found 61 percent of people who already voted went for Ossoff and 70 percent of voters who were planning on casting their ballots on Election Day were going for Loeffler.
Male voters are braking for the Republican Senate candidates 53 percent to 47 percent, and Loeffler has a slim advantage of one point over Warnock with female voters. Of the four biggest issues for voters—the economy, COVID-19 response, health care, and social justice—Loeffler dominates with voters who see the economy as their top issue.
However, Warnock has more than 60 percent of support from voters who listed any of the other three issues as their biggest concern. His strongest polling, at 79 percent, was among voters who put social justice at the top of their list.
Democrats and Republicans are pulling out all the stops for the two Georgia runoff elections, with big names within their parties heading to the Peach State to rally the vote. President-elect Biden urged voters to cast ballots as if their lives "depended on it," because, he said, they did.
With Ossoff and Warnock in office, Biden said it would be helpful for him passing additional COVID-19 relief because their support would counteract people in Congress who were "threatening to do everything in their power to block our efforts."
In his visit to Georgia, Pence attempted to rally voters by hammering home the necessity of having a Republican-controlled Senate. If Loeffler and Perdue lose their seats, there will be a 50-50 split, giving Democrats control in the event of a tie because Vice President-elect Kamala Harris will cast the deciding vote.
With a 50-50 split in the Senate, Democrats would have control of both chambers of Congress and the Executive Branch, giving up the Republicans' last "line of defense" against the "radical left" agenda, according to Pence.