What Polls Say About Kelly Loeffler and Raphael Warnock 3 Weeks Before Georgia's Election
Senator Kelly Loeffler is battling Reverend Raphael Warnock to keep her seat in the Senate and the candidates have just two days to win voters over before in-person early voting starts on Monday.
This is Loeffler's first campaign since Governor Brian Kemp appointed her to fill the seat Senator Johnny Isakson left vacant when he retired in January. The junior senator trailed Warnock in the November election by seven points, but since no candidate received 50 percent of the vote, as is required under Georgia's laws, the two are headed for a runoff election on January 5.
On average, Warnock has a 2.2 point lead over Loeffler in post-election polls, according to FiveThirtyEight. A SurveyUSA/11 Alive poll released on December 3 found Loeffler trailing Warnock by seven points, a significant increase from polls conducted closer to the November election. However, a poll released by Trafalgar Group the next day gave Loeffler the advantage by about 5 points.
With control of the Senate on the line, both parties are focusing resources on the runoff elections. President Donald Trump ventured to Georgia to drum up support for Loeffler, as well as Senator Perdue, who is in a runoff election of his own, and Vice President Mike Pence paid a visit to Georgia for a rally on Thursday.
Jon Ossoff, who is fighting for Perdue's seat, got his wish that President-elect Biden would visit the state and on Tuesday, Biden will campaign for the two Democratic challengers.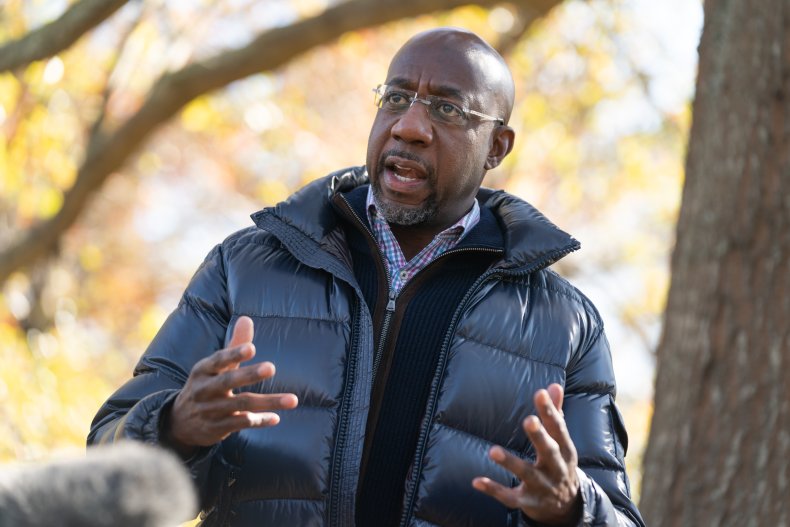 Biden campaigning for Ossoff and Warnock "proves" Democrats are taking the runoff seriously, Bill Stepien, Trump 2020 campaign manager said in a statement. Since they're taking it seriously, Stepien said Republicans should be as well, calling it "imperative" that Perdue and Loeffler return to Washington, D.C. to "hold the line against radical leftist."
"While President Trump continues his legal battle challenging the election, it is still of the utmost importance for Republicans to retain control of the Senate. Every Georgian should either vote early for Perdue and Loeffler or turn out on January 5th," Stepien said.
Trump, his campaign and many of his allies are pushing people to get out to vote to counteract messaging from some people that voters should sit this one out in protest. Lin Wood, a prominent Atlanta-based attorney, encouraged Trump's supporters to withhold their votes if Perdue and Loeffler didn't publicly push for an investigation into the results of the November 3 election.
During Sunday's debate, Loeffler sidestepped the question as to whether Trump won the election, saying that it was "very clear" that there were issues and investigations had to be completed quickly. She added that the president has "every right" to use the legal avenues available to him and on Wednesday, she threw her support behind the Texas Supreme Court lawsuit.
"We fully support President Trump's legal recourses and Attorney General Paxton's lawsuit. The President has every right to use every legal recourse available to guarantee these simple principles: every lawful vote cast should be counted, any illegal vote submitted cannot be counted, and there must be full transparency and uniformity in the counting process," Loeffler said in a statement with Perdue.
Although Loeffler garnered fewer votes than Warnock in the first matchup in November, part of her support may have been siphoned off by Representative Doug Collins. The Republican representative received 20 percent of the vote, so without him in the equation, it's possible his voters could support Loeffler.