What Polls Say About Kelly Loeffler and Raphael Warnock 4 Days Before Georgia's Election
GOP Senator Kelly Loeffler is trailing Democrat Raphael Warnock in the polls as the candidates make their final push for Georgia voters' support ahead of January 5's runoff election.
The election normally wouldn't gather the attention that Georgia's receiving, but people across the country have a vested interest in which party wins the two runoff elections. If Warnock and Jon Ossoff, the two Democratic challengers, are able to unseat Loeffler and Senator David Perdue, Democrats will control both chambers of Congress as well as the White House.
However, if the Republican senators are able to keep either of their seats, Republicans will keep control of the Senate.
On Wednesday, JMC Analytics released a poll, the most recent, of 500 likely voters. Warnock had a 9-point lead over Loeffler, with 3 percent of voters still undecided. Warnock also had the advantage over Loeffler with undecided voters, garnering 54 percent support when they were asked whom they were leaning toward.
A poll from Trafalgar Group released this week also gave Warnock the advantage, although by a much slimmer margin. Of those polled, 47.1 percent were supporting Warnock and 46.8 percent planned to vote for Loeffler. A week before, Trafalgar Group's survey put Loeffler in the lead, with a 48.3 to 41.2 percent advantage over Warnock.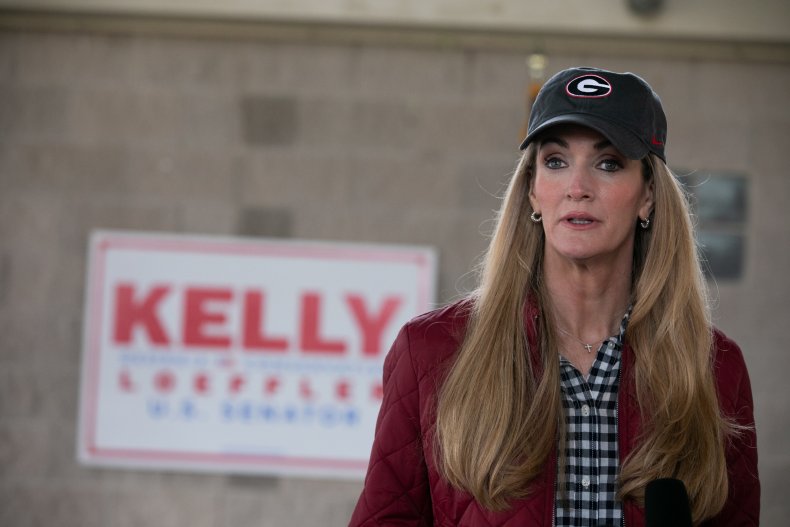 Georgia Governor Brian Kemp appointed Loeffler to her Senate seat after Senator Johnny Isakson retired in 2019. In the November election, Loeffler received about 26 percent of the vote and Warnock had about 33 percent. Since no candidate received 50 percent, a requirement for victory in Georgia, the election went to a runoff.
Potentially working in Loeffler's favor is that this time around, GOP Representative Doug Collins, who received 20 percent of the vote, won't be on the ballot. However, Stacey Abrams, a former gubernatorial candidate who's credited with helping President-elect Joe Biden take Georgia, is confident Democrats will be successful on January 5.
More than 36 percent of voters have cast ballots in the runoff, equivalent to more than 2.8 million people, and of those, more than 100,000 did not vote in the November election. While there isn't any information about how those people voted, Abrams told CNN the numbers "tell their own story," pointing to the "disproportionate" number of new voters under 29 and people of color.
The early-voting turnout rate is exceeding that seen in November, and the number of non-Hispanic Black people that voted early in the runoff is about 10 percent higher, according to the United States Elections Project.
"Raphael Warnock and Jon Ossoff have done an exceptional job of engaging voters, increasing participation and leading the kind of turnout that we need to win this election," Abrams told CNN's New Day on Monday.
"We are seeing active engagement across the state, including in rural parts of the state among Black and brown voters. We are seeing turnout rates that are incredible for the state of Georgia."