What Polls Say About Kelly Loeffler and Raphael Warnock One Month Before Georgia's Election
Senator Kelly Loeffler received fewer votes than her Democratic challenger Raphael Warnock in the November election and going into the runoff election she trails him in polling.
Loeffler, who was nominated to fill Senator Johnny Isakson's seat after he retired, trails Warnock by seven points in a Thursday WXIA-TV poll, the latest to be released. It's a wider margin than has been seen in post-election polling and of the three most recent polls, Loeffler has the advantage in only one of three recent polls.
In the WXIA-TV poll, Warnock leads Loeffler 52 percent to 45 percent and the SurveyUSA pollsters, who conducted the survey, said his advantage comes from Democrats refusing to vote for Loeffler. Only one percent of Democrats that were surveyed said they would vote for Loeffler and Warnock holds onto 97 percent of support from his party.
Loeffler also has a firm grip on Republicans, but at 92 percent, it's not as strong as Warnock's appeal to Democrats. But, when it comes to President Donald Trump's supporters, Loeffler has slightly more support than the GOP as a whole, at 94 percent.
Trump is expected to visit Georgia for a Saturday rally to drum up support for Loeffler and Senator David Perdue, who is also facing a runoff election on January 5. The president pushing for his supporters to cast ballots for Loeffler may be necessary to help counter the voices that are encouraging GOP voters to withhold their vote out of protest.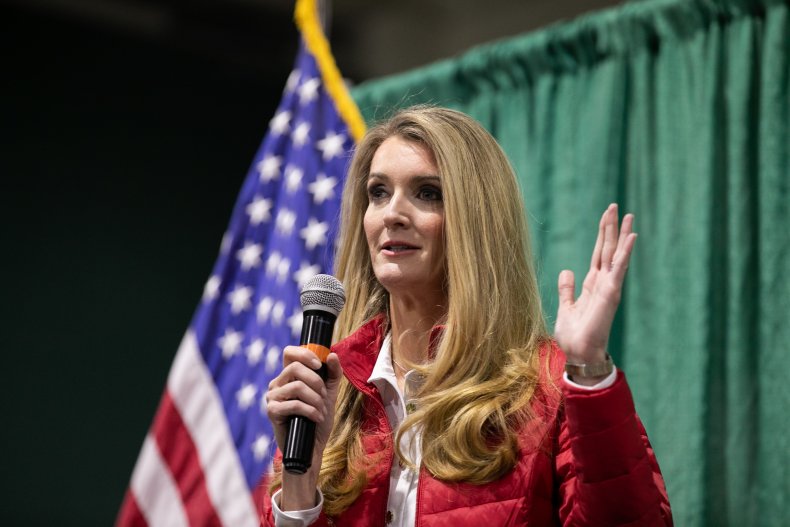 Lin Wood, a prominent Republican attorney, has been encouraging voters to tell Loeffler and Perdue they won't vote for them unless the senators demand an investigation into the November election.
"We're not gonna go vote on January 5 on another machine made by China. You're not gonna fool Georgians again," Wood said at a Wednesday rally in Alpharetta. "Why would you go back and vote in another rigged election? For God's sake fix it. You gotta fix it before we'll do it again."
Sidney Powell, who appeared at a press conference with Trump's attorney Rudy Giuliani before the campaign cut ties with her, also encouraged Georgians to "make it known" they won't vote until their "vote is secure."
This isn't the first time voters have been encouraged to withhold their votes and Donald Trump Jr., the president's eldest son, advised people to ignore the advice. To secure election victories for Loeffler and Perdue, he said the senators needed every GOP and Trump supporter's vote.
Along with wanting another GOP win under their belt, the Georgia runoff election is garnering significant attention because control of the Senate is in the balance. If Warnock and Jon Ossoff, who is gunning for Perdue's seat, are able to oust the incumbents, there will be a 50–50 split in the Senate. In the case of a tie, Vice President-elect Kamala Harris will cast the deciding vote, effectively giving Democrats control of both chambers of Congress and the White House.
Working in Loeffler's favor is that this time around, she'll only be going against Warnock. In the November election, Representative Doug Collins was also in the running and he took 20 percent of the vote. With him out of the race, it's possible Loeffler could take Collins' voters, which would put her ahead of Warnock if January's vote is reflective of November's result.
Both races are expected to be close and Democrats and Republicans are pouring their resources into the race. A Fox5 Atlanta poll on November 16 found Loeffler had 48 percent of support, just one point behind Warnock. The tide turned for Loeffler's favor in a November 8 and 9 poll done by Remington Research Group that gave her a 49 to 48 percent lead over Warnock.
"This is going to be 100% start to finish a base turnout election," said Titus Bond, the president of Remington Research Group told The Atlanta Journal-Constitution. "It's going to be intensified. It's going to be ideology from beginning to end. It's all about getting the base motivated to vote again."