What the Polls Say About Kelly Loeffler vs. Raphael Warnock in Georgia Senate Runoff
The race between Republican U.S. Senator Kelly Loeffler and Democratic rival Raphael Warnock is at a virtual toss-up with less than two months until their runoff election, according to a new poll from a national GOP-leaning pollster.
Remington Research Group's poll found voters surveyed slightly favored Loeffler at 49 percent to Warnock's 48 percent. That's well within the 2.6-point margin of error, and 3 percent of respondents said they remain undecided.
The survey of 1,450 likely voters was conducted November 8-9, according to the Kansas City-based pollster. It was first reported by the Atlanta Journal-Constitution.
It's the first major poll that's been publicly released since the general election last week. It closely mirrors previous polls based on a then-hypothetical runoff match-up between Warnock and Loeffler.
A New York Times/Siena College poll last month found Warnock led Loeffler 45 percent to 41 percent, with a 4.1-point margin of error. A separate Quinnipiac University poll last month found likely voters favored Warnock 52 percent to Loeffler's 44 percent in a head-to-head race, with a 3-point margin of error.
Warnock took 33 percent of the vote on Election Day to Loeffler's 26 percent. Because neither got more than 50 percent of the vote, the runoff will take place January 5—just two weeks before the presidential inauguration and the beginning of Congress' new term.
The Loeffler-Warnock match-up is part of a rare "double barrel" election, as Georgia's other U.S. Senate seat will be decided in January in a runoff between Republican incumbent Senator David Perdue and Democratic challenger Jon Ossoff.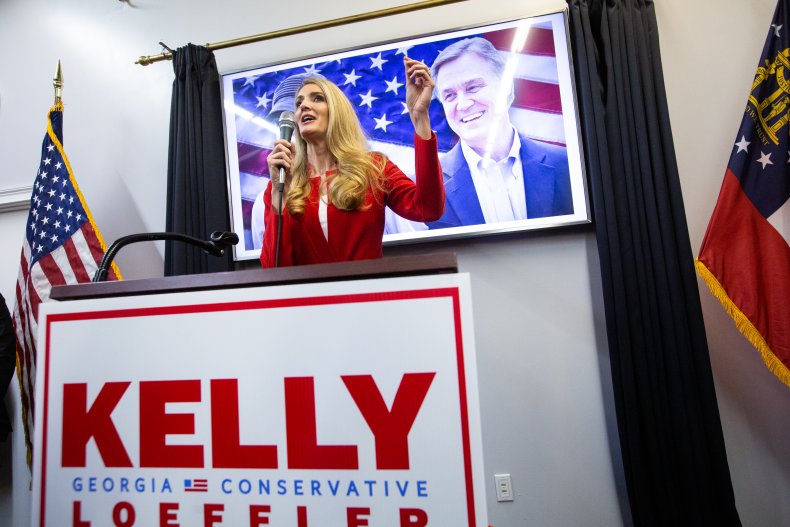 Both races are drawing national attention and are expected to produce pricy campaigns, with hefty TV ad buys and busy campaign schedules. Republicans and Democratic party leaders from other states have begun recruiting supporters to send into Georgia to canvass the state, and big name politicians are expected to hold events in the state for their respective candidates.
Democrats already have secured 48 seats in the incoming Senate, while Republicans have claimed 50. A win in both Georgia special elections would give Democrats the Senate majority, with Vice President-elect Kamala Harris as the tie-breaking vote.
One win of the two races would narrow the GOP's lead, but the Democrats wouldn't have control of the Senate's agenda or be able to assign committee chairmanships and priorities.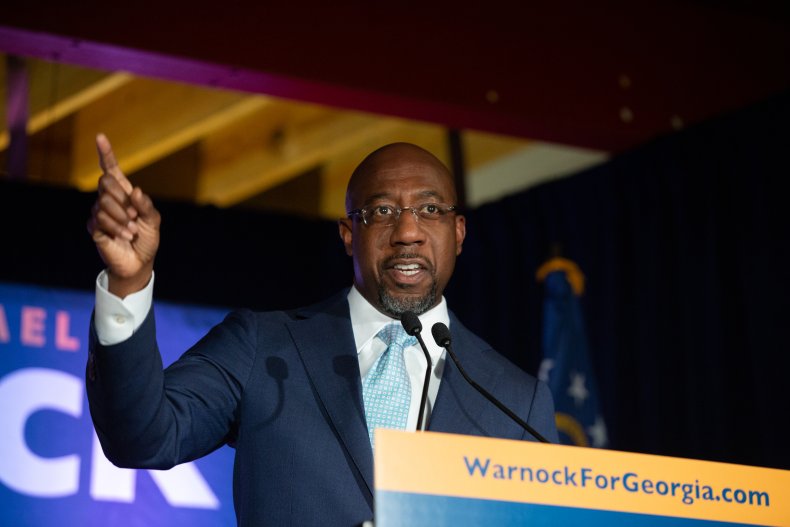 Loeffler, a 49-year-old businesswoman, was appointed to temporarily fill the Senate seat in January 2020, after then-Senator Johnny Isakson retired for health reasons. She narrowly beat out Republican Congressman Doug Collins after a campaign bitter battle to face Warnock in the runoff in January. Collins, who polled similarly against Warnock in the October polls' hypothetical match-ups, has endorsed Loeffler in the runoff.
Warnock, a 51-year-old Baptist preacher, has not previously held public office but has been a prominent activist in the state for health care and voting rights causes.