What Polls Say About Lindsey Graham vs Jaime Harrison With 3 Weeks Until the Election
With less than three weeks until the November 3 election, the race for South Carolina's Senate seat shows Democratic candidate Jaime Harrison polling slightly behind the 17-year incumbent, Senator Lindsey Graham.
According to the most recent poll conducted by Morning Consult between October 2 and 11, 48 percent of likely voters said they would vote for Graham if the election were held today, compared to the 42 percent who chose Harrison.
The poll, however, marks the widest lead Graham has had over his challenger in several months. The Cook Political Report, which rates election races in each state and analyzes the vulnerability of Senate races, changed South Carolina's Senate election to be a toss-up, meaning that either party has a good chance of winning.
Graham has served as a senator for the traditionally red state since 2003, but several polls have shown Harrison tied in popularity.
Graham held his widest lead over the Democratic candidate in February, when a Marist College poll found that Graham received 54 percent of voters' support compared to Harrison's 37 percent.
In late May, Harrison and Graham appeared tied. According to a Civiqs poll, each candidate had the backing of 42 percent of registered voters. Two months later, between July 24 and August 2, Graham slipped one point ahead of Harrison in a Morning Consult poll. Among the 741 likely voters polled, 44 percent chose Graham while 43 percent picked Harrison.
Polls conducted throughout September continued to show the candidates either tied or one of them just slightly ahead. Harrison saw his most recent lead over Graham between September 8 and 17, when a Morning Consult poll found that 48 percent of likely voters said they would cast their ballots for him, compared to the 45 percent who chose Graham.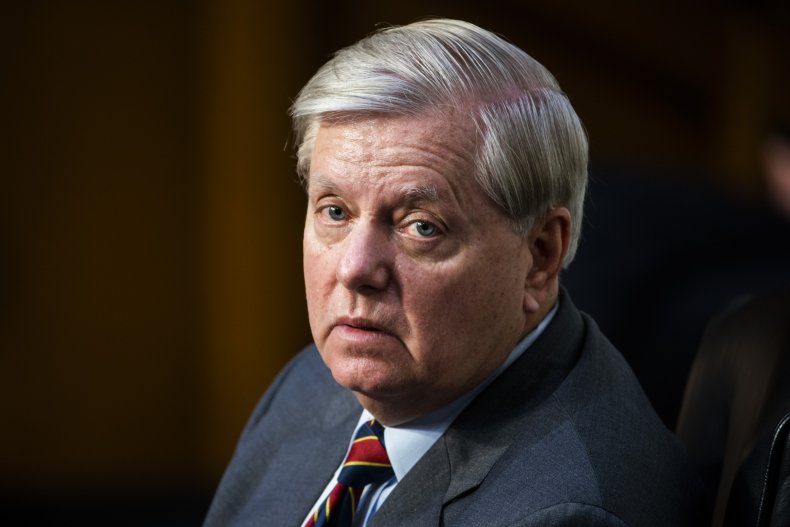 Harrison, former chair of the South Carolina Democratic Party, rose to national prominence last December after a Post and Courier poll showed him within two points of the longtime incumbent.
The Democrat has since run an impressive campaign, collecting a record-breaking $57 million in fundraising from July through September, Harrison's team announced last week. His fundraising total now stands at $86 million, an all-time record in South Carolina politics.
Graham has resorted to publicly appealing to voters for money to help him secure a fourth term in office.
"A lot's at stake in this election," said Graham, a strong supporter of President Donald Trump, during a Monday interview with the Fox News morning show Fox & Friends.
"If Republicans hold the Senate, guys, I'll be the budget chairman. If Democrats take over the Senate, the budget chairman will be Bernie Sanders. Lindsey Graham dot com. Help me. Help yourself by helping me," the GOP senator said.
The two candidates recently sparred over the format of their upcoming debate, with Harrison requesting that Graham take a COVID-19 test before they appeared in a head-to-head match.
Graham refused, and the debate format was changed so that both candidates were questioned for 30 minutes each on a range of issues. Topics included the coronavirus pandemic and police brutality, to which Graham made some controversial remarks.
"Do I believe that our cops are systemically racist? No. Do I believe that South Carolina is a racist state? No," he said. "To young people out there, of color, to young immigrants, this is a great state, but one thing I can say without any doubt, you can be an African American and go to the Senate, you just have to share the values of our state.
"If you're a young African American or an immigrant, you can go anywhere in this state, you just need to be conservative, not liberal," Graham said.
Harrison, who is Black, also spoke about race and law enforcement. The Democrat said he believed in having a national standard for police use of force and demilitarizing police, but he said he did not back defunding the police.
"There are some bad apples in the system that need to be rooted out. We need to bring some accountability to the system," Harrison said.