What Polls Say About Lindsey Graham Vs. Jaime Harrison With 7 Days to Election
With seven days until the November 3 election, polling for South Carolina's Senate race continue to show it as a toss-up between Senator Lindsey Graham and his challenger Jaime Harrison.
Harrison, former chair of the South Carolina Democratic Party, has gained national recognition for his fight to unseat Graham, who has served in the U.S. Senate since 2003. The Democrat has raised record amounts of money for his campaign. Harrison tweeted on Saturday that his supporters donated more than $2 million in 48 hours to the "Lindsey Graham Retirement Fund."
Graham has resorted to making multiple public appeals to South Carolinians for both donations and votes. On Monday, the incumbent appeared on Fox News's Hannity to discuss Amy Coney Barrett's confirmation to the U.S. Supreme Court, using it as an opportunity to promote his own campaign for re-election.
The Republican described his involvement in Barrett's confirmation process as the "highlight" of his time in the Senate, saying he "hadn't slept in two weeks" for fear that there might be issues with getting her on the court.
"This is why I do what I do. To my Senate Judiciary Republicans, thank you. I've been living in fear, and it is now over," Graham said. "She is on the court. Mission accomplished. The left is going nuts tonight. We are in a fight for our life. Help me. Help all of us keep our seats."
Graham's latest appeal comes as the most recent statewide poll shows him leading Harrison by nine percentage points.
According to a Starboard Communications survey conducted on October 26, more than half of the likely voters polled (52 percent) said they back the Republican, compared with the 43 percent who chose Harrison.
But a Morning Consult poll conducted from October 11 to October 20 showed Harrison in the lead, receiving 47 percent of likely voters' support compared to Graham's 45 percent.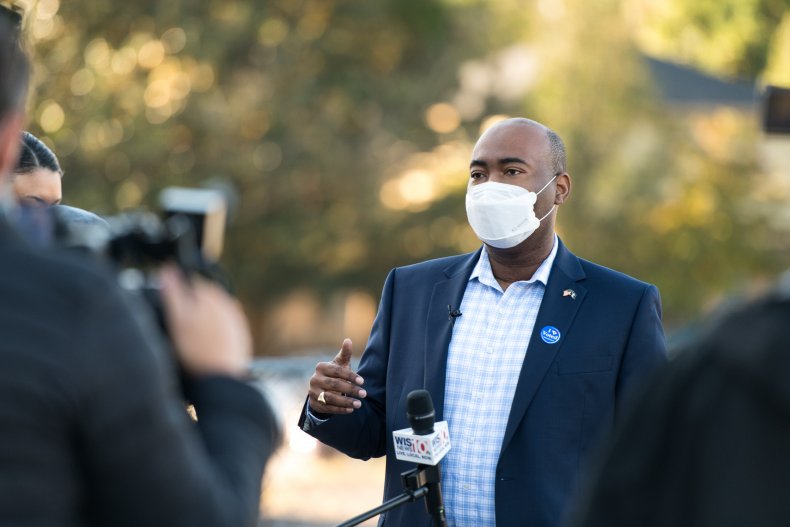 If Harrison is able to pull off a win next week, he will have recovered from a massive deficit—early polls put the Democrat at 17 points behind Graham. Harrison acknowledged as much in a tweet Monday as he confirmed that South Carolina's oldest newspaper, The State, endorsed him for Senator.
"We started as a 17-point underdog. Today, I'm honored to accept the endorsement of the oldest newspaper in South Carolina, @thestate. Change is coming, folks," Harrison wrote on Twitter alongside a link to the endorsement, written by members of The State's editorial board and published earlier that day.
"One of the biggest newspapers in the state knows we can win this," he added.
Even with his fundraising efforts and growing support base, Harrison is still considered the underdog in a state that hasn't voted for a Democratic senator since 1998. The Economist's election forecast, last updated on Monday, predicted that Graham will win by a narrow margin, receiving 51 percent of the vote share compared with Harrison's 49 percent.