What Polls Say About Lindsey Graham vs. Jaime Harrison Amid COVID Testing Controversy
Amid the coronavirus testing controversy in South Carolina's Senate race, a number of polls show the two candidates in tight competition.
On Thursday, Democratic candidate Jaime Harrison asked Senator Lindsey Graham to be tested for the coronavirus ahead of their second debate on Friday.
"I'm excited for tomorrow's debate with @LindseyGrahamSC, but we need really leadership in this pandemic," Harrison wrote in a tweet. "The debate moderators and I have agreed to take a COVID test prior to debating. I've scheduled my test, and I am calling on Sen. Graham to do the same."
In response, Graham tweeted a statement criticizing Harrison for saying the 17-year senator should be tested for the novel virus, which has taken the lives of over 212,000 Americans, including over 3,500 in his own state.
"Mr. Harrison is demanding special treatment. South Carolinians do not appreciate Harrison putting himself above others," Graham wrote. "Is any other South Carolinian demanding that every person they come in contact with be tested before they meet?"
He added, "I listen to the medical experts and follow their advice. I will continue to follow the guidance of my doctors, not my political opponent."
Graham also shared a letter from Brian Monahan, the attending physician for Congress, who wrote that based on criteria from the U.S. Centers for Disease Control and Prevention, Graham did not meet the criteria for "close contact."
"You do not require coronavirus testing," Monahan wrote.
Amid the controversy over testing for the candidates, a number of recent polls show the two locked in a dead heat for the Senate seat.
A Quinnipiac University poll found the race tied, with each candidate receiving 48 percent. The poll surveyed 1,123 likely voters across the state from September 23 to 27 and reported a margin of error of plus or minus 2.9 percentage points.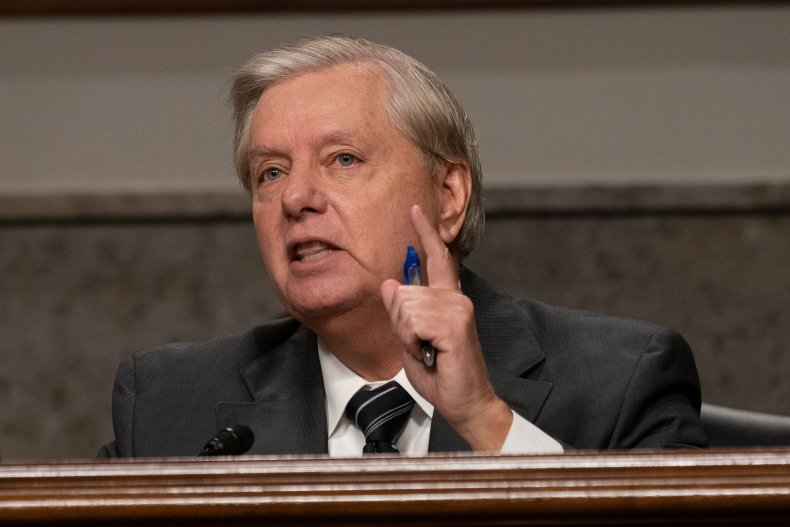 Another poll, conducted by Data for Progress, found Graham leading Harrison by 1 percentage point, 47 to 46 percent. This poll surveyed 824 likely voters in South Carolina from September 23 to 28 and reported a margin of error of plus or minus 3.4 percentage points.
The Cook Political Report recently rated the election as a toss-up, meaning both candidates have an equal chance of winning.
In a statement emailed to Newsweek, Harrison asked again why Graham won't take a virus test.
"It would make it safer for the dozens of hardworking people who are putting this event together for the good of the voters. It would give peace of mind to those who have come in contact with Senator Graham," Harrison said. "This isn't about anyone's campaign, it's about keeping people safe—and if Senator Graham is unwilling to do that, he needs to explain why."
Newsweek reached out to Graham's office for comment but did not receive a response in time for publication.