What Polls Say About Lindsey Graham vs Jaime Harrison With Less Than 50 Days Until the Election
With less than 50 days until the November election, public opinion polls for South Carolina's U.S. Senate race continue to show incumbent Lindsey Graham neck and neck with his Democratic challenger Jaime Harrison.
The most recent poll, conducted by Quinnipiac University from September 10 to 14, shows Graham and Harrison tied. Both candidates received 48 percent of support among the 969 likely voters who were polled.
Before that, a Public Policy Polling survey from July 30 to 31 had showed Graham with a slight lead. Forty-seven percent of voters said they supported the Republican candidate, compared to the 44 percent who chose Harrison.
Graham, a staunch Republican, has represented the red state as a senior senator since 2003. Before entering the political realm, Graham served in the U.S. Air Force and worked as a lawyer in private practice. While he initially made a name for himself by being an outspoken critic of President Donald Trump during his 2016 campaign, Graham has since become one of Trump's top allies.
Harrison, a Democrat, is running against Graham in the tight race. He previously served as char of the South Carolina Democratic Party an is an associate chairman of the Democratic National Committee. If elected, Harrison, who launched his campaign in May 2019, would become the first Democrat to win a statewide election in South Carolina since 2006.
Polls conducted over the past seven months show a significant change in public opinion of the two candidates. In February—mere weeks before the coronavirus pandemic hit the U.S. in full force—an East Carolina University survey found Graham leading Harrison by 13 percentage points. More than half of registered voters, 51 percent, said they would vote for Graham, compared to the 38 percent who chose Harrison.
Graham appeared to enjoy this wide lead until late March, when a Brilliant Corners Research & Strategy survey revealed a much tighter lead between the two candidates. Graham was beating Harrison by only four percentage points, or 47 percent compared to 43 percent of the vote.
By May, Graham's lead had all but disappeared. A Civiqs poll conducted May 23 to 25 placed both Harrison and Graham as equals, with the candidates each receiving 42 percent of registered voters' support.
Graham's lead widened once more in July, but it shrunk again in August. A Morning Consult survey conducted from July 24 to August 2 showed 43 percent of likely voters saying they'd vote for Harrison, compared to the 44 percent who chose Graham. A Quinnipiac University poll taken July 30 through August 3 placed the candidates as tied once again, with both Harrison and Graham receiving 44 percent of the vote.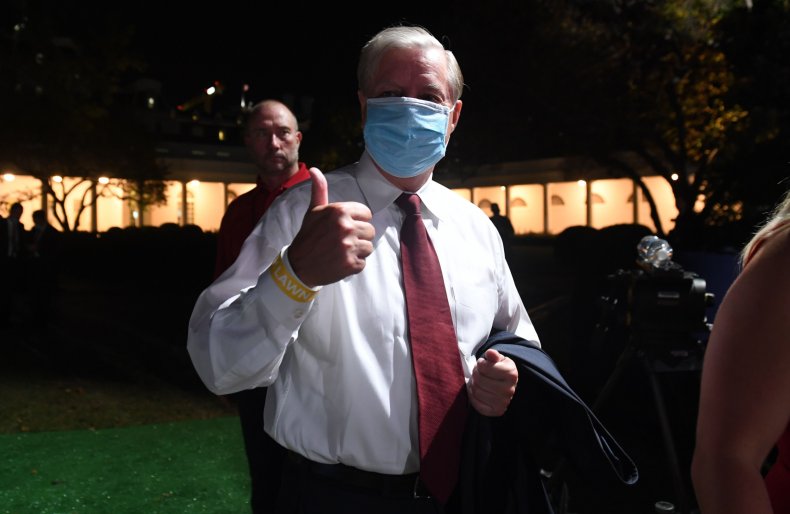 The two candidates will face off in a series of three debates throughout October, with the first scheduled just one month before Election Day on October 3.
The Post and Courier, a newspaper based in Charleston, began an eight-part series earlier this summer which lays out Graham and Harrison's policy views in the form of candidate questionnaires. The series has covered issues such as immigration, police reform, climate change, the economy and health care in an attempt to show the differing approaches between the two.
Update 3:27 p.m. ET: This article has been updated to include results from a Quinnipiac University poll released September 16.