What the Polls Say About a Lindsey Graham vs Jaime Harrison South Carolina Senate Race
South Carolina Senator Lindsey Graham could face a tougher re-election campaign than previously thought against Democrat Jaime Harrison.
Graham, who safely won his last Senate race by roughly 15 points in 2014, is only slightly ahead in the latest polls. Harrison, the first black chairman of the state's Democratic Party, joined the race in 2019 and is currently running unopposed for the party's nod.
Polls conducted earlier this year found Graham way ahead of Harrison. A Marist College survey from late February had the Republican up by 17 percentage points, as 54 percent of registered voters said they'd back him for another term. Just 37 percent of respondents said they'd vote for Harrison.
But the latest surveys and election forecasts paint a different picture. A poll from late March showed Graham's lead had dwindled to 4 points. Forty-seven percent of likely voters said they'd back Graham at the ballot box compared with 43 percent who would vote for Harrison.
The poll, conducted by Brilliant Corners Research & Strategies, also found Graham's approval rating to be underwater as 45 percent of voters approve of the job the Republican incumbent is doing. The poll surveyed over 800 likely voters and has a margin of error of 3.8 percentage points.
Plus, two recent analyses from Cook Political Report and Larry Sabato's Crystal Ball found that the odds are no longer all in Graham's favor. The non-partisan election forecasters shifted their rating of the race from "solid" Republican to "likely" Republican.
The forecast change came after Harrison outraised Graham in the first three months of 2020. According to the latest campaign finance data, Harrison raised $7.4 million between January and March, as compared with Graham's $5.6 million. But Graham still has nearly $5 million more cash on hand than his Democratic counterpart.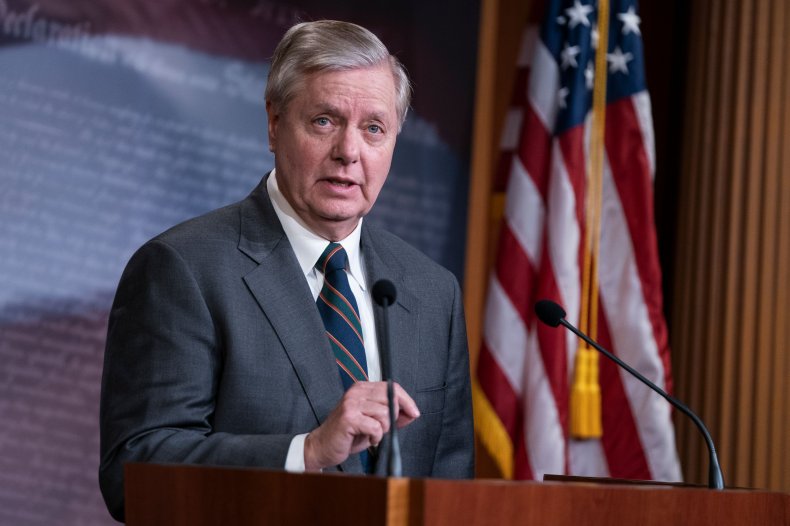 "This is HUGE: Today, the Cook Political Report *and* Crystal Ball updated our race from 'Solid Republican" to 'Likely Republican.' Watch out, Lindsey Graham, we're coming for your seat," Harrison tweeted in reaction to the shift.
But Graham is still going to be difficult to take down. The election forecasters wrote in their analyses that there was still "a lot more to be done" by Harrison and that his path to the Senate wasn't going to be "an easy one."
Graham's also likely to receive a boost from President Donald Trump being at the top of the ticket in November. The president won South Carolina by 14 points in 2016. Polls currently show Trump ahead of presumptive Democratic nominee Joe Biden in the state by 4 percentage points.
Though Graham still has to get past a Republican primary with three challengers, none are expected to pose a substantial threat. The state's Senate primary is currently scheduled to be held in June.