With less than 50 days until the election on November 3, Senate Majority Leader Mitch McConnell, a Kentucky Republican, looks well positioned to fend off his Democratic challenger, former Marine fighter pilot Amy McGrath.
McConnell, the longest-serving senator from Kentucky in U.S. history, first entered the Senate back in 1985. Although McGrath has brought in an impressive $50 million in campaign contributions to defeat McConnell, none of the most recent polls out of the deeply conservative state show the Democratic opponent ahead of the incumbent Republican.
A recent poll carried out by Quinnipiac University showed McConnell with the support of 49 percent of Kentucky voters compared to just 44 percent backing McGrath. But polling by Bluegrass Data Analytics showed a somewhat closer race, although McConnell still led by 3 percentage points. In that survey, the Republican was supported by 49 percent of Kentucky voters as opposed to 46 percent who backed the Democratic challenger.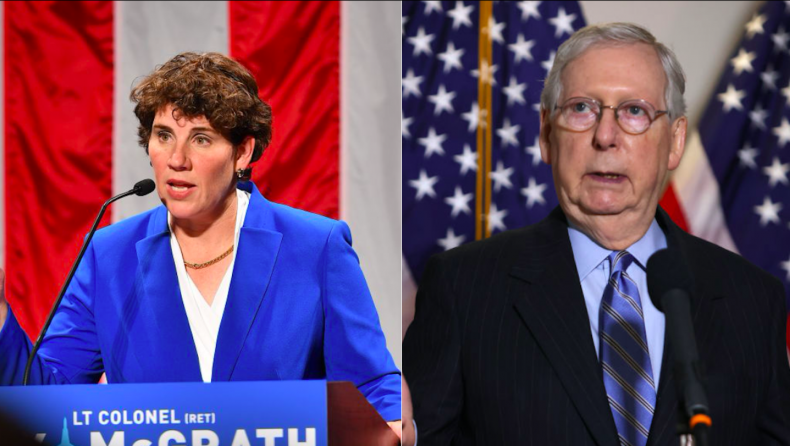 But another recent Kentucky poll carried out by Morning Consult suggested that McConnell has a much more sizable lead over McGrath. That poll showed the GOP senator ahead by 17 percentage points—with the support of 53 percent of voters while just 36 percent backed McGrath. Another poll by Spry Strategies showed an even wider lead of 22 percentage points for McConnell. McGrath was backed by just 33 percent of voters as opposed to 55 percent who supported the Republican incumbent.
One poll by RMG Research from June suggested that McGrath had a very narrow advantage over McConnell. That survey showed McGrath with the support of 41 percent of Kentucky voters while just 40 percent backed McConnell.
McGrath and Democrats aim to capitalize on McConnell's unpopularity across the nation. Polling conducted by Morning Consult from October through December last year showed that McConnell was the second most unpopular senator in the country after Maine's GOP Senator Susan Collins. Only 37 percent of respondents approved of McConnell while 50 percent disapproved.
But Kentucky is a deeply conservative state. Trump carried it in 2016 by just over 30 percentage points. The state has had two Republican senators consistently since 1999. Only one of Kentucky's six representatives is a Democrat, Congressman John Yarmuth of the state's 3rd district. The state's voters did back former President Bill Clinton, a Democrat, in 1992 and 1996.
Although Democrats appear unlikely to unseat McConnell in November, they remain hopeful that they can flip the Senate and remove McConnell as majority leader. Currently, the Senate is made up of 53 Republicans, 45 Democrats and two independents who caucus with their Democratic colleagues.
In order to flip the chamber blue, Democrats would need to gain fours seats without losing any. Currently, just one Democratic incumbent appears vulnerable while seven GOP incumbent senators are in close races.