What Polls Say About Mitch McConnell vs. Amy McGrath With Less Than Two Weeks to the Election
With the election less than two weeks away, Senate Majority Leader Mitch McConnell remains ahead of Democratic opponent Amy McGrath in polls.
In a new survey by Mason-Dixon Polling & Strategy last week, which surveyed 625 registered and likely voters in Kentucky, McConnell leads McGrath by 9 percentage points, with 51 percent of Kentucky voters supporting McConnell's reelection, 42 percent supporting McGrath, 4 percent backing libertarian candidate Brad Barron and 3 percent undecided.
Polling percentages have largely varied for the McConnell/McGrath race, with some surveys showing McConnell maintaining a double-digit lead over his opponent, ranging from 12 to 20 percentage points, while others have shown the GOP senator leading within the margin of error.
McGrath held a narrow lead over her opponent in an RMG Research survey in May, with 41 percent of the 500 registered voters polled saying they backed the Democratic candidate, compared with 40 percent who backed McConnell.
Polls suggest that McGrath, a former Marine fighter pilot, has a lot more ground to cover in the red state as she trails McConnell, who is running for his seventh six-year term in the U.S. Senate. As of Monday evening, more than 700,000 Kentuckians have already voted early either in person or by absentee ballot, the Louisville Courier-Journal reports.
The Mason-Dixon poll also shows that McGrath has weaker support among voters in her party, with 67 percent of registered Democrats backing the candidate. McConnell has 79 percent support from registered Republicans.
McConnell also held a sizable lead among male voters in the new survey, 55 percent to 36 percent, while McGrath had a two-point lead among the female voters polled.
As large sums of money flow into political campaigns this year, the Kentucky race is no exception. McGrath has raised a total of $82.3 million and spent approximately $62.4 million on campaigning, while McConnell raised nearly $52 million and spent $38.2 million. In the third quarter before the election, McGrath reported racking up $36.9 million, a sizable amount compared with the senator's $15.7 million third-quarter total.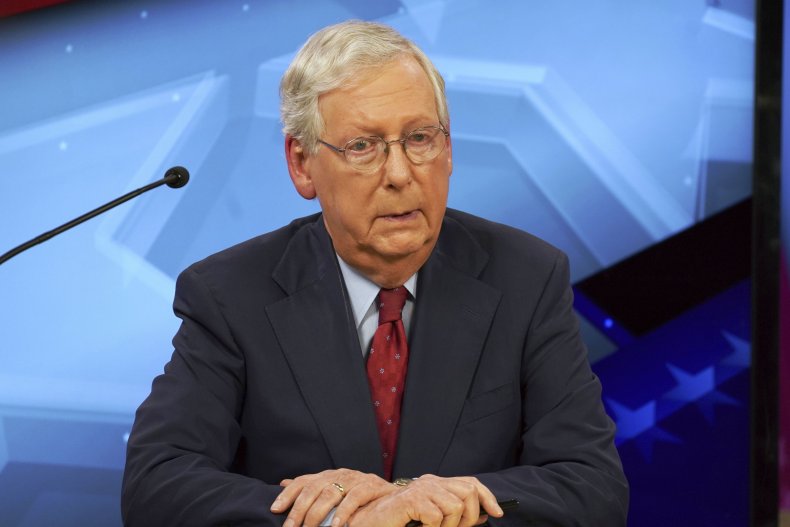 Both candidates went head-to-head in a televised debate on October 12, where McGrath attacked her opponent for the Senate's delay in approving a new economic relief bill, which the House and Senate have been unable to agree on since May. Instead of giving Kentuckians the relief they needed, the Senate "went on vacation," she said.
A clip of McConnell laughing while McGrath spoke about the Senate's failure to pass a relief package quickly made rounds on social media, and she later used that reaction as part of a campaign ad that week.
McGrath also mentioned the state's high diabetes and cancer rates during the debate, as well as the lack of broadband access and well-paying jobs in parts of the state.
"Senator, you've been there for 36 years. How's it looking, Kentucky?" she said.
McConnell spoke about his opponent later that night, saying: "I think her entire campaign is: She's a Marine, she's a mom and I've been there too long."