Will Democrats or Republicans Win Congress in 2020? Here's What the Polls Have to Say
Democrats and Republicans currently split control of Congress, but one party could win it all in this November's elections.
Polls show that Democrats have the upper hand in the race for the legislative branch. According to FiveThirtyEight forecasters, Democrats have an 8-point lead over the GOP for control of Congress.
The FiveThirtyEight projection is based on surveys that ask voters which party they would support in an election. As of Friday, 48.6 percent of voters said they'd back Democratic congressional candidates, while 40.8 percent said they'd support Republican candidates.
A recent poll from Morning Consult showed a similar picture. Forty-six percent of registered voters surveyed said they'd support a Democratic candidate for Congress, while 38 percent said they'd back a Republican candidate. The survey, conducted in early April, polled 1,990 voters and has a margin of error of plus or minus 2 percentage points.
The two parties currently split control of Congress, after Democrats took back the House of Representatives during the 2018 midterm elections. The GOP has maintained its majority in the Senate since 2014.
But one party could sweep the balloting in November. The chamber to watch is the Senate, as Democrats need to flip only three or four seats to gain a majority. Republicans also have to defend far more territory this election cycle, as 23 of the 36 Senate seats in play are held by conservatives.
Fundraising totals for the first quarter of 2020 show a positive picture for Democratic challengers in five key Senate races, according to the latest campaign finance figures, released Thursday.
Republican incumbents in Arizona, Colorado, Kentucky, Maine and North Carolina all raised significantly less cash than their Democratic rivals in the first three months of 2020. In some cases, like Maine and North Carolina, GOP senators were outraised nearly 3-to-1.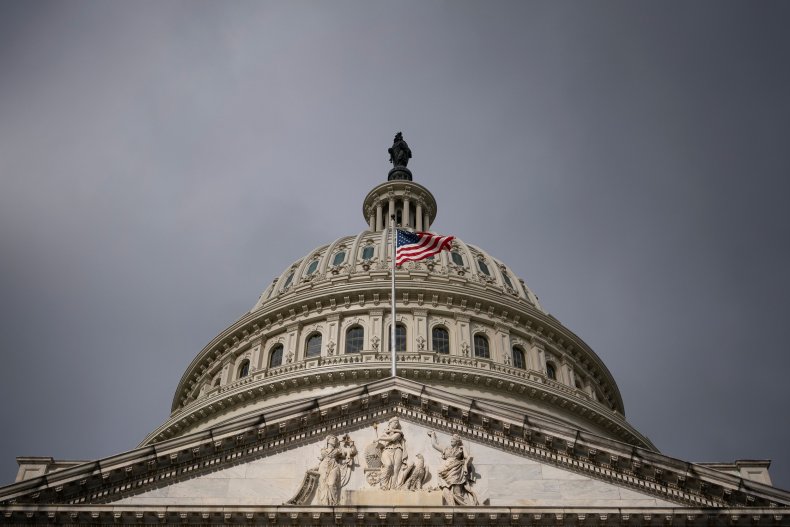 Democratic strategist Doug Herman said the fundraising numbers are a "great sign" for the party as it tries to regain control of the upper chamber.
"There's a high correlation between fundraising success and victory at the ballot box," Herman added. "The fact that they're able to beat those incumbents is indicative of the strength of their candidacy."
As Democrats set their sights on the Senate, Republicans have a plan to win back control of the House. The GOP needs to net at least 19 or 20 seats in November to become the majority in the chamber. To do so, they'll target 30 congressional districts that are now held by Democrats but that voted for President Donald Trump during the 2016 election.
Trump supported the approach in a speech earlier this year, after his impeachment acquittal. The president said he was going to "work hard on it" and "try to get out to those Trump areas that we won by a lot—and you know, in '18, we didn't win."
However, first-quarter fundraising doesn't look great for GOP challengers in these areas. According to a Newsweek analysis, nearly four dozen Democrats who in 2018 flipped districts won by Trump outraised their Republican opponents threefold in the first three months of 2020.