This Is What Pope Francis Said About Married Priests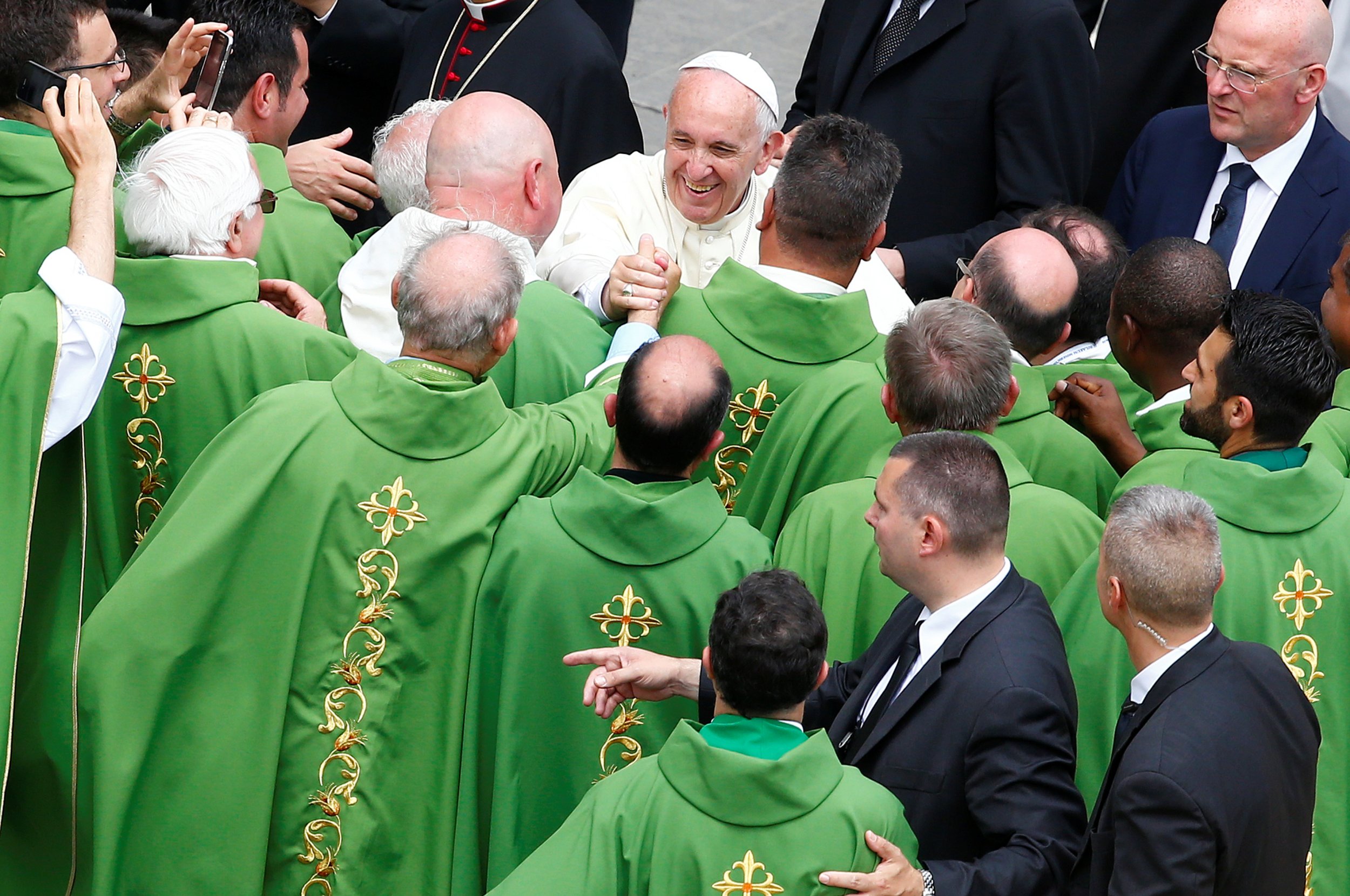 Pope Francis might be open to discussing the possibility of married Catholic men being ordained as priests.
Francis made the comment in a recent interview with the German newspaper Die Zeit, suggesting that perhaps these men could work in some of the more remote communities that are in need of priests to provide sacraments to parishioners. The lack of Catholic priests is an "enormous problem," said Francis, according to a translation of the interview in America magazine.
Related: Cardinals unite around pope after conservatives' attack
There is a significant distinction: Allowing married men to become priests is not the same thing as allowing priests to marry. Francis's comment would apply to men already married becoming priests. Voluntary celibacy is not an option.
There are already ordained married priests in the church. In 1980, Pope John Paul II decided to allow married men to become priests in limited circumstances, such as married former clergymen from the Episcopal Church.
Francis, 80, the first Jesuit and Latin American pontiff, took over the papacy from Pope Benedict XVI in March 2013. Since then, religious followers around the globe have viewed him as a progressive leader. His reign has meant a more inclusive and forgiving Roman Catholic Church and has rhetorically broken with religious tradition in several cases, including allowing not just bishops but also priests to forgive abortion and saying that the church could be more open to same-sex unions. Just last month, he suggested it's better to be an atheist than a hypocritical Catholic, meaning those whom he described as living a "double life" and starting scandals.
Men and women in the Catholic Church serve different roles; only men can be ordained. In his 1994 apostolic letter, Pope John Paul II claimed that "the Church has no authority whatsoever" to ordain women as priests; Jesus chose only men to serve as his 12 apostles.
For decades, women have requested larger leadership positions within the church. While meeting with hundreds of leaders last spring, Francis indicated that he was open to discussion about the possibility of ordaining women as deacons. Three months later, he went on to create a commission to study the role of women deacons in the early church, namely Phoebe, who appears to be mentioned as a minister in the Bible. A similar commission was formed in 2002 among high-level officials at the Vatican, and the panel produced a document that considered whether women might be eligible to become deacons. The members didn't reach a firm conclusion.
Jeopardy has taken note. On Thursday, the Final Jeopardy question on the game show asked, In which country, according to a 2011 report, does the citizenry include a total of 32 women?
The answer was the Vatican.