What Pride Means to the World's LGBTQ+ Refugees
Originated from the June 1969 Stonewall riots against police violence in New York City, Pride Month now represents a time of self-affirmation for LGBTQ+ individuals across the world. The United States currently faces a wave of discriminatory legislation against Trans individuals at the state level. However, for many queer people, America stands as a place of hope and safety.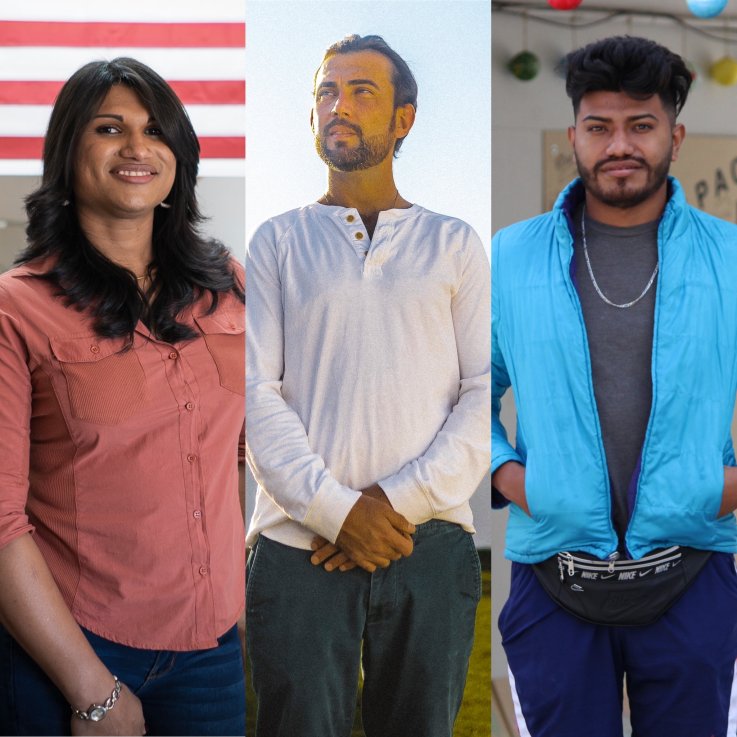 "The reality for many LGBTQ people all over the world is that their existence is marked by a resistance against many forms of violence and pursuit of life despite that," Khudejha Asghar of the IRC told Newsweek. LGBTQ+ refugees (L-R) Lincy Sopall, Shadi Ismail, and Cristian share what Pride means to them.
International Rescue Commitee
Seventy-one countries currently criminalize same-sex activity, and 11 countries impose the death penalty for it.
Khudejha Asghar, primary prevention advisor at the International Rescue Committee (IRC), told Newsweek certain populations view LGBTQ+ individuals as "not equal humans," that are "aberrations to the natural gender order."
She said these factors that are engrained into certain societies leave LGBTQ+ individuals particularly vulnerable, as many are expelled from their family structures and limited in their employment opportunities. To impose the patriarchal order upon these individuals, Asghar said they're often victimized through violence and intimidation tactics.
The conditions in which certain LGBTQ+ individuals must navigate society can make life unbearable, forcing them to flee or, in some instances, to be killed. These three individuals, introduced to Newsweek by the IRC, which provided them support upon initial entry to the U.S., all left their homes to live lives away from persecution on the basis of their identities. These are their stories:
Lincy Sopall—Honduras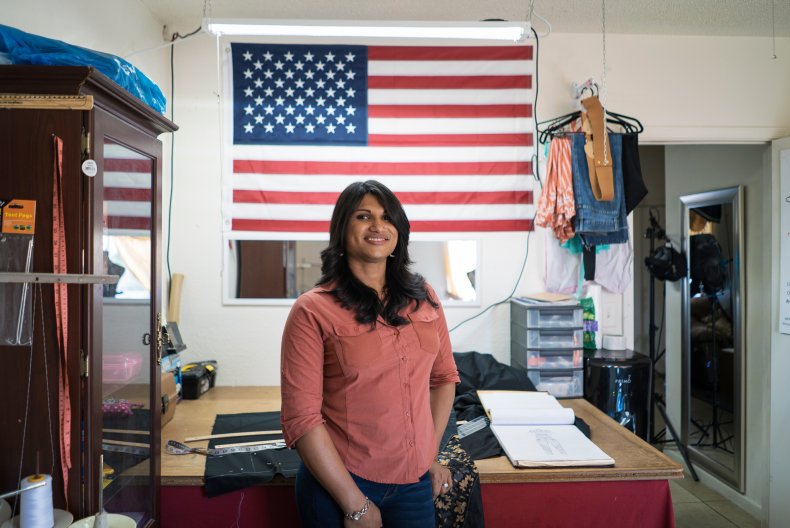 Lincy Sopall, 34, grew up in Honduras and identifies as a trans woman. She started experimenting with her femininity at age 17 and formally transitioned at 22. When her parents first learned of her identity, they shunned her as an outcast, and her community soon followed.
When Sopall walked down the street, people pulled their children away, laughed at her, pointed fingers, and spit in her direction. She was discriminated against when applying for jobs, and the local police were of little support. Eventually, Sopall found a way to make ends meet, starting her own business designing clothes and providing alterations. Sopall earned good money and for a while life was also good—until it wasn't.
Gang members discovered Sopall was making a steady income from her business and broke into her apartment one day. They pointed guns at her and forced her into her bedroom before ravaging the place in search of valuables. One of the gang members said he "didn't like the way she looked" but that he would not kill her because she'd make more money alive.
Gathering what little she had left, Sopall decided it was time to leave her country. Broke, she faced limited avenues for migration northward, opting to hitch a ride on La Bestia "The Beast," a freight train that travels through Mexico, infamous for carrying migrants. Strapped to the roof by a belt "like a spider," Sopall journeyed to El Paso, facing injuries along the way and watching her peers succumb to mutilation after losing footing atop the train traveling at 18 mph.
Eventually, Sopall made it to the border and submitted herself to U.S. Customs. She spent three months and 11 days in a detention center before receiving asylum. Detention was emotionally crushing and she had thoughts of suicide, but her hope carried her through. Sopall has since settled in Phoenix, Arizona where she now runs her own business, Lincy Sopall Design & Alterations. She has reconciled with her family and lives an independent and Proud life.
"Pride is exactly all the good things that you can do in your life," she told Newsweek. "It's about feeling proud to save your life, to arrive in a new country and rebuild your life, to create a business that helps this country grow."
Shadi Ismail—Syria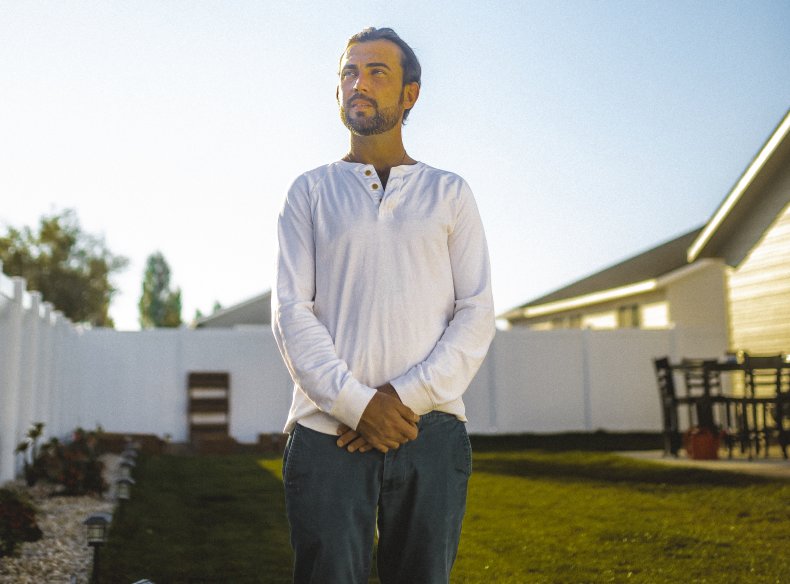 Shadi Ismail, 34, came to the United States from Syria at age 25 on May 7, 2012, at 11:30 a.m. He told Newsweek he'll always remembers that specific day and time because it was "the big change" of his life that in many ways, he said, was a new beginning in his life's journey.
As a young child in Syria, Ismail knew he was different when he embraced his talents as belly dancer and was met with a disapproving glare from his father. In 2008, after returning home from Syria's government-mandated two-year military service, Ismail's parents discovered he was gay. His father burned him with hot coals and threatened his life. He left shortly afterward for Jordan.
In Jordan, Ismail found himself on the streets. He walked the city, being turned away from job after job, until he found a position as a server. Ismail worked there for two years, slowly building a strong professional reputation. His boss told Ismail how proud he was of him, how he wanted his kids to grow up to be like him. However, that changed when his boss overheard a phone call with a friend where Ismail spoke about being gay.
Ismail found himself on the streets once again and was beaten by three men who discovered his sexuality. They took his money, bruised his face, and left marks on his neck. The next day, Ismail visited a United Nations center to begin his asylum case. A month later, he started his journey to America.
Boise, Idaho soon became Ismail's new home. 15 days after getting settled, he found a job as an office custodian. Eventually, he worked his way to a job at a meatpacking plant as a quality assurance lead and safety assistant. Ismail soon found his place in the community, providing spiritual energy readings, and starting a business creating hand-sewn blankets and meditation pillows, and participating in the Boise Pride parade. His story soon gained national attention and was profiled in the season finale episode of Apple TV's "Little America" series.
"Pride means celebration and that you do not have to change anything," Ismail told Newsweek. "I don't have to just be identified as gay. I'm gay, don't take me wrong, but I love humans, and I don't know how to explain it, but I don't want to just be a label."
Cristian—El Salvador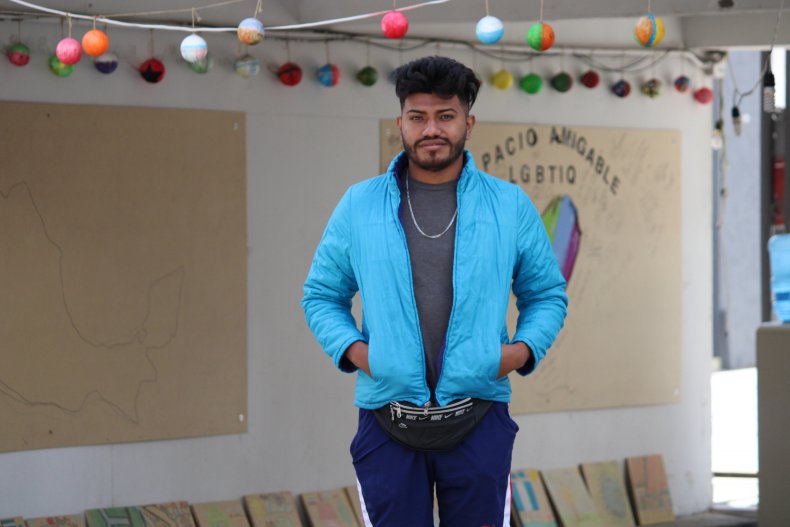 Cristian, 24, who asked Newsweek to keep his surname private for security concerns, came to the U.S. after living and "sad and hurtful" life in El Salvador. As a young gay man, Cristian was made to know he didn't belong. Friends dropped him, youth groups excluded him, and the workplace shunned him. Obscenities were often directed Cristian's way, and he said he often felt like an "abandoned animal."
As Cristian grew older, the targeting became more violent. Gang members beat him up on the streets and demanded he make payments or face death. The gangs soon started attacking him with knives and he feared for his life and the lives of his family members. With his mental state deteriorating by the day, he decided it was time to leave his homeland.
Cristian left El Salvador with barely any money and not a single friend to accompany him. When he made it to Mexico, a sense of relief hit him, but that relief wouldn't last long. He was chased from a migrant shelter on the grounds of his identity. With few options left, Cristian worked 15 days straight saving all his money for a bus ticket to Ciudad Juárez. During this time, he skipped meals to raise money faster, and when he was able to purchase the ticket, he had no money left to purchase food or water during the three-day ride.
When Cristian arrived in Juárez, he found himself in a shelter that charged for food, water, and power. He searched for a job but could not find one because of the new Coronavirus pandemic. The shelter evicted him, and he spent the night in the street after being denied asylum to the U.S. on the grounds of Title 42. Eventually, Cristian found a safe shelter called the Triage Hotel. There he found peace, and not long after, an immigration attorney.
Cristian entered the United States last May. He still suffers from psychological distress and is working to cope with what happened to him in El Salvador and Mexico. Though he faces a challenging life and many uncertainties, he's discovered a new feeling that he did not have before—freedom.
"To me, LGBTQ+ Pride means freedom, life, and the rights we have to live just like any human being," he told Newsweek. "I can now say that I am finally free."
How to Help
A number of nonprofits domestically and abroad, like the IRC, offer support to refugees like Lincy Sopall, Shadi Ismail, and Cristian. However, beyond direct aid, Asghar told Newsweek that supporting LGBTQ+ individuals abroad starts with channeling America's international influence toward a culture of acceptance.
She says anti-LGBTQ+ policies in the United States affects how people view the community abroad. During Pride month, she urges individuals seeking to make a difference to challenge organizations and legal structures domestically that violate the liberties of LGBTQ+ people.
"The more we can challenge ourselves in the US, the more positive impact we can have," she told Newsweek. "The reality for many LGBTQ people all over the world is that their existence is marked by a resistance against many forms of violence and pursuit of life despite that. So, it's important, year-round really, to talk about the experiences of LGBTQIA people, but it's particularly important now [during the month of LGBTQ+ Pride]."