What Is the Pro-life Day of Silent Solidarity?
Students nationwide who oppose abortion will remain silent all day Tuesday during the annual Pro-Life Day of Silent Solidarity.
During the event, which happens on the third Tuesday of October, students place red tape with the word "life" written on it over their mouths, and some wear t-shirts or distribute literature that explain the anti-abortion position.
"We are remembering those who were lost and hurt by abortion by giving up our voices and remaining in solidarity," Students for Life of America, an anti-abortion non-profit, said in a statement in 2018. "[The Pro-Life Day of Silent Solidarity] is a great way to raise awareness about abortion and get your fellow pro-life students interested in activism."
Stand True, a self-described pro-life outreach organization, posted a flyer on its website that students could print at home or school to pass out on Tuesday. The flyer explained why the student was silent, claiming "innocent human persons" were reduced to a "choice" and had their "personhood stripped from them."
"Abortion does not kill a potential human person, it kills a human person with great potential," the flyer said. "I lose my voice today to bring awareness to those who have their voices stolen in abortion mills every day."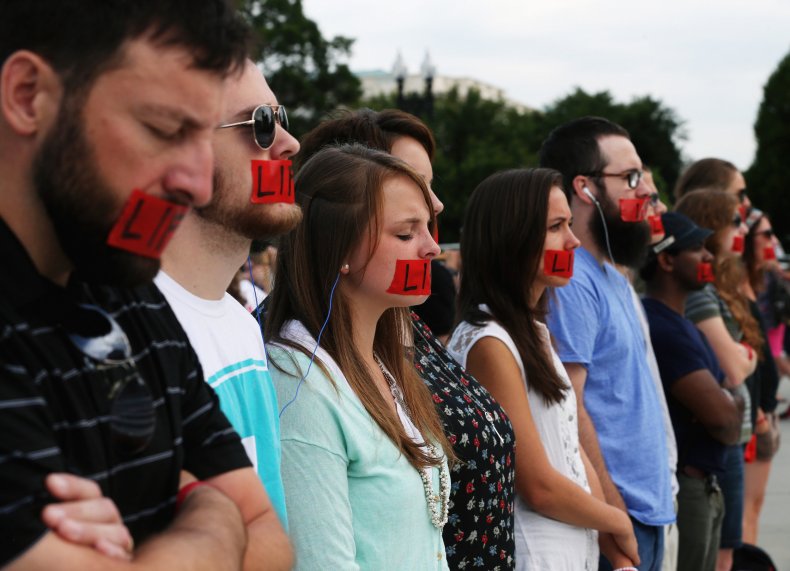 Bryan Kemper, the founder of the Pro-Life Day of Silent Solidarity, explained on his website that the day began in 2004. When a student at McNeese State University, a public higher education institution in Louisiana asked how they could work in solidarity with students across the country, a "spark went off" in his head, he said.
He said asked students to wear red duct tape and pass out fliers while remaining silent for the day, marking the first Pro-Life Day of Silent Solidarity. An event that once had a few thousand students now has thousands of student supporters on campuses across the globe who participate, Kemper said.
Kemper added that he couldn't take credit for the "success of this movement" and credited God for making his vision possible.
Among those participating in this year's Pro-Life Day of Silent Solidarity were the Penn State Students for Life. Cissy Li Ming, president of the student organization, told Newsweek their goal was to take a public stand against abortion and start conversations.
"We recognize that most students who consider themselves pro-choice or apathetic toward abortion won't convert to our stance instantly, but we want to make the issue hard to ignore," Ming explained.
Along with hopefully changing a few minds, Ming said the demonstration is also important because it shows there are college students who are anti-abortion, possibly more than people previously thought.
Last year, people generally took flyers without showing a positive or negative reaction, although a few threw the flyers on the ground, cursed or stuck up their middle fingers.
"Much of the distrust and hate between pro-lifers and pro-choicers comes from the fact that not enough dialogue happens," Ming said, speaking for herself and not as a representative of the group. "I want to express my position and change minds, but also bridge the divide between opposing sides."
The past year has proved to be a turbulent time for those on both sides of the abortion conversation. The states of Georgia and Missouri both passed laws prohibiting abortion after a fetal heartbeat is detected and Alabama enacted a near-total ban that bars people from having an abortion unless the mother's life was at risk. While championed by anti-abortion activists, the measures were staunchly criticized by the pro-choice side of the debate, which challenged the laws in court.
In California, Governor Gavin Newsom signed a bill into law that required health centers on the University of California and California State University campuses to offer medication abortions. Pro-choice advocates applauded legislators for taking action to protect abortion rights and those who oppose abortion were the critical ones.
This article has been updated to include comment from Cissy Li Ming, president of the Penn State Students for Life.