What Is the Problem Solvers Caucus? Bipartisan Group Chair Calls Stimulus Failure 'Completely Offensive'
A group of bipartisan lawmakers known as the Problem Solvers Caucus spoke with White House Chief of Staff Mark Meadows in an attempt to move stalled talks about another stimulus package forward.
Members of the Problem Solvers Caucus, a group of 24 Republicans and 24 Democrats in the House of Representatives, spoke with Meadows on Friday morning, a spokesperson to CNBC. Specific details of the call are limited, but the spokesperson said members discussed ways to get negotiators back in the room and "help American in our response to the COVID crisis."
Formed in 2017, the goal of the Problem Solvers Caucus is to find "common ground on many of the key issues facing the nation," according to its website. Its comprised of equal numbers of Democrats and Republicans from across the country and endorsed at least 25 bills in the 116th Congress, proving that "while the climate seems divisive, there is still bipartisanship happening and legislative changes that all of Congress can get behind."
Newsweek reached out to the White House and the Problem Solvers Caucus for comment, but did not receive a response in time for publication.
Representative Josh Gottheimer, a Democrat from New Jersey, and Representative Tom Reed, a Republican from New York, serve as co-chairs of the caucus. Gottheimer posted on Twitter on Monday that it's "vital" legislators break the logjam between Democrats and Republicans and resume discussions to provide funding for people who lost their jobs, small business, schools and testing.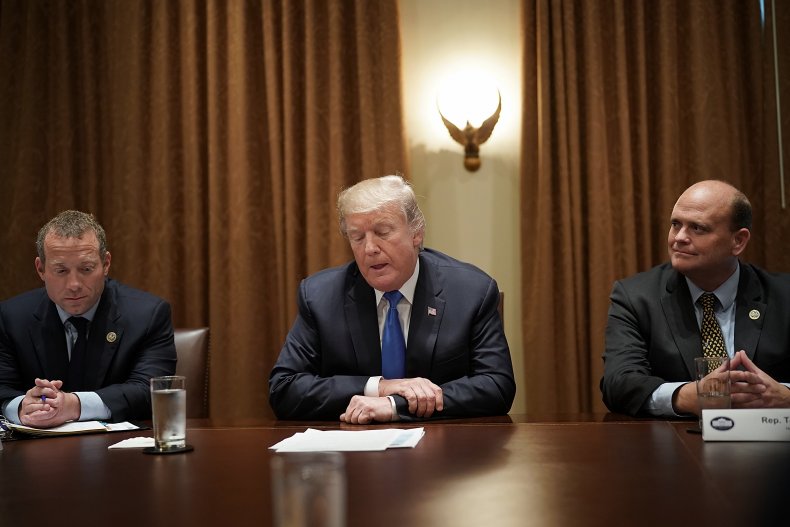 Weeks of discussions between Senate Minority Leader Chuck Schumer, Speaker of the House Nancy Pelosi, Treasury Secretary Steve Mnuchin and Meadows failed to result in another package. While the two sides agreed on a second round of stimulus checks, according to Mnuchin, they couldn't agree on a price tag or a number of other issues, including school funding and aid for state and local governments.
The chasm proved too great to overcome and on Thursday, Senators left for the August recess as talks stalled. Reed told WBEN on Friday it was "completely offensive" for the Senate to adjourn without a package, adding that "Congress is failing in its job."
A stark contrast from the unity shown in Washington, D.C., in March with the passage of the Coronavirus Aid, Relief, and Economic Security (CARES) Act, the partisan divide was on full display in July and August. Democrats charged Republicans for proposing too little, too late, and Republicans criticized Democrats for being intransigent and ridiculous with their list of demands.
By the beginning of August, a deal still seemed far off and the Problem Solvers Caucus urged lawmakers to unite to provide "critical" help to communities, local governments and individuals.
"As members of the bipartisan Problems Solvers Caucus, we stand ready to ensure that a bipartisan phase four stimulus package passes and delivers immediate aid to American families, local communities, health care providers, and businesses," the caucus said in an August 4 statement. "Together, we can, and must, get this done."
The House of Representatives formally adjourned on July 31, but Reed said the Problem Solvers Caucus was still working to send a message to their leadership that leaving without a package was "unacceptable."
Reed called out Pelosi, Schumer, Senate Majority Leader Mitch McConnell and House Minority Leader Kevin McCarthy by name and said the four of them need to "hear the message" that members of Congress deserve better. If legislators can't come together and deliver a package for the American people "in this time of crisis," Reed said there's a problem with the institution.
"And if they don't want to lead, there's many of us that will get in the room and fight this fight and find common ground for the American people," Reed said.