What is Qualified Immunity for Police Officers? These Six Cases Are Being Discussed By the Supreme Court
At least six cases of qualified immunity for police officers, a doctrine that shields government officials from personal liability in lawsuits, are awaiting their day before the Supreme Court.
On Thursday, Supreme Court Justices are scheduled to discuss more than half a dozen cases to determine if they'll hear arguments. Under qualified immunity, government officials, including police officers, are afforded protections against civil lawsuits that civilians don't have.
During the landmark Harlow v. Fitzgerald case in 1982, the Court ruled a plaintiff could overcome qualified immunity by showing the defendant's conduct "violate[d] clearly established statutory or constitutional rights of which a reasonable person would have known." Decades later, George Floyd's death and recent cases of police brutality have placed the qualified immunity doctrine under the spotlight, prompting legislators to call for change to the way officers can be held accountable for their actions.
Legislation introduced by New Jersey Senator Cory Booker would eliminate qualified immunity, a doctrine he told NPR creates a "bar" towards taking civil action against a police officer.
"I'm a big believer that police officers and towns and communities that employ them should protect them from frivolous lawsuits," Booker said. "But when it's so clear that an officer has violated community standards, department standards and the civil rights of Americans, that they should be open to civil action."
Among the cases being heard by the court, the case of Baxter v. Bracey, Alexander Baxter sued for excessive force after he was bitten by a police dog while sitting with his hands in the air. A lower court ruled that his claim should be thrown out under qualified immunity, but the ACLU of D.C. and ACLU of Tennessee petitioned the Supreme Court to reverse the grant of immunity and reconsider the doctrine as a whole.
Another case, West v. Winfield, involves Idaho resident Shaniz West, whose possessions were destroyed when officers used tear-gas grenades while searching her home for her ex-boyfriend. In Brennan v. Dawson, a court found that an officer's actions violated the Fourth Amendment but still granted immunity because there was no "clearly established law."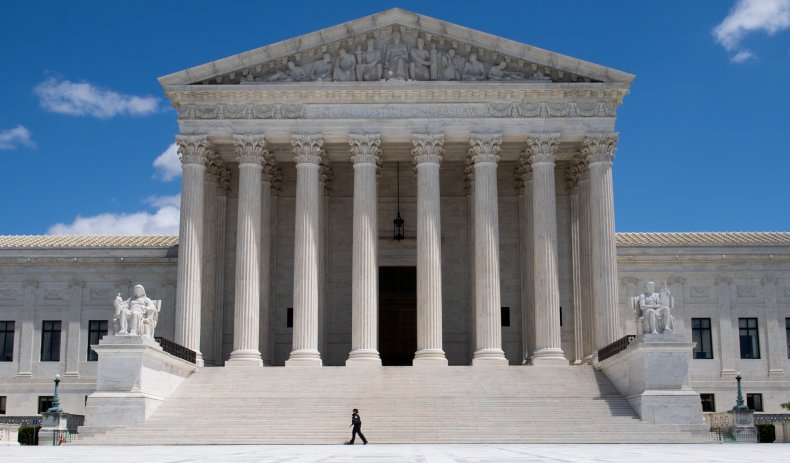 Coover v. Flaig was brought about after an officer killed a man by tasing him nine times. Two cases, Corbitt v. Vickers and Mason v. Faul were filed after an officer-involved shooting. In Mason v. Faul, an officer shot a man seven times while responding to a 911 call.
A split panel in the Corbitt v. Vickers case granted immunity to a deputy sheriff in Georgia, who shot a 10-year-old child while trying to shoot a pet dog. In the majority decision, Judge R. Lanier Anderson wrote there wasn't a prior case law where a child was accidentally shot while the officer intended to shoot someone else, thereby the officer was entitled to qualified immunity.
In his dissent, Judge Charles Wilson wrote "no competent officer would fire his weapon in the direction of a non-threatening pet while that pet was surrounded by children."
In at least one case, Hunter v. Cole, the officers, who were involved in the shooting of Ryan Cole, a 17-year-old who was holding a gun, are asking the Supreme Court to reconsider immunity. The Fifth Circuit denied the officers' claim that they were protected from a lawsuit Ryan Cole's parents filed.
Not all qualified immunity cases involve police officers, as the rule can be applied to a broader spectrum of government workers.
The case of Zadeh v. Robinson also requests the Supreme Court to reconsider qualified immunity, but this time the officials in question are state officials of the Texas Medical Board. A district court and court of appeals determined that officials violated Dr. Joseph Zadeh's constitutional rights when they executed a no-notice administrative subpoena to obtain patient medical records. One case, Anderson v. City of Minneapolis, Minnesota, challenges the immunity granted to first responders who allegedly prematurely declared a 19-year-old dead of hypothermia.
For a case to go before the Supreme Court, four Justices must agree to hear it and at least three expressed concerns about the doctrine in 2017 and 2018. In the case of Kisela v. Hughes, Justice Sonia Sotomayor, with Justice Ruth Bader Ginsberg joining, wrote in her dissent that a one-sided approach to qualified immunity tells officers "they can shoot first and think later, and it tells the public that palpably unreasonable conduct will go unpunished."
In the 2017 Ziglar v. Abbasi case, Justice Clarence Thomas, one of the most conservative justices, wrote about his "growing concern" with the court's qualified immunity jurisprudence. He questioned the legal origins of the doctrine and said the Court will substitute their "own policy preferences for the mandates of Congress," until they fit the focus of their inquiry to whether immunity existed at common law.
The Supreme Court's schedule isn't set in stone and just because a case is set to be considered, it doesn't mean the Justices will discuss it on that day. All eight cases were supposed to be considered on June 5, but on Monday, they were redistributed for Thursday.