Queen Elizabeth II's father declared she was "too delicious" in a letter to a relative two days after her birth—95 years ago today.
The monarch's celebrations are dampened this year, with the queen mourning the death of her husband Prince Philip earlier this month.
The funeral was on Saturday at St George's Chapel and Elizabeth will spend the day at Windsor Castle, where she has been staying during the pandemic.
The royal family's official Twitter account marked the queen's birthday by sharing the address where the queen was born.
"HM was born on 21 April 1926 at 17 Bruton Street in London, the first child of The Duke and Duchess of York," it stated.
The address of the queen's birth was her grandparents' home at the time and a plaque remains outside to mark the historic event.
However, 17 Bruton Street, in Mayfair, has since been turned into an upmarket Chinese restaurant, Hakkasan, which serves Cantonese cuisine.
The building itself was knocked down some years previously, leaving historic documents as the only clues to the early days of then-Princess Elizabeth's life.
Among them is a letter sent from the house by her father—then-Prince Albert, Duke of York—who would later become King George VI after the abdication of his brother, Edward VIII.
He wrote to Princess Louise, , just two days after the birth in glowing tribute to his daughter after becoming a father for the first time.
The letter, as quoted by Royal Central, reads: "It was too nice of you to have written to me and I do thank you so much for congratulating us on our little girl.
"She is too delicious and is such a great joy to us both. Elizabeth [the Duchess of York] is progressing wonderfully well and the baby is flourishing.
"I do hope you will come in later and see your new niece, a great great niece..."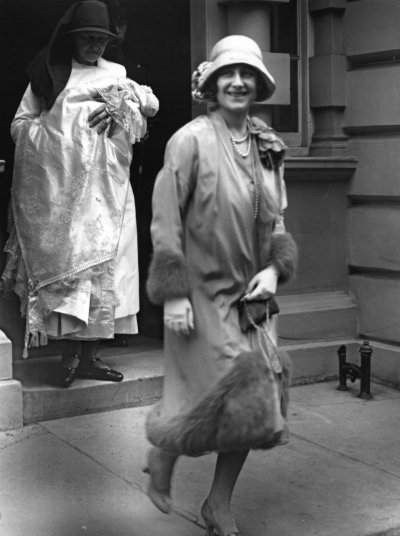 A plaque outside 17 Bruton Street reads: "On the site stood the townhouse of the Earl of Strathmore and Kinghorne where Elizabeth Alexandra Mary Windsor, later to become Her Majesty Queen Elizabeth II, was born on 21 April 1926."
At the time of her birth, it was never imagined that Elizabeth would go on to be queen, as the line of succession would ordinarily have passed through her uncle, Edward VIII, through to his first born male heir.
However, when he abdicated the throne to marry American divorcee Wallis Simpson, her father, the Duke of York, became king.
However, some may think fate was at play on the day she was born as her grandparents, King George V and Queen Mary, had lunch with her future husband Prince Philip's relatives, Princess Andrew of Greece and his grandmother.
A notation in the Court Circular shared on Twitter by royal expert Alastair Bruce reads: "The King and Queen have received with great pleasure the news that the Duchess of York gave birth to a daughter this morning.
"The Crown Princess of Sweden, Princess Andrew of Greece, and the Dowager Marchioness of Milford Haven visited Their Majesties and remained to Luncheon."
Bruce added: "The Queen is 95 today.
"While she mourns #PrincePhilip at WindsorCastle, we quietly mark her birthday, in 1926.
"Ironically, on day of her birth, Prince Philip's mother, Princess Andrew of Greece, & his grandmother had lunch in #WindsorCastle with her grandparents."