What Is the 'Queen of the Hill' Rule? How GOP Lawmakers Plan to Force DACA Vote
Centrist House Republicans have defied Speaker Paul Ryan and moved ahead with plans to force an immigration floor vote that could save the Deferred Action for Childhood Arrivals (DACA) program and protect Dreamers, or undocumented children brought to the U.S., from deportation.
This week, lawmakers signed a discharge petition, which has the power to bring legislation to the House floor if it gets signatures from a majority of House members even if it hasn't moved through a committee—as is usually required for legislation.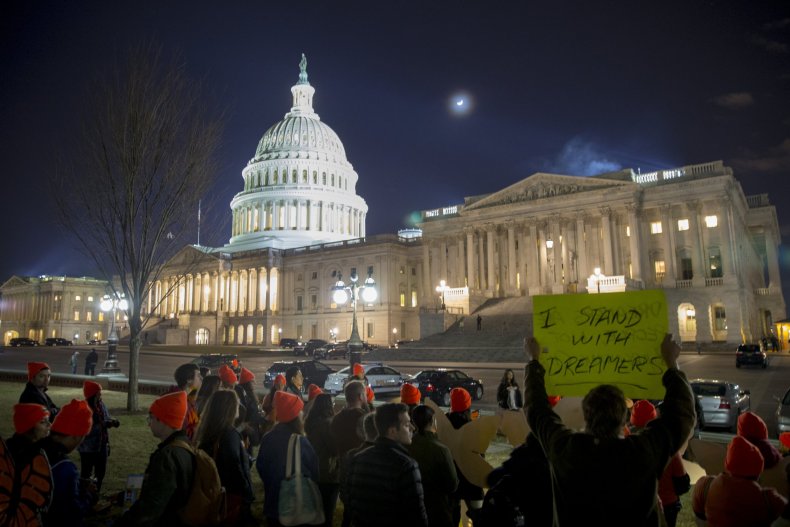 If the petition garners enough support, it could see a floor debate on four immigration proposals held as early as June.
The effort has been led by moderate Republican Reps. Jeff Denham of California, Will Hurd of Texas and Carlos Curbelo of Florida, who formally introduced the petition on Wednesday.
The three Republicans are effectively defying Ryan and GOP leadership by attempting to force a vote.
"Queen of the Hill"
The discharge petition centers around an obscure rule known as the "queen of the hill" rule, which essentially sees that the bill with the most votes wins.
The rule would see all four competing immigration bills brought to the floor for debate and a vote, with the measure receiving the biggest vote margin in favor being the one that passes.
Two of the bills the House would be voting on, the DREAM Act and the U.S.A. Act, seek to give permanent legal status to DACA recipients. The DREAM Act aims to create a path to citizenship for DACA recipients, while the U.S.A. Act, sponsored by Hurd and Democratic Rep. Pete Aguilar, seeks to create a path to legalization for Dreamers while putting limits on sponsorship of parents once they become citizens. The bill would provide funding for border provisions, but not include money for a wall.
The third bill, the Securing America's Future Act, colloquially known as the Goodlatte Bill, seeks temporary status for DACA recipients. However it would also impose a range of border protection and enforcement measures, as well as cuts to legal immigration.
The proposal, written by Republican Rep. Bob Goodlatte, would make existing DACA recipients eligible for a three-year renewable permit to live and work in the U.S. Other Dreamers, however, would not be eligible. The proposal has received widespread backlash from Democrats, with Congressional Hispanic Caucus (CHC) Chairwoman Rep. Michelle Lujan Grisham calling the measure the "Mass Deportation Act" and a "farce of a bill."
The fourth bill would be left up to Ryan to decide, an allowance that Republicans behind the petition say shows they are making an effort to be deferential to GOP leadership.
By Wednesday afternoon, at least 16 more Republicans had joined Denham, Hurd and Curbelo in signing the petition, with most representing swing districts with significant Latino constituencies, while others are representatives planning on retiring from the House.
Curbelo said those behind the petition could not wait any longer for Ryan and other House leaders to agree on a bill that could pass with only Republican support.
Read more: Is DACA Dead? Trump Administration Has Approved 55,000 Applications This Year
"We believe this institution needs to act," Curbelo told The Washington Post.
"Immigration has paralyzed this institution for too long, and we don't view this in any way undermining House leaders. On the contrary, we feel that we're also empowering them to deal with a very controversial issue," he said.
Ryan spokeswoman AshLee Strong said on Wednesday that GOP leaders would "continue to work with our members to find a solution that can both pass the House and get the president's signature."
Even if a bill does pass the House, getting it signed into law would still require the approval of President Donald Trump, who has said he will only sign an immigration bill with a hardline framework that Democrats and some Republicans have rejected.
The immigration debate has long been left simmering after four immigration bills brought up for a vote in February failed to pass, with each measure falling short of the necessary 60 votes.