What Radio Narrative and Modern Dance Have in Common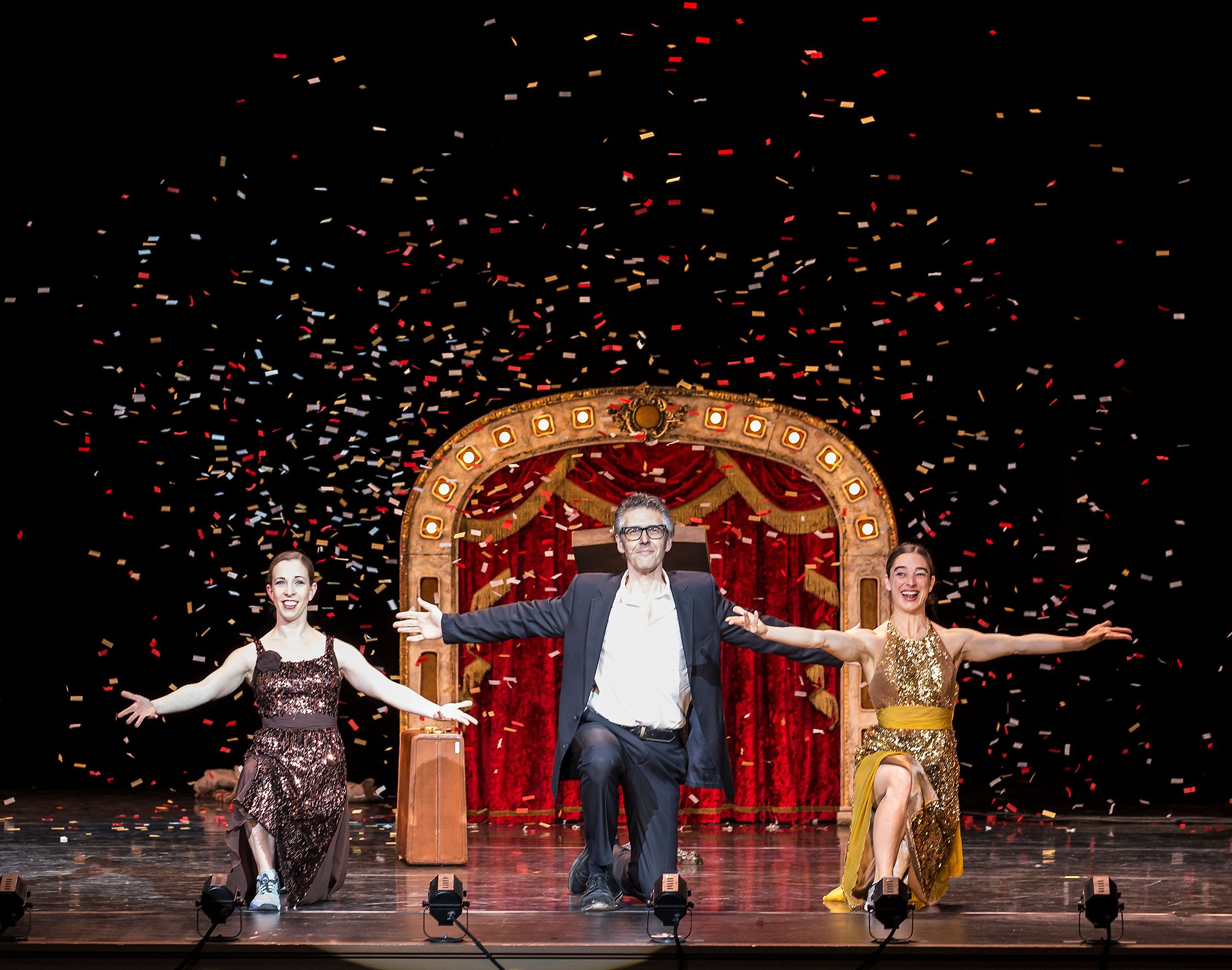 A familiar voice could be heard in the pitch black of the theater. "What if we start the show with just our voices?" he said. A woman whose voice most audience members have never heard before replied and said maybe that's not such a good idea; it would be better to start the show with movement, a dance number. Thus began the odd but satisfying marriage of radio narrative and modern dance in Three Acts, Two Dancers, One Radio Host, when the unorthodox show made its way to the renowned Jacob's Pillow Dance Festival in mid-June.
When the stage was visible again, the owner of the unfamiliar voice, choreographer and director Monica Bill Barnes, emerged from what looked like a miniature version of a theater: A small, golden arch, dotted with Broadway-bright lights (like those on a dressing room makeup mirror) stood at the center of the larger stage with a red velvet and gold-tasseled theater curtain hanging below. Barnes and fellow dancer Anna Bass proceeded to clean their space, freeze while spritzing their hairspray for a comedically inordinate amount of time, and fling off their jackets to reveal sequined dresses paired with sneakers.
Ira Glass, who speaks to millions of people across the country through the public radio airwaves every week on This American Life, appeared next through the curtain. Out of the suitcase he was toting, he removed the necessary parts to build himself a podium. "[We're] combining two things that really have no business being together at all," Glass said. "We knew no one wanted this to exist," and that those seated beyond the footlights "bought tickets thinking, What is this—? You know that phrase, 'Back by popular demand'?" Well in this case, he said, there was no popular demand.
But that was soon to change, as the three performers set out to prove that radio and dance can make a perfect match. During the course of the 90-minute event, there were confetti showers, soap bubbles and songs like James Brown's "Get Up (I Feel Like Being a Sex Machine)" and "One" from A Chorus Line.
Meanwhile, the audience was privy to snippets of This American Life stories about, for example, the touring cast of Riverdance playing the lottery. That story came first in the lineup, and eased everybody into the show while introducing one of its main threads—discussing the job of being a dancer. The anecdote revealed the numbing monotony of performing the exact same show six out of seven days, week after week, and the collective obsessions it might inspire (like the cast members convincing themselves they were sure to snag a lotto win).
As Glass deftly walked the audience through the story—tapping an iPad periodically to play excerpts from the interview—the dancers emerged again and again from the "mini-Met," as Barnes calls the arch, and repeated the exact same movement phrase, over and over, in precise unison. Even to an eye untrained in dance-watching, the sameness was glaring. It drove home the notion that no matter what mood or city a dancer is in, or what life event has just transpired, they have to get onstage and do the same sequence of steps they did yesterday and the day before.
Act two of three was about love, and began by depicting "the first step toward adult love": the middle school dance. Glass played snippets from the 2011 "Middle School" episode of This American Life, which its website lists as a favorite. Nervous tween voices and high-pitched giggles filled the theater. A sixth-grade boy in New Jersey complained about the shirt his mother made him wear and revealed his fear of a humiliating misstep that could become school fodder for the next month or two.
The performers onstage pulled out all the stops to re-create the universal awkwardness of this rite of passage. A massive balloon arch appeared, as well as a black-clad stagehand made to spin while holding a disco ball up high. Barnes and Bass cajoled six unsuspecting audience members away from their seats to slow dance and get Polaroids taken onstage.
In another more somber section, the audience heard former U.S. poet laureate Donald Hall talk about losing his wife to leukemia, excerpted from a February 13, 1998 This American Life episode. "'Last Days' is the poem that I wrote or began to write during the last days of her life," Hall told Glass nearly two decades ago in smooth, quiet tones. "One day in April, we had her blood checked, which we did once a week, and it was just fine. And a week later, the leukemia had come back and there was nothing to do. She was going to die."
And he began to read from the poem:
Home that afternoon,
they threw her medicines into the trash.
Jane vomited. He wailed
while she remained dry-eyed – silent,
trying to let go. At night
he picked up the telephone to make
calls that brought
a child or a friend into the horror.
On a kitchen table stage right, the dancers stood, frozen in a still and intimate closeness on the dim stage. "I saw this really amazing sculpture of these two women," choreographer Barnes told Newsweek the day after the show, to explain the segment's opening. "I said all I want to do is stand in this proximity in these kinds of positions and I just want to stand here for a really long time. And now I want to stand here for this song." In a field whose practitioners spend years training their bodies to move, Barnes said, asking a professional not to is difficult.
Moments like these are where the show's main themes—love, loss and the job of being a dancer—melt into one another, and the radio-dance collaboration begins to mature.
Defining the Relationship
"We know no one listens to my radio show thinking, You know what this needs is some dancers," Glass says in a video posted on the Jacob's Pillow YouTube channel in January. "Nobody sits through a dance show thinking, You know what this needs is a guy talking and playing clips of audio," he adds. Still, this "is one of my favorite things I've ever been part of."
But figuring out how two dancers and one radio host might collaborate took time—and a lot of trial and error, the three performers explained. They'd arrived back on the festival grounds on a bright Sunday morning hours ahead of a matinee performance. They settled in at a little table outside the Ted Shawn Theater, armed with leftovers from the previous night's cast party (a tradition after Saturday-night shows at Jacob's Pillow) and brownies from Cakewalk, an adorable coffee shop and bakery located eight winding miles down the road in the Berkshire hills of Western Massachusetts. The sound of a lawnmower making its way around the bucolic grounds—originally a farm and once a stop on the Underground Railroad before American modern dance pioneer Ted Shawn bought the land in 1930—drifted in and out of earshot as they recounted the story of how their show came to be.
Glass and Barnes first met in February 2011 at an event series called The Talent Show. That night, at a bar in Brooklyn, Glass was one of several to participate in the Dancing With the Stars–esque competition, while Barnes was one of the judges for the evening.
Months later, Glass had a chance to see his dance judge's work when Monica Bill Barnes & Company performed at the Joyce Theater in Manhattan. Barnes's work is not what you picture when you think "dance show." There are exaggerated facial expressions, cardboard boxes and feather headdresses, chairs balanced on teeth, and above all, both comedy and poignancy.
"This is just like what we do in the radio, but no words at all," Glass recalled thinking. "I got really excited. I thought if I could get this in front of the people who listen to our radio show, the people who listen to our radio show would really dig this," he added. Barnes may work in a totally different medium, but the need to convey relatable human emotions and individual stories that resonate widely is the same.
Barnes, Bass and Glass first shared a stage in 2012 for This American Life's live show at the Brooklyn Academy of Music. Titled "The Invisible Made Visible" with Glass as host, it featured writer David Sedaris, comedian Tig Notaro, the band OK Go, essayist David Rakoff dancing a solo choreographed by Barnes and two pieces performed by Monica Bill Barnes & Company. Another iteration consisted of an evening-length dance show produced by Bass and Barnes with introduction by Glass, who also led a Q-and-A afterward. But "what would be really exciting and artistically fulfilling and new ground would be if we incorporated Ira into the show," Barnes recalls thinking. She wanted to try to "combine the things that we do and see what that would be like. So I sort of pitched that," she said.
"And you were against the whole thing," Glass joked, looking toward Bass, the least talkative member of the unlikely trio. "I'm just making that up to drag her into the interview, to make her say words," he added over the laughter, which frequently erupted as the interview unfolded.
"I'll say some later," Bass promised.
One, Singular Sensation
One of the ways Three Acts surprises audiences—and fully "realizes the concept of the show," Glass said—is with the dancers' voices. Relatively late in the process, Glass brought each of the dancers into the studio separately to record interviews, as he would for his radio show.
"What do you love most about dancing?" he asked in one recording played during Act II. Bass sighs. "I actually love that I don't have to talk," she replied. It's rare to hear dancers speak about themselves and their profession, especially while they're onstage performing. There's an outdated stereotype of the silent dancer, who expresses a choreographer's thoughts kinesthetically rather than her own verbally. Simultaneously, Barnes described the divide at most performances that anonymizes the individual dancers onstage. "The art form doesn't necessarily require you to know" one from another, Barnes told Newsweek. "I feel like one of the successes of the show is actually asking the audience to identify with the dancers and the choices and the lifestyle," Barnes added, "to really identify with us as three-dimensional real people who made a choice when we were five and seven to go down a road that we're still on."
A particularly gripping section features audio of Barnes's interview on the topic of aging, played during the "chairs and teeth" dance (yes, in which the dancers literally balance chairs on their teeth) to music from A Chorus Line ("One, singular sensation, every little step she take…).
"As a dancer you're specifically denying the idea of aging.… It's not something that dancers go around and announce, 'Just so everyone knows, I'm decaying,'" Barnes said. When they decided to put it in the show, the dancers realized how gut-wrenching it is to perform. "That section for us is so hard," said Barnes. She described the moment when she and Bass are standing in the wings as Glass says, "There's an expiration date on their dream jobs and they know it from the beginning."
"We're both just like phooph—it's true, it's so true," Barnes said, and painful to be reminded of the ticking clock mid-performance. Difficult and personal as it may be, these sections performed to the dancers' interviews are "the point in the show where it totally mashes," Bass said.
"In the most thorough way," Glass added. (There are a few other concept-realizing moments in the show that are best kept as a surprise for future audiences in Princeton, New Jersey; Austin, Texas; Berkeley, California; Birmingham, Alabama; Charlotte, North Carolina; and any other upcoming venues.)
They realized early on that "for it to have stakes it's got to be somebody's story.… The only people onstage are us, so I guess it's going to be about us," said Glass, who shared anecdotes onstage about his relationship with his wife.
The show, then, is like a live This American Life episode that has a three-dimensional visual channel in addition to audio, using a whole second language—movement as well as words—to tell stories and bring characters to life. It sometimes gets personal, making the performers the characters as well as the hosts.
But more broadly, the show draws on big, universal ideas that anyone could relate to, whether they're radiophiles, dance lovers, both or neither. "It's not an accident that the stories are about falling in love, dying, and the job of dancing," Glass said. "The second time we do this it'll have to be like war, having babies.… What's big enough? Murder." Here's to hoping none of those would require volunteers from the audience.
Full disclosure: The author was an intern at Jacob's Pillow Dance Festival in the summer of 2010.