What Recalled Onions May Carry Salmonella? Here's the Red, White and Yellow
Varieties of onions related to a U.S. outbreak of salmonella were recalled by California wholesale produce distributor Thomson International, Inc. on Saturday.
Red, yellow, white and sweet yellow onions were involved in the recall because of possible cross-contamination between those onions and red onions discovered by the CDC to be a probable source of the salmonella outbreak. As of July, 396 individuals from 34 states have been infected with salmonella after eating the onions. Although 59 people have been hospitalized with the infection, no fatalities attributed to the current outbreak have been reported.
"Consumers, restaurants, and retailers should not eat, sell, or serve red, white, yellow, or sweet onions from Thomson International, Inc. or products containing such onions," read a Saturday statement from the Food and Drug Administration. "If you cannot tell if your onion is from Thomson International Inc., or your food product contains such onions, you should not eat, sell, or serve it, and should throw it out."
The onions were distributed under the brand names of Thomson Premium, TLC Thomson International, Tender Loving Care, El Competitor, Hartley's Best, Onions 52, Majestic, Imperial Fresh, Kroger, Utah Onions and Food Lion. Wholesalers, retail stores and restaurants in all 50 states and the District of Columbia recieved the onions.
Newsweek reached out to Thomson International, Inc. for comment.
Salmonella is a type of bacteria which causes food poisoning. The infection represents with symptoms such as diarrhea, prolonged vomiting and dehydration. According to the CDC, salmonella is more prevalent during summer months when warmer temperatures and food left unrefrigerated, such as certain kinds of produce, create "ideal conditions" for the growth of the salmonella bacteria. Individuals showing signs of a salmonella infection are advised to consult a health care professional.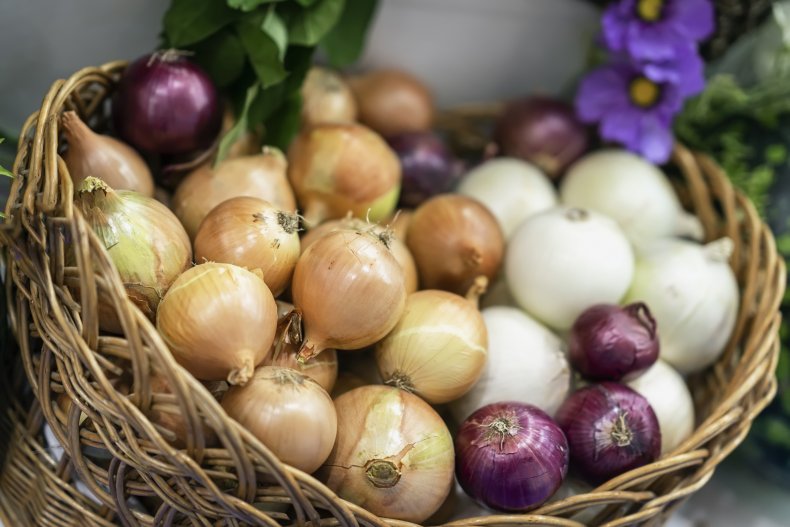 Canada has issued similar warnings to avoid consumption of the produce, tracing 120 cases of salmonella to the onions involved in the U.S. recall.
Public health officials have also reported an outbreak of salmonella connected with the handling of backyard poultry, such as chickens or ducklings. As of July, 938 people across 48 states had reported the illness. In 2019, the CDC reported 1,134 people contracting salmonella from backyard poultry for the entire year. One Oklahoma resident died from the infection
Individuals reported getting the birds from hatcheries, websites and retail stores. In Kentucky and Oregon, tests of the backyard poultry and their habitats revealed three separate salmonella strains.
After handling chickens, the CDC advises washing your hands. Fresh eggs must not be washed because cold water can draw germs down into the egg.
Food poisoning can also be caused a lack of proper preparation. In June, a shawarma restaurant in Amman, Jordan caused over 800 people to fall ill after serving rotten chicken. Workers at the restaurant failed to refrigerate the meat although the region was undergoing a heat wave. One five-year-old boy died of heart failure after eating the shawarma.
Health Minister Sa'ad Jaber said Sunday that authorities had seized "five tons of expired meat and a half ton of potato." The meat had been provided to a chain of shawarma restaurants in the area, leading to the closure of 20 separate restaurants and the eatery in Amman.
The restaurant had been offering the shawarma at half price. Four people, including the owner of the restaurant, were arrested in connection with the food poisoning cases.