What Recently Infected Trump Allies Have Said About the COVID-19 Response
As more members of President Donald Trump's circle in Washington, D.C., have tested positive for COVID-19, comments made by them in the past suggest they may not have always taken the deadly disease seriously.
In addition to Trump, who announced his diagnosis on Twitter early Friday morning, former New Jersey Governor Chris Christie; Republican senators Mike Lee, Thom Tillis and Ron Johnson; former Trump adviser Kellyanne Conway; Trump 2020 campaign manager Bill Stepien; and Republican National Convention Chairwoman Ronna McDaniel have all tested positive for COVID-19 since Friday.
Many Trump allies have come under fire this year for comments they made about the coronavirus pandemic, which has killed more than 200,000 people in the U.S. and 1 million people around the world.
"Of course, everybody wants to save every life they can―but the question is, towards what end, ultimately?" Christie, the most recent Trump ally to announce his diagnosis, said during a May appearance on CNN's "The Daily DC" podcast. "Are there ways that we can thread the middle here to allow that there are going to be deaths, and there are going to be deaths no matter what?"
Christie, a Republican, referenced the American lives lost in World Wars I and II, telling host Dana Bash "we sacrificed those lives." The 2016 presidential candidate spoke about the importance of reopening the economy and ending government-authorized quarantines that much of the U.S. was put under in spring.
"If we leave this purely up to the physicians and the epidemiologists, we'll be locked in our houses for another year," he said. "Because they don't want us to be doing anything other than staying in our homes until there's a vaccine. I don't think that's reasonable."
Lee, a senator from Utah, announced his positive test results Friday morning. He previously came under fire in August for comments he made about a local elementary school's decision to put plexiglass shields around each child's desk.
His comments came in response to an Edgemont Elementary Instagram post that stated: "Kids are ready to learn with their new power shields—ready to be superhero learners (with masks and shields)."
Lee mocked the "power shields" in now-deleted comments posted to Facebook, Twitter and Parler, a conservative social media site, Deseret News reported. The senator likened the glass barriers to "cages," evoking reports last summer of several migrant children who said they were kept in cages at Immigration and Customs Enforcement detention centers along the U.S.-Mexico border.
"What the actual hell? If they're already wearing masks and distanced, why the need for a 'power shield'? (By the way, 'power shield' = euphemism for 'cage')," Lee wrote, according to Deseret News. "I'm sure that whoever came up with this idea had good intentions, but some ideas prove better on paper than in practice. This is mean."
Tillis, who is currently up for re-election in North Carolina against Democrat Cal Cunningham, spoke about Trump's response to the pandemic. While Cunningham called it an "unprecedented failure in leadership in this country," Tillis had a more measured response.
"In a crisis—you don't go for perfect, you go for good steps in the right direction," Tillis said. Both candidates agreed that more needed to be done to help those unemployed, WCNC-TV reported.
McDaniel similarly praised Trump's handling of the pandemic. "The president was calm and steady in a time of unrest and uncertainty. And I think history will look back on him well as to how he handled this pandemic," she said last month on NBC News' Meet the Press.
Tillis, however, has been a relatively big proponent of mask-wearing, particularly when compared to other members of his party who have frequently been seen around Capitol Hill maskless. The senator even issued a sort of apology after he was captured at Trump's Republican National Convention acceptance speech without a mask.
"I've stressed the importance of mask wearing throughout this pandemic and have tried to lead by example on this issue, but last night I fell short of my own standard," Tillis said in a statement after the event.
Johnson, who announced his positive test results early Saturday morning, has previously dismissed the pandemic as a threat by arguing that "every premature death is a tragedy, but death is an unavoidable part of life." The Wisconsin senator made the comment in a March op-ed for USA Today, calling for parts of the country's economy to reopen.
"What more people are saying is that as we learn more about COVID-19, we should evaluate the total societal cost of this awful disease and try to put things into perspective," Johnson opined.
Months later, as the pandemic continued running its brutal course, Johnson doubled down on his belief that reopening the economy should've been made more of a priority.
"[I]n hindsight, I think we overreacted," he told Axios at an event in July. "We closed too much of our economy down, and I don't think we focused enough on what we needed to do: isolate the sick, quarantine them, protect the vulnerable."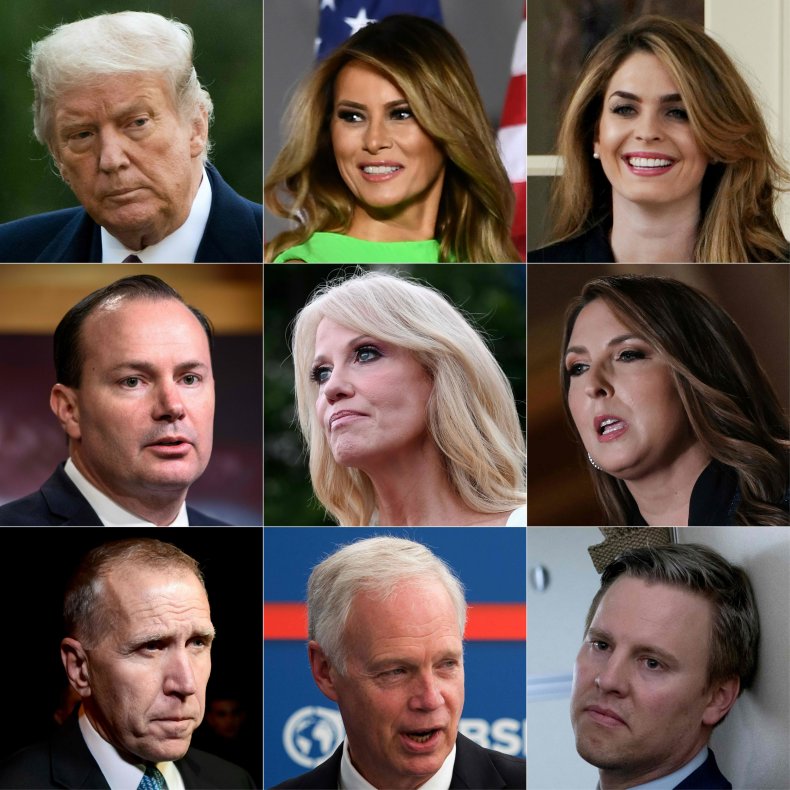 Conway, who left her job in August to spend more time with her family, insisted to a reporter in March that the coronavirus was "being contained" in the U.S.
"Do you not think it's being contained in this country?" Conway told the reporter. "You said 'it's not being contained,' so are you a doctor or a lawyer when you saying it's not being contained? That's false. You just said something that's not true."
And in August, Conway appeared in an interview with Fox News' America's Newsroom, asserting that public health officials should listen to Trump when it comes to the virus, despite the president repeatedly pushing misinformation about the pandemic.
Stepien, who Trump named as his re-election campaign manager in July, tested positive for COVID-19 hours after sending a memo to his staff saying anyone "who has had exposure to someone testing positive should immediately begin self-quarantine."
"While we do not believe anyone without symptoms needs to self-quarantine at this time, it is on all of us to continue to exercise the smart judgment and practices the campaign has long encouraged," he added, including mask-wearing and handwashing.
Trump, for his part, has long played down the severity of the outbreak and has frequently been pictured in public without a mask. Speaking at a political dinner on Thursday evening just hours before his announcement of a positive test, the president remarked: "I just want to say that the end of the pandemic is in sight, and next year will be one of the greatest years in the history of our country."