Eagle-eyed viewers of Donald Trump's interview on 60 Minutes may have spotted an unusual painting hanging inside the White House.
The painting, which appeared briefly in the background while Lesley Stahl was speaking to Trump, shows him gleefully drinking at a table with former Republican presidents Richard Nixon, Ronald Reagan, Teddy Roosevelt, Dwight Eisenhower, Gerald Ford, Abraham Lincoln, George H.W. Bush and George W. Bush.
For those who were not able to catch it on-air, the painting was also tweeted out on 60 Minutes's official Twitter account as part its promotion of the interview.
The painting, titled The Republican Club, was the creation of artist Andy Thomas, whose previous woks include Grand Ol' Gang—Republican Presidents Playing Poker, featuring several former GOP leaders (not including Trump), and another painting of Democrat presidents playing pool.
Speaking to Time, Thomas said he was "ecstatic" that one of his pieces was now hanging up in the White House.
It is believed that Trump was given the painting by Republican Representative Darrell Issa of California, and liked it so much he decided to call Thomas to thank him personally for it.
"A lot of times, gifts aren't really hung up, they're just pushed in a closet somewhere. To find out it's actually hanging is really a treat," Thomas told Time.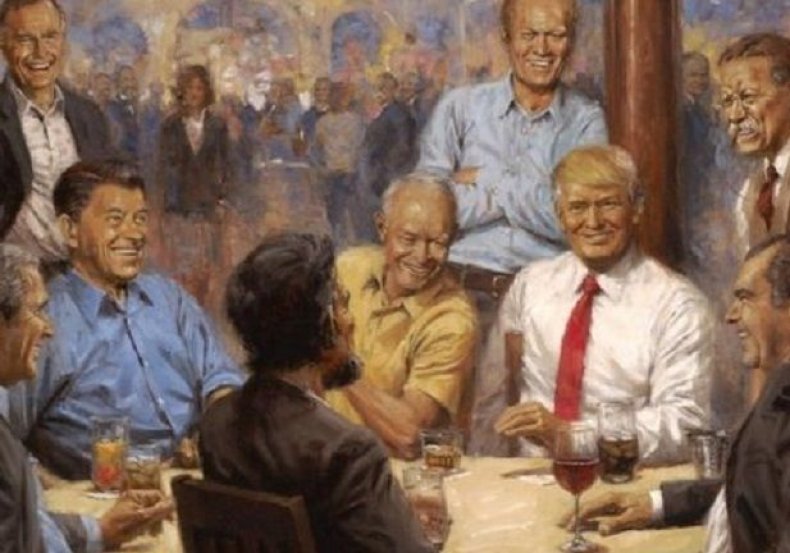 "He was very complimentary," Thomas told The Daily Beast. "He made a comment that he'd seen a lot of paintings of himself and he rarely liked them."
Thomas admitted he experienced some difficulties in painting Trump, saying he had to examine thousands of photographs in order to get a smile he wanted.
"Trump has that one thing where he sticks his chin up and smiles really big, and it's great for a caricature but not necessarily flattering to him," Thomas told Time. "I had to find a photo where it looked like he's actually heard something funny, so it looks like a genuine smile."
However, Thomas declined to share his own political views.
"I challenge people to look at the paintings and see if they can figure it out," he told The Daily Beast.
In comments to Time, Thomas said that Trump was "outside the norm of Republicans."
"Is he going to end up going in history as a great Republican or an abnormality or something? So it's interesting," he said. "I just put him at the table, more or less the center of attention. We'll let history decide. Or let the people decide. It's not up to me."