What is a 'Return-to-Work Bonus'? White House Considers Paying Unemployed People to Go Back to Work
The White House says it is considering a proposal as part of another stimulus package that would include bonus pay for those on unemployment who return to the workforce.
The proposal by Senator Rob Portman (R-Ohio) is known as a "return-to-work bonus," and it would temporarily provide an extra $450 per week for qualified workers on top of their wages. White House chief economic adviser Larry Kudlow said Tuesday that the administration "may well" throw their weight behind the concept.
The idea would be for it to replace the extra $600 per week bonus that unemployment recipients receive from the federal government, which Republicans and White House officials argue is a disincentive for people to return to the workforce.
"The trouble with the $600 plus-up—and maybe we needed it in that emergency period, but, frankly, it's a major disincentive to go back to work," Kudlow said on Fox News. "We don't want that. We want people to go back to work."
Newsweek subscription offers >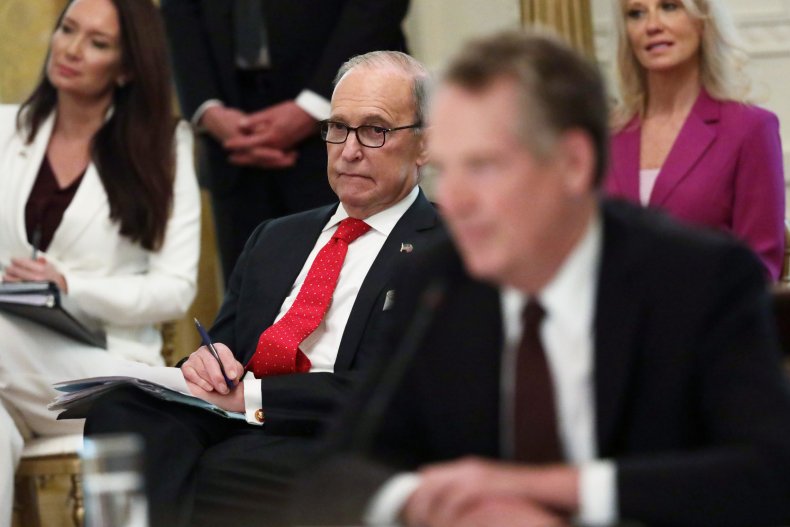 The $600 per week provision is set to expire at the end of July, with Democrats advocating to extend the weekly payments through January 2021. The return-to-work bonus would also run through the end of July.
Portman argued his measure would save both the states and federal government taxpayer money because states would have less people on unemployment and the federal subsidies would be reduced, in addition to incentivizing people to get back to work.
"There's a limit to how much federal tax dollars can be relied on to subsidize the economy," Portman said on the Senate floor last week. "The better way is to get the economy moving, get revenues flowing again."
Newsweek subscription offers >
With unemployment claims skyrocketing to nearly 40 million since mid-March, the pandemic has hit the hospitality, education and health services, retail, food and manufacturing industries the hardest. These sectors of the economy also have lower average wages, making the boosted unemployment money that much more beneficial to workers, but with the increased likelihood they will earn more than at their jobs.
Prior to the global health crisis, jobless benefits from the states typically paid less than half a person's weekly wage. The University of Chicago's Becker Friedman Institute for Economics has said that even those lower payouts "discourage job search." With the $600 boost, the higher-education institution said the unemployment problem "will worsen as the economy reopens and employers seek to recall laid-off employees or hire new ones."
Kudlow, a former T.V. financial news host, said the White House was eyeing Portman's plan "very carefully." But while Republicans and the White House may be getting behind, it remains to be seen whether Democrats will get on board.
In a $3 trillion stimulus package passed by the House, Democrats extended the weekly unemployment insurance payments. But Republicans have implemented a go-slow approach to doling out more aid and have made clear that many of the provisions in the massive piece of legislation, including the jobless benefits, will not be supported.
Senate Republicans have indicated they could support another relief bill in the ballpark of $1 trillion sometime this summer, perhaps in late June or early July. Senate Majority Leader Mitch McConnell (R-Ky.) said Tuesday he could envisioning one passing "in the next month or so."
What is a 'Return-to-Work Bonus'? White House Considers Paying Unemployed People to Go Back to Work | U.S.