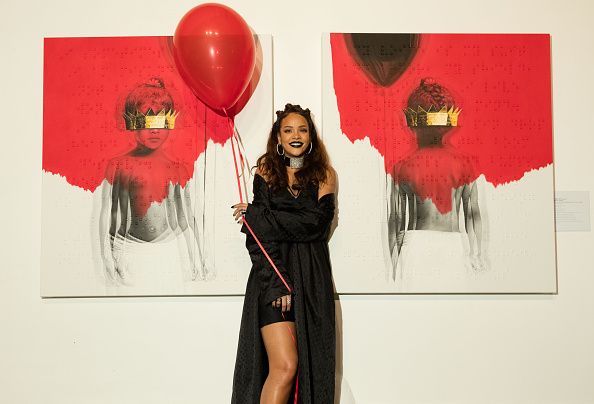 Staring at her Twitter feed on Wednesday night, Rihanna and her label must have feared the release of her much-anticipated new album Anti would be overshadowed by Kanye West's feud with Wiz Khalifa and Amber Rose as the trio traded insults sparked by Khalifa's suggestion that West's new album is unoriginal.
Rarely are smart decisions borne of pop culture panic. Almost on cue, the Barbadian singer's eighth studio album was hastily released overnight on Jay Z's streaming service Tidal. It was taken down 20 minutes later, only to be put back up again as an offer to a select few through a limited supply of free downloads.
Though this was clearly not a lesson in perfectly executed marketing, the album is now out in the world and available to hear on a dance floor near you.
Actually, maybe not.
Verdicts on Rihanna's latest material are slowly emerging, and while the initial reaction is positive it might take a few days for fans to decide what they really think about the "Rude Boy" singer's decision to eschew her reliable floor-filler formula for a more laid back, experimental offering.
"One to scare casual fans." (The Guardian)
As with Beyoncé's 2013 self-titled album, it feels like a very deliberate attempt at making a critic-pleasing, award-gobbling classic, perhaps at the expense of what makes Rihanna so good. In fact, "Work" aside, none of the songs really quicken the BPM, favoring instead textured atmospherics, and, in the album's second half, a stripped-back minimalism that might scare casual fans.
"Few songs are guaranteed radio standouts." (Billboard)
Anti is typically diverse for Rihanna, who has blended dancehall, R&B, EDM and pop on previous releases. Few songs are guaranteed radio standouts—it's clear that past collaborators like David Guetta and Dr. Luke don't have a fingerprint on the LP—save for the DJ Mustard-produced "Needed Me," whose syrupy low-end could find a place on hip-hop stations, and "Kiss It Better," a mid-tempo anthem rife with electric guitars and a straight-ahead chorus.
"Rihanna 'Anti' Climax Satisfies" (Ebony)
I feel like time will tell if I'll ever want to hear Anti again, so I guess it's not that masterpiece. But it's damn good throughout, with a powerful quartet of ballads closing the album.
"A slower sound than her previous club-friendly releases." (Teen Vogue)
As close to unplugged as Rihanna gets. Her last releases had contributions from artists like Drake and Calvin Harris, and sampled songs like Ginuwine's "Pony," which made for both huge hits and high-energy b-sides. Anti, however, shows that Rihanna cares more about quality than radio play: only a few of the tracks seem like plays for mainstream consumption.
"Rihanna without the hits." (The Telegraph)
Sooner or later, every manufactured artist turns against their creators, from the Monkees (with their self-immolating psychedelic opus Head in 1968) to Miley Cyrus biting the Disney hand that had fed her for years by stripping off and twerking. Anti is Rihanna's overdue bid for some kind of artistic independence and critical credibility, and despite its lack of obvious commercial appeal it might turn out to be a smart move.
"Embraces the joy of repetition." (The Atlantic)
["Work"] is undeniably catchy, but it also has a strangely unfinished quality. To me, though, that's its charm. The verses, choruses, and bridge mostly bleed into each other, forgoing soft-to-loud explosions or exciting rhythmic changes.
"Club-goers looking for the next great Rihanna jam: Welcome to 'Woo.'" (Fuse)
Of course, the superstar's latest includes the kind of bangers that she does best, but the LP also sees her going more experimental and more stripped-back than we've ever heard from the singer.
This article will be updated as more information becomes available.