An online platform that lets players create and explore virtual worlds—dubbed the "number one gaming website" for kids—has left one mother shocked after her 6-year-old daughter entered a so-called "sex room" level showing dozens of virtual characters engaging in forms of intercourse.
Footage of the avatars' simulated sex on Roblox, obtained by Australian parenting advice website Kidspot, was recorded by a Sydney woman identified as "Peggy" who discovered that her daughter Poppy had been invited into the X-rated room after adding a stranger on the game by mistake.
"I was sitting next to her and noticed out of the corner of my eyes that one of the characters [had] breasts, so it made me look closer," the mother told Kidspot. "Luckily she had absolutely no idea what she was looking at, but I would hate to think about what would have been said to her. I explained that they were not kids like her and that they were actually adults being naughty."
Peggy, who was forced to update the security settings on her daughter's Roblox account to protect her from adult content, said that she reported the sex room and that it has now been removed.
But a YouTube search shows there have been numerous instances of controversial material being uploaded to the game since it launched in 2005—including levels that have been designed to look like strip clubs and others that allow Roblox players to go through the motions of a school shooting. The roleplay game, popular with children aged 8 and over, is available on PC, Mac, iOS, Android and Xbox.
In the wake of the incident, Kidspot has advised parents around the world to pay more attention to what their children are playing online. "You should be aware of what they are doing and who they are interacting with, so keep that communication open and try to monitor their gameplay," the site stated.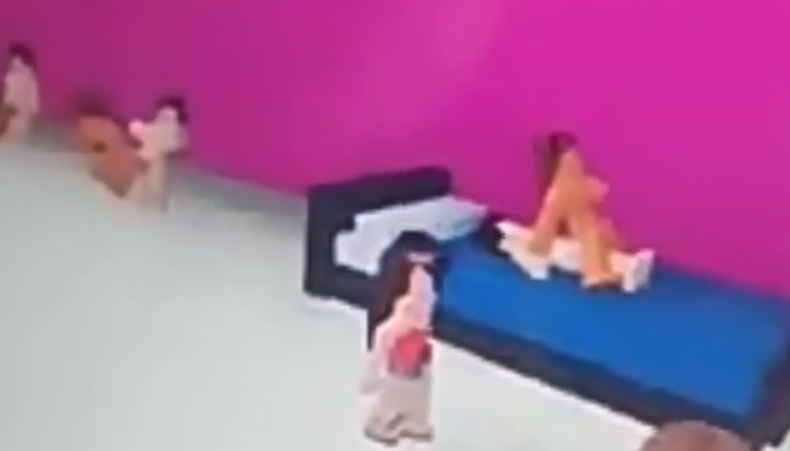 In a statement to Newsweek, a Roblox spokesperson said: "We were outraged to learn that Roblox's community policies and review process were subverted to publish inappropriate content.
"A Roblox game, which can be built from millions of building blocks, can be vast. Before a game is published, our moderation team reviews all content uploaded into the game—such as photos, videos, and sound files. While we can't review everything that has been built within the game, we do react quickly to inappropriate content once it is published.
"In this case, the offending game was taken down immediately after we became aware of it, and the developer that built that game has been banned from the platform. We have zero tolerance for this behavior. Our work to ensure a safe platform is always evolving and remains a top priority for us."
The title is similar in appearance to the gaming phenomenon Minecraft, which also gives players the ability to create levels filled with houses, vehicles and "anything else you can imagine" using building blocks or computer code.
Roblox users, can search for other players' levels, create a character and a username and can interact using forums, in-game chatrooms or via personal messaging.
The game contains a virtual currency known as "Robux" for users over the age of 13 that can be earned while playing or purchased with real-word cash. Under its privacy policy, Roblox says anyone under the age of 13 needs to provide a parent's email address for verification. And while it has not yet commented on Peggy's case, the developers appear aware there is the potential for abuse.
"While the imagery on Roblox has a blocky, digitized look, parents should be aware that some of the user-generated games […] may include themes and/or imagery that may be too intense for young or sensitive players," a parental safety guide warns. Under a section for predatory behavior, it advises: "Talk to your child about online grooming, including what it is and what to watch out for."
In May this year, the website was reportedly blocked in the United Arab Emirates.
This article was updated to add in a comment from Roblox.