What Rush Limbaugh Has Said About His Fight With Cancer
Radio legend Rush Limbaugh recently gave listeners a solemn update on his terminal lung cancer diagnosis, saying that there has been "some progression" in the disease.
The 69-year-old told his eponymous program, The Rush Limbaugh Show, that he has been living under a "death sentence" since the stage four diagnosis, which he announced on his show in February.
The conservative political commentator said that the cancer's growth had recently been halted by treatment but his most recent scans showed it had progressed.
Limbaugh offered advice to listeners going through their own struggles and later thanked them for an outpouring of support.
Throughout his cancer battle, he has continued to host his radio show, which has been in national syndication since 1988, although he missed several this month to undergo treatment.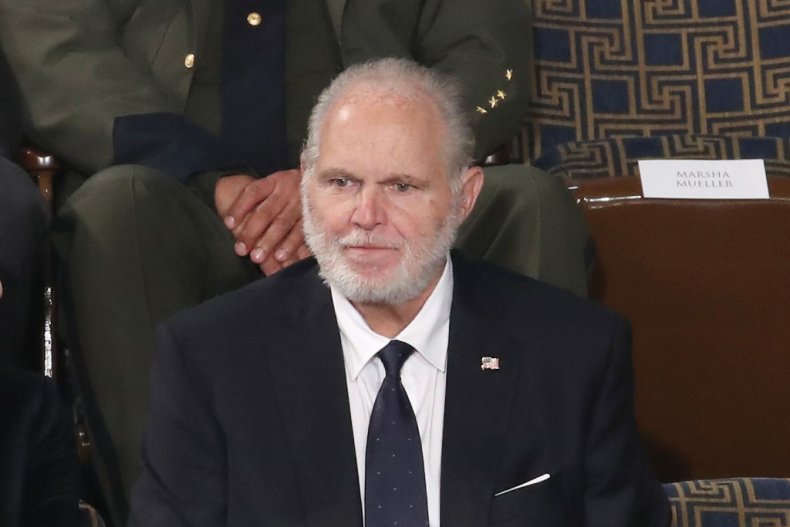 What did Rush Limbaugh say about his fight with cancer?
Limbaugh opened up to listeners on Monday about the "rollercoaster" he has been enduring since his diagnosis.
He said: "We're all going through challenges. Mine are no better and mine are no different and mine are no more special than anybody else's.
"But it can feel like a rollercoaster. From the moment you get the diagnosis, there is a part of you everyday, that is like: 'Ok, that's it. Life's over.' You just don't know when."
The radio host continued: "During the period of time after the diagnoses you do what you can to prolong life. You do what you can to prolong a happy life.
"You measure a happy life against whatever medication it takes and at some point you decide that this medication might be working but you hate the way you feel."
Limbaugh said that while he is not at that point yet, it is "part and parcel of this."
He said: "It is tough to realise that the days that I do not think I'm under a death sentence are over.
"We all know that we are going to die at some point, but when you have a terminal disease diagnosis that has a time frame to it then that puts a different psychological and even physical awareness to it."
Limbaugh said that he had his most recent treatment the week before last and his scans did show "some progression of cancer."
He said: "Prior to that the scans showed that we had rendered the cancer dormant. We had stopped the growth. It had reduced and it had become manageable.
"But there's always the reality and the knowledge that that can change and it can come back because it is cancer. It eventually outsmarts pretty much everything you throw at it. And this, of course, this is stage 4 lung cancer."
The radio host said he was still "very blessed" to still be working on his radio show but he was growing more and more tired.
He said: "Some days are harder than others. I do get fatigued now. I do get very, very tired now. I'm not gonna mislead you about that.
"But I am extremely grateful to be able to come here to the studio and to maintain as much normalcy as possible—and it's still true."
What advice did Limbaugh give his listeners?
The radio host said he understands that many people are going through their own struggles and offered advice to listeners.
He said: "Someone told me—I think this is good advice, may be helpful—the only thing that any of us are certain of is right now, today.
"That's why I thank God every morning when I wake up. I thank God that I did. I try to make it the best day I can no matter what. I don't look too far ahead. I certainly don't look too far back."
Limbaugh also told listeners he never thought he would make it to October 1 when he was first diagnosed earlier this year.
He said: "It is of immense value, strength, confidence, and that's why I'm able to remain fully committed to the idea that what is supposed to happen will happen when it's meant to.
"There's some comfort in knowing that some things are not in our hands," he said. "There's a lot of fear associated with that, too, but there is some comfort. It's helpful. God, is it helpful. It's helpful to be able to trust and to believe in a higher plan."
Limbaugh receives an outpouring of support
Listeners took to social media after the show to offer their support to the radio host.
Limbaugh responded to the well-wishers, saying: "Thank you so much for your overwhelming encouragement and support, and prayers out there. They absolutely work! Fear not, I plan to hang around a long time to continue to annoy the left."
Brandon Morse was among those who tweeted their good wishes to the radio host, saying: "Prayers going out to #rushlimbaugh and his family."
Brett Dial wrote: "Praying for @rushlimbaugh and the doctors to get him headed to 3rd base soon. In our Lord's will we find peace!"
Heather Champion tweeted: "Here is some of @ruchlimbaugh today, discussing his update on his cancer status. Very thoughtful, very brave. All prayers up for him and his family as wel as everyone going through this, as he himself talks about."
Lori Henry wrote: "Join me in sending thoughts and prayers to @rushlimbaugh he's just announced that the advanced lung cancer has progressed. Rush, you've got this! We're praying hard for your full recovery! We love you!"