What is Russia's 3rd Army Corps? New Unit Moving to Front Lines: Intel
Russia called upon more volunteers a few months ago to help form a new group of fighters for the war in Ukraine. A "lucrative" cash bonus was offered to those who would eventually become the country's 3rd Army Corps.
Recent intelligence indicates the 3rd Army Corps is moving to the front via rail lines.
"In recent days, our volunteers discovered photos and videos of the transportation of Russian military equipment by rail. The video shows the full warehouse of the Buk complex, and the photo shows T-80BV and T-90M tanks," the Conflict Intelligence Team (CIT) reported on its Telegram channel.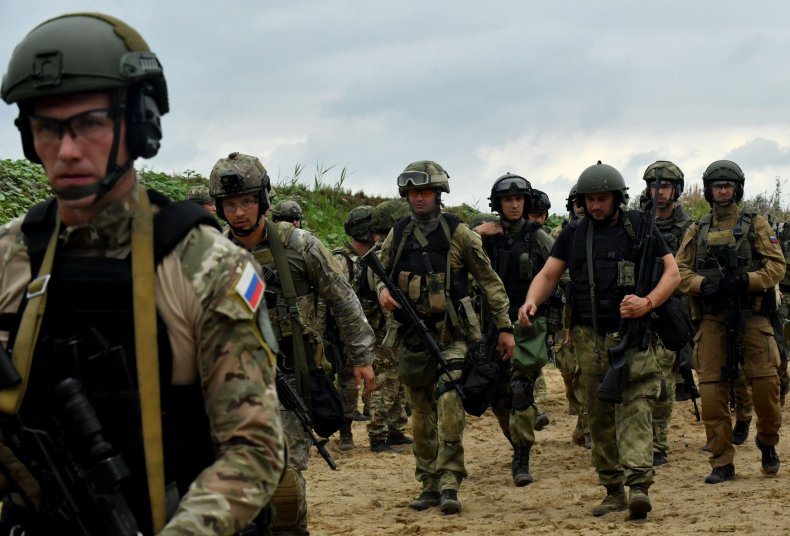 The 3rd Army Corps is based in Mulino, which is in the Nizhny Novgorod Oblast, about four and a half hours east of Moscow.
Intelligence and railway database reports state that trains loaded up in Mulino and departed on August 22 and 24, headed to Neklynivka railway station in Russia's Rostov region, which is near the border with Ukraine's Donetsk region in the east.
"So far, it is impossible to say with certainty exactly where the Russian command plans to use the corps forces," CIT stated. "However, the final point of the echelons (Neklinivka station), located in the south of the Rostov region, is located closest to the Donetsk and Zaporizhzhia areas of the front."
What is the 3rd Army Corps in Russia?
Russia this year recruited men aged 18-50 to help fill a void after failures in Ukraine and mass losses on the battlefield. The new group of volunteers aren't required to have any prior military experience, nor any education beyond middle school or high school.
Russia's casualties have reportedly surpassed 46,000 as the war enters its 27th week. The 3rd Army Corps is trained to fight along the front lines, giving needed relief to their fellow countrymen.
Russia began building troops along Ukraine's northern and western borders in late January, and they began attacking Ukraine on February 24, 2022. Since then, there have been heavy casualties on both sides. That includes Ukrainian civilians, foreign fighters, Ukrainian military and more than 46,500 Russians.
Russia failed to overtake Kyiv, Lviv and Odesa, but they occupied many regions in the eastern portion of Ukraine. Russia has occupied most of the Donbas Oblast, which includes Luhansk, Severodonetsk, Donetsk and Mariupol. They occupied the Crimea peninsula in 2014.
Russia has also occupied the major southern cities of Kherson and Melitopol, inching their way toward Odesa and the southwestern Transnistria area near the Moldova border.
While some think Russia has lost its grip on the war, and perhaps its aggressiveness, a new set of soldiers on the front line could possibly restore some morale as well.