What Is Sarah Palin Building, and What Does It Mean?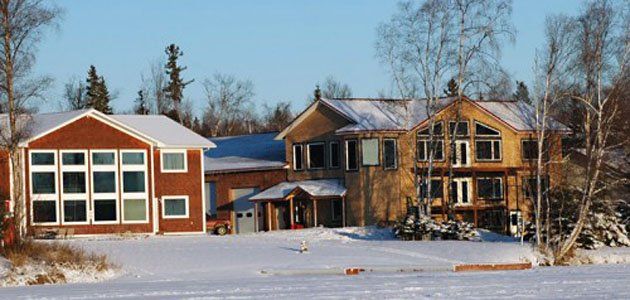 Experienced New York Times Alaska hand William Yardley has an intriguing dispatch from Wasilla in this morning's newspaper. He writes about the Palin family's relationship to the small town where Sarah Palin got her start as mayor, and draws a mixed portrait: Palin is frequently on the road and isn't seen around town the way she used to be, but her husband Todd also tells the reporter that his family doesn't intend to move anywhere: "Where else would we go? Alaska is our home."
One of the more interesting nuggets is midway through the article:
Even the most concrete new development in the Palin family, an enormous structure rising beside their existing 3,400-square-foot house on Lucile Lake, is something of a mystery. Based on the limited evidence in the planning department at Wasilla City Hall (the city does not require building permits), the building's footprint alone is 6,000 square feet, but much of it is two stories. Various sources have said the project includes a television studio (Fox News, [Sarah Palin's father Chuck] Heath said), apartments for Mr. Palin or the Palins' older children (Bristol Palin, 19, has said, however, that she is living on her own with Tripp and paying her own bills with the help of handsome speaking fees) and a well-appointed office for Ms. Palin.
It's actually not the first time there's been word of the structure. Palin-obsessed bloggers have been tracking it since at least October 2009, when the blog Immoral Minority got some snapshots of the building's frame. Several days later, the blog Palingates followed up with some aerial shots of the Palin compound. Palingates reported that the building included a hangar for Todd Palin's plane, personal space for both Todd and Sarah, and an apartment for Bristol. Confirmation of the basic facts in Yardley's story have since come in a New York article and a profile in USA Weekend.
In February, the Times reported that Fox News—which Palin had recently joined as a contributor—was building a remote video uplink in her living room, so that she could easily appear on air. Previously, that had required either travel by Palin or a satellite truck from Anchorage, an hour away. But she's apparently already able to broadcast from home, even without the mysterious new building.
Since Palin's resignation from the Alaska governor's office in July 2009, speculators have been engaged in a furious game of "Will she or won't she?"—as in, make a presidential run. Her departure was seen as both preparation for a 2012 run and political suicide. But Gabriel Sherman presented a convincing case that the resignation was really all about money: the Palins were hardly wealthy before, their legal bills were piling up, and they saw others profiting richly from their name and wanted a piece of that pie.
The new building adds another wrinkle—but seems to confirm fellow Gaggler Andrew Romano's view that Palin is more interested in building her own brand around the Wasilla house than moving into the White House. When it broke the story, Immoral Minority seemed puzzled: "We have heard repeatedly that Sarah Palin is done with Alaska ... So why spend a portion of her newly made fortune to build, what looks to be, an entirely new house right next to her old one?" More mainstream commentators also thought she might flee the frozen north. But despite the tension, and frequent absence, Yardley hints at, a project this big certainly seems like a commitment to stay—and to build the already lucrative media empire Sherman termed "Palin, Inc."
A bigger, more luxurious studio—one that didn't occupy the living room—would pave the way for Palin to enlarge her media footprint. But it wouldn't be a great use of funds if she intended to quit TV for the campaign trail in a year. Family compounds aren't mutually exclusive with political ambition, but if one were intending to run for president, building a compound like this hours away from the nation's political center would be a strange move.
What Is Sarah Palin Building, and What Does It Mean? | U.S.