This Is What Seeing 'The Interview' in a Theater Is Like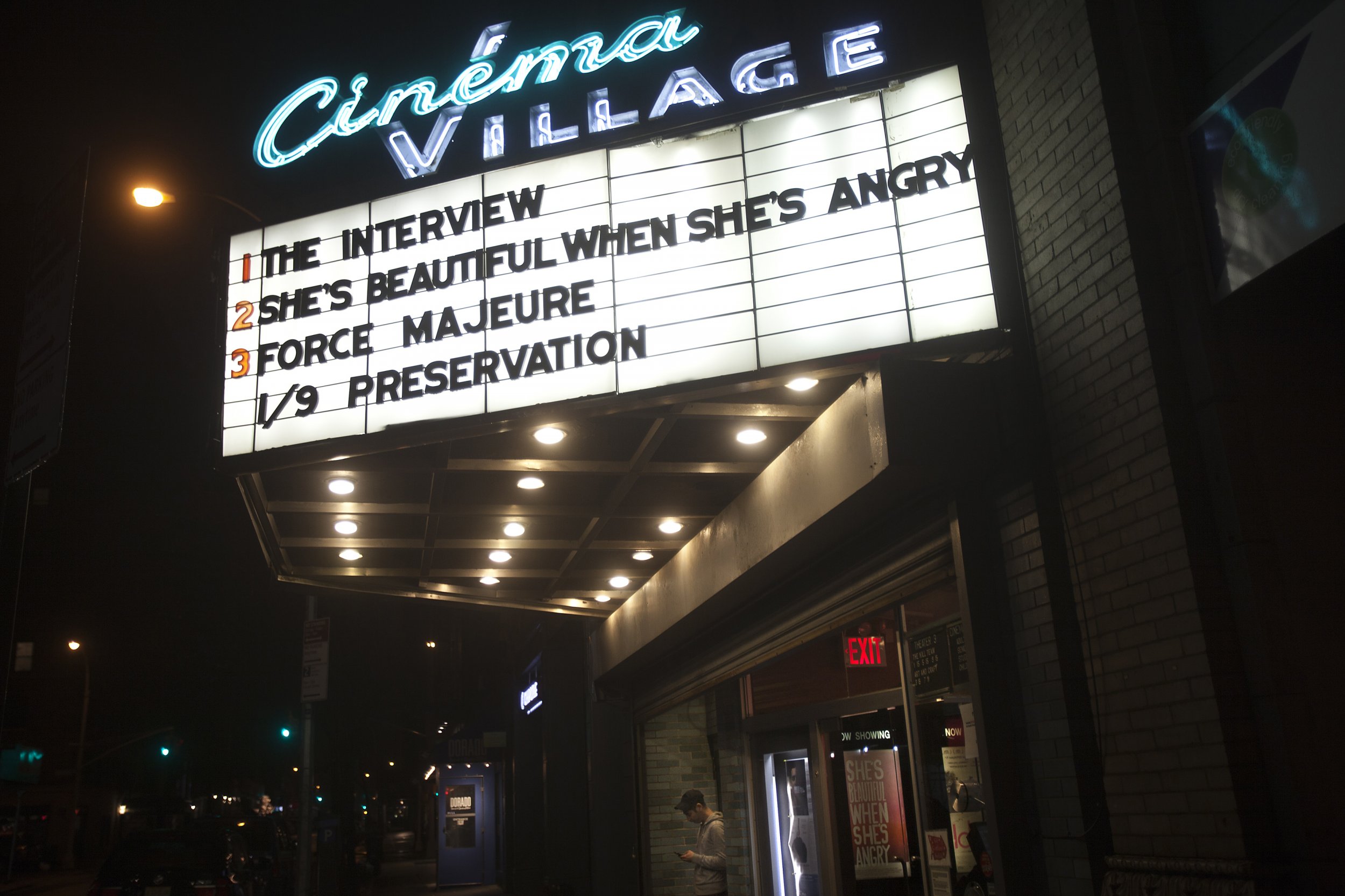 I arrived at Cinema Village an hour in advance of the 8 p.m. screening of The Interview, expecting long lines at the small, independent movie theater, one of only two in Manhattan playing the scandal-, threat- and hack-ridden film.
A number of television crews were parked outside the theater, along with two young theater employees, a visibly bored box office cashier and a line of excited New Yorkers, tickets in hand, stretching down a third of the block. There were no police, no armed guards, no FBI agents. It was just a movie theater with a long line and a big sign that stated: "The Interview: SOLD OUT."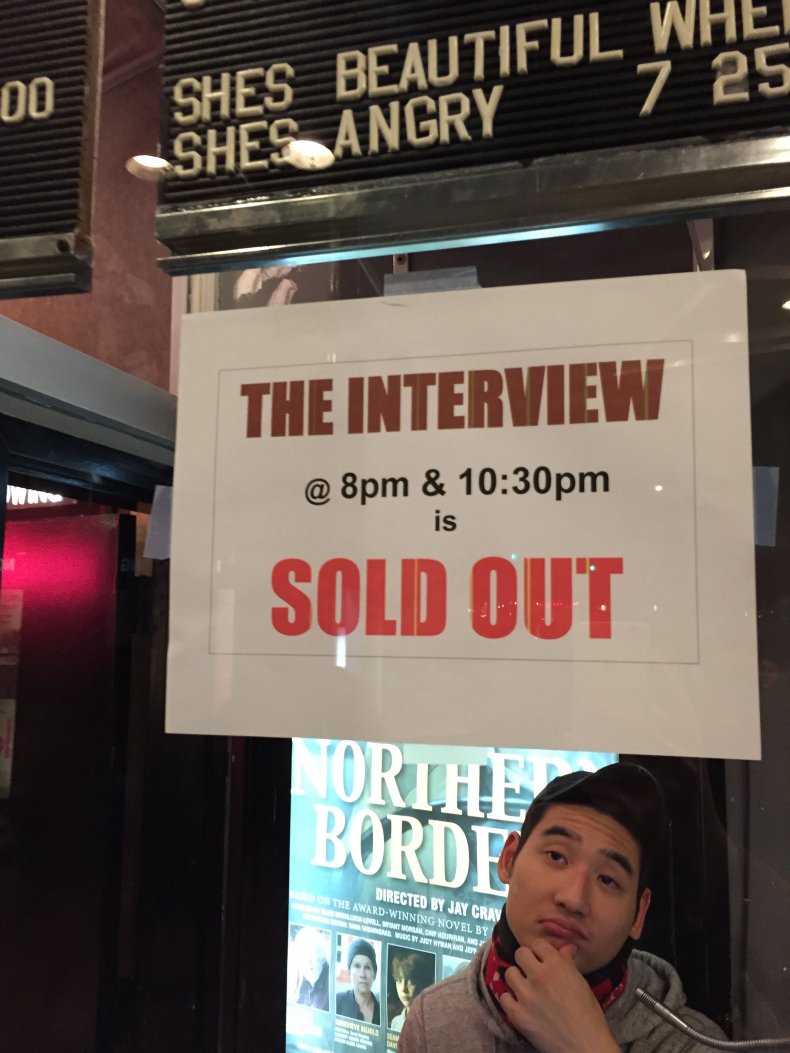 After picking up my ticket from the box office, I stood in the line for about a half hour, overhearing everyone's takes on the movie: "I can't wait, I heard he burns to death," "This is really about being an American," "I hope James Franco doesn't suck."
The theater manager, Lee Peterson, ran up and down the line making sure everyone had their tickets, knew there were no more tickets available and knew where to buy popcorn. He stopped and talked to me about the day, pleased that all the shows had sold out. Earlier in the week, both the New York City Police Department and FBI had stopped by the theater, clearing it to screen the movie.
Though threats had been made on theaters who dared to show The Interview, reportedly by North Korean hackers, authorities have been unable to substantiate those threats, and Peterson certainly did not fear them. "I feel more threatened by you and these questions than I do by North Koreans," he told me.
Normally, a small, independent theater like Cinema Village would not show these movies, dubbed "wide releases." But as most major theater chains had backed out, Cinema Village was free to fill the void. "The movie wouldn't usually have been offered to us, but when it became limited release, the indies jumped," Peterson explained. "We book week to week; we had to juggle the schedule to playThe Interview."
Thanks to the small theaters who agreed to screen the movie after Sony backtracked on its backtrack, The Interview earned more than $1 million during its first day in theaters.
About 15 minutes before showtime, we filed into the theater. People began whipping out cameras, taking photographs of every detail of the theater, in which every seat was taken. At first, I thought they might be making bootleg videos of the film, but instead, most people were taking selfies, some cheerfully exclaiming how excited they were to see the film. One man, whose professional camera was on a tripod, explained he was photographing the minutes before show time because it was "historic!"
The two college students sitting next to me told me they came to see the movie purely because of the threats, and were disappointed when Sony had initially pulled the film. "It was a strange move of appeasement, a private company giving into political pressure. It set a troubling precedent," one said. The duo, both Seth Rogen fans, then got their popcorn and began discussing rumors of the battle scenes amongst themselves.
At 8 p.m., Peterson reappeared. He spoke to the audience about the importance of freedom of speech, not falling to terrorist threats and fart jokes (which the film certainly did not lack). People clapped after his short speech and the movie began—no trailers, no delay, just James Franco, Seth Rogen and a fictional Kim Jong Un.
The movie itself, well, it was fine. It was long, almost two hours, and full of poop jokes, phallic references and comically bad violence (Rogen at one point loses two fingers; in the next scene, they seem to magically reappear on his hand). As Kim Jong Un burns to death, the audience cheered. When the movie was over, there was applause, even whistles from the crowd. I walked out of the theater and saw a long crowd ready for the 10 p.m. show, another sold-out screening of The Interview.