What Is Sepsis? Former President George H.W. Bush Said to Be Recovering From Blood Infection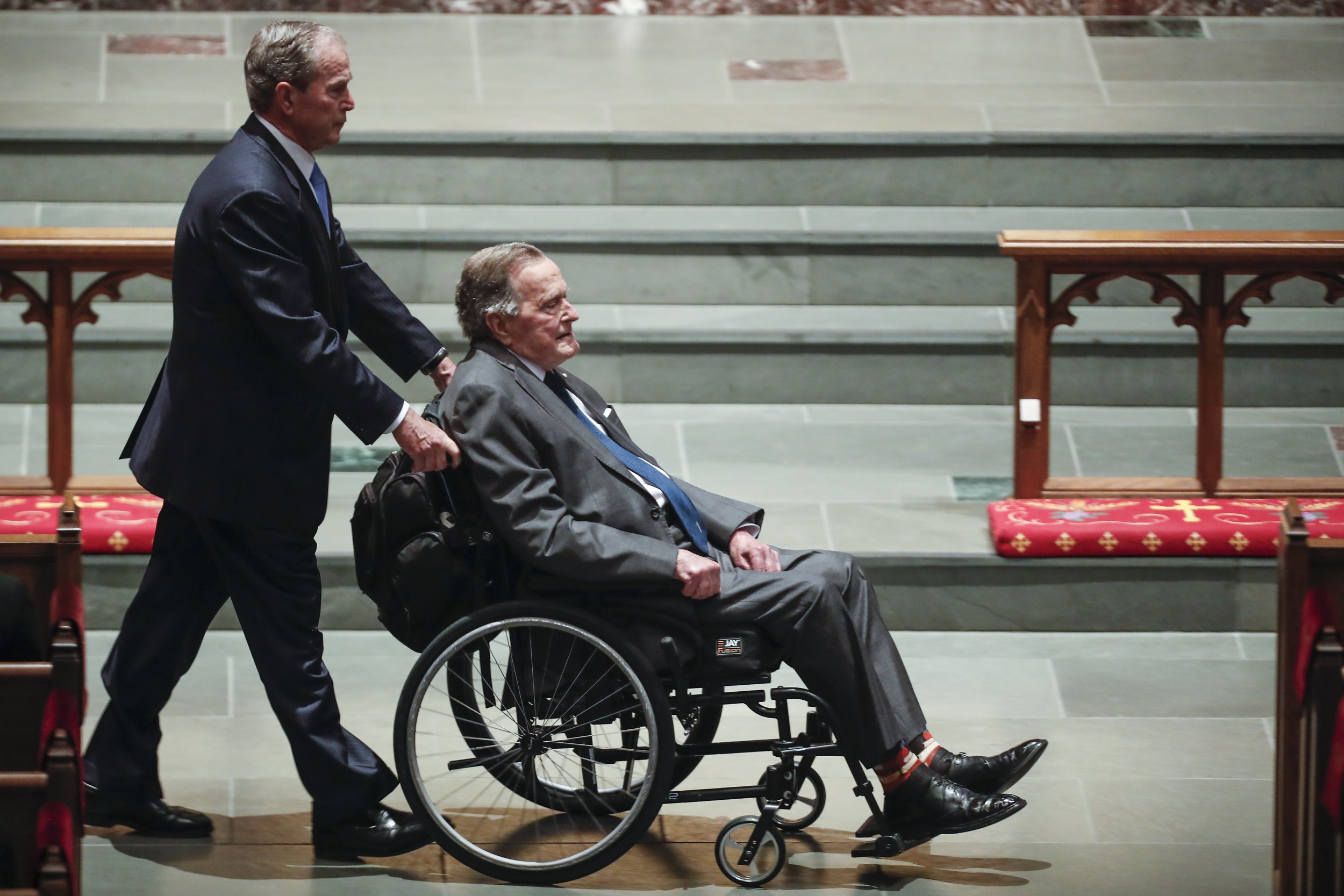 Just a day after his wife of 73 years was laid to rest, former President George H.W. Bush was admitted to Houston Methodist Hospital with an infection, according to family spokesman Jim McGrath.
McGrath said the 93-year-old was hospitalized Sunday with an infection that had spread to his bloodstream. McGrath said Monday evening that the 41st president's health was improving.
"President Bush was admitted to the Houston Methodist Hospital yesterday morning after contracting an infection that spread to his blood. He is responding to treatments and appears to be recovering. We will issue additional updates as events warrant," McGrath said in a statement.
McGrath emphasized that the former president was eager to visit the family's summer home in Kennebunkport, Maine.
"He's the most goal-oriented person on the planet and I would not bet against him," he told The Houston Chronicle.
A spokesperson for Houston Methodist Hospital declined to provide an update Tuesday on Bush's current condition.
Sepsis—which is most common and dangerous in older adults and those with weakened immune systems—occurs when chemicals released into the blood to fight off an infection trigger inflammatory responses throughout the body, according to the Mayo Clinic. The most likely causes of sepsis are pneumonia, abdominal infections, kidney infections and bloodstream infections (bacteremia).
Dr. Coburn Allen, an infectious disease specialist with the Dell Medical School at the University of Texas at Austin, told The Houston Chronicle that mild blood infections do not always develop into sepsis.
"It sounds like [Bush] was septic at first because they said he was stabilized—and generally if they say you're stabilized it means you weren't at one point," Allen said.
Although little is known about the president's condition, an infection to the blood can be dangerous and even life-threatening, Dr. Nathan Shapiro from Beth Israel Deaconness Medical Center in Boston told Newsweek.
Shapiro noted it was unclear "how sick [Bush] is." However, he pointed to Bush being taken to the ICU as a sign that he was most likely suffering from sepsis.
"Cases that are severe enough to require treatment in an intensive care unit" tend to be sepsis, Shapiro told Newsweek.
Treatment for sepsis begins immediately at the hospital, Dr. Laila Woc-Colburn, a Baylor College of Medicine associate professor of infectious diseases, told KHOU-TV. "If you have low blood pressure, we start them with IV fluids, and then we give them what we call broad-spectrum antibiotics. Meaning that it covers all bases, it covers the staph, the strep and e. Coli," Woc-Colburn said.
McGrath declined to elaborate on Bush's condition and told Newsweek that the family's previous statement "still stands."
The elder Bush has previously been hospitalized for respiratory issues. According to the Associated Press, he uses a wheelchair and an electric scooter for mobility after he developed a form of Parkinson's disease.
Bush's wife, Barbara Bush, died on April 17 at their Houston home. Her funeral, which was held on Saturday, was attended by former presidents Bill Clinton, George W. Bush and Barack Obama, along with their wives and current First Lady Melania Trump.