What Should Teenagers Read at School?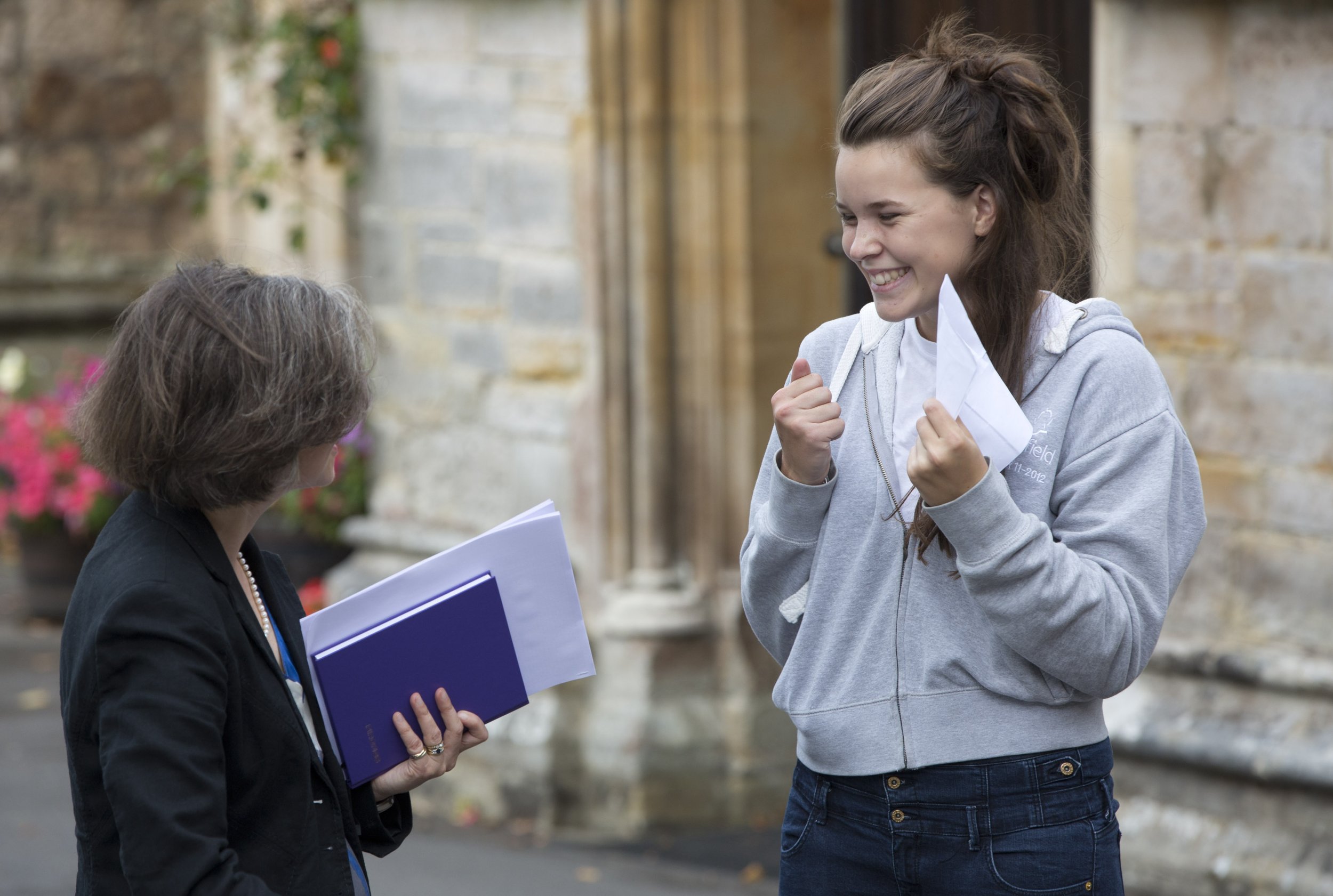 You might call it texting. Britain's education secretary, Michael Gove, has called on the country's high school exam boards to include more British authors at the expense of American ones.
Although he says he hasn't banned any writers, he complained that in one recent year "280,000 candidates studied just one novel for the [literature exam]. The overwhelming majority of them (more than 190,000) studied John Steinbeck'sOf Mice and Men.
"Most of the remaining pupils studied other 20th-century texts, including works such as William Golding'sLord of the Flies. The numbers studying novels written before 1900 – Jane Austen's Pride and Prejudice, Thomas Hardy's Far from the Madding Crowd and Emily Bronte's Wuthering Heights – were tiny in comparison, around 1 percent of the total."
In the past, "English Literature GCSEs [exams] were not rigorous enough and their content was often far too narrow," said an English Education Department spokesperson. The new guidelines don't "ban any authors, books or genres. It does ensure pupils will learn about a wide range of literature, including at least one Shakespeare play, a 19th century novel written anywhere and post-1914 fiction or drama written in the British Isles."
With his intervention, Gove has brought attention to the issue of what, exactly, schoolchildren should read. "This is a debate that goes on constantly, and sometimes it flares up," explains Dr Susanne Wiborg, a Danish-born reader in comparative education at the University of London's Institute of Education. "Educators are trying to answer two different questions: which knowledge does a child need? And what should be passed on to the next generation?"
There's a third aspect that often conflicts with those two goals: the desire to instil in children a joy of reading. "In the final years of schools I think one should read important works and world literature, but in the years before that, it should be books that inspire you to read more," reflects Hannah Schubert, a 17-year-old German currently doing an exchange year at a secondary school outside London.
In her British school, Schubert has read Pride and Prejudice ("boring"), two Shakespeare comedies ("make you laugh") and The Yellow Wallpaper, a short story by the 19th-century American feminist Charlotte Perkins Gilman.
Last year, at her school outside Dresden in eastern Germany, she read Goethe's Faust; German 19th-century author Theodor Fontane's novella The Rider on the White Horse; the drama Nathan the Wise by 18th-century German writer Gotthold Ephraim Lessing; and 20th-century Swiss writer Friedrich Dürrenmatt's novel The Judge and his Hangman.
The nub of the argument about what teenagers should read is not just how intellectually elevated the mandatory reading should be but how much it should reflect the country in which the pupil lives. While Gove wants to promote literature from Britain, the average high-achieving Czech 15-19-year-old pupil reads Fyodor Dostoyevsky's Crime and Punishment and Umberto Eco's The Name of the Rose alongside works by Czech writers like Milan Kundera and Bohumil Hrabal.
"European countries differ to an extreme degree, and in some countries different parts of the country even take different approaches," explains Dr Theo Witte, a senior lecturer in teacher training at the University of Groningen in the Netherlands. "In the Netherlands, foreign authors are typically not mandatory reading in schools, whereas Germany and Belgium, for example, take a much more inclusive approach to foreign literature."
Bavaria, Germany's top state in academic achievement in schools, requires only one book: Faust. "Our curriculum consciously leaves the teachers plenty of latitude in their selection of books," the state's education minister, Dr Ludwig Spaenle, tells Newsweek. "Together with their pupils they can explore German works as well as – in translation – foreign-language literature. What's more important than a book's place of publication is its content, because in literature one is always exposed to central questions concerning human existence."
He says exposure to literature from different cultures is as important as exposure to works from different epochs. "It brings young people into contact with different world views and thus it promotes appreciation for other standpoints and perspectives," he says. The reason Bavarian children read a large amount of German literature, he adds, is simply due to the sheer volume of German-language works.
As in Bavaria, in most countries today teachers have a large degree of freedom in which books and authors to recommend to pupils. "Gove's approach is very top-down and very nation based, whereas in the Nordic countries, for example, teaches now decide on their own what to teach," explains Wiborg. "That's a change from the past, when governments prescribed much more in detail what should be taught. Of course there's sometimes a discussion, but no education minister has ever intervened in the way Gove did."
In Finland, Europe's top-scoring country in pupils' academic achievement, the government simply identifies the types of literature that should be taught and the skills they should produce. But like its fellow Nordic countries, Finland is keen to highlight its literary heritage.
Of the 10 literary works read by a high-achieving Finnish teenager, five are by Finnish authors. "Literature is different from many other subjects because it has political connotations, so the guidelines often shift when there's a new government," notes Witte. "And with small languages, there's the additional need to protect the language." In other words, if Finnish schools don't teach the epic poem Kalevala, who will ensure it is passed on to future generations?
Despite facing fewer concerns about the survival of its language, France focuses heavily on French literature, whereas Italian schools readily teach Miguel de Cervantes and Fyodor Dostoyevsky alongside Dante Alighieri and Primo Levi. Rossana Cavalleri, a Milanese mother of a 15-year-old and an 18-year-old attending a science-based secondary school, lists their literature requirements: each year one part of Dante's Divine Comedy along with other Italian works and foreign literature, decided by the individual teacher. "I think it's adequate," she reflects. "But the kids read because they're forced to."
Indeed, the current challenge is to make teenagers read literary works addressing weighty issues when they're more used to consuming brief Tweets. "Faust was pretty dry, but I definitely realise it's an important work," reports Hannah Schubert.
Academics, while not approving of Gove's tactics, say he's on target in identifying teenagers' declining reading habits as a serious concern. "Part of the problem is that schools now assign more teaching hours to language instruction than to literature," explains Witte. "In the Netherlands, the percentage of school time dedicated to literature has decreased from 30 percent to 20 percent in the past 10 years."
With education expected to prepare children for the labor market, such a cut is understandable. But Spaenle argues that literature is very useful knowledge, even for 21st-century careers. "An aesthetic education that's as wide and deep as possible, including in the area of literature, can give children and teenagers plenty of stimulation as their personalities form, and as a result it contributes to a solid basis. And stable personalities are off to a better start at university and in their careers."
Who reads what where? A guide to high school reading lists in Europe.
Netherlands
PC Hooft: Nederduytsche Historiën, (History of the Netherlands) 1642-1656
Joost van den Vondel: Lucifer, 1654
Edgar du Perron: Land of Origin, 1935
Haasse, Hella: In a Dark Wood Wandering, 1949
Gerard Reve: Approaching the End, 1963
Cees Nooteboom: Rituals, 1980
Hugo Claus: The Sorrow of Belgium, 1983
Frans Kellendonk: Mystiek Lichaam (Mystical Body), 1986
Arnon Grunberg: The Asylum Seeker, 2003
A F Th van der Heijden: Homo Duplex, 2007
Finland
Nikolai Gogol: Dead Souls, 1842
Fyodor Dostoyevsky: Crime and Punishment, 1866
Aleksis Kivi: Seven Brothers, 1872
Ilmari Kianto: Punainen Viiva (The Red Line), 1909
Franz Kafka: The Trial, 1925
Pentti Haanpää: Noitaympyrä (The witch circle), 1931
Veijo Meri: Manillaköysi (Manila), 1957
Toni Morrison: Beloved, 1988
Elina Hirvonen: Kauimpana Kuolemasta (Furthest Away from the Death), 2010
Czech Republic
John Amos Comenius: Labyrinth of the World and Paradise of the Heart, 1631
Fyodor Dostoyevsky: Crime and Punishment, 1866
Jaroslav Hašek: The Good Soldier Svejk, 1921
Franz Kafka: The Trial, 1925
Karel Čapek: Hordubal, 1933
Egon Hostovský: Cizinec Hledá Byt (Foreigner Looking for an Apartment), 1947
Milan Kundera: The Joke, 1967
Bohumil Hrabal: I Served the King of England, 1971
Umberto Eco: The Name of the Rose, 1985
Germany
Fyodor Dostoyevsky: Crime and Punishment, 1866
Thomas Mann: Death in Venice, 1912
Heinrich Mann: The Loyal Subject, 1918
Franz Kafka: The Trial, 1925
Alfred Döblin: Berlin Alexanderplatz, 1929
Günter Grass: Cat and Mouse, 1961
Jenny Erpenbeck: Visitation, 2008
Source: LiFT Europe, www.literaryframework.eu
What Should Teenagers Read at School? | World