What Should the U.S. Do About Alexei Navalny? Unfortunately, Nothing | Opinion
Alexei Navalny, the most popular figure in Russia's beleaguered opposition movement, fell ill last week on a flight from Siberia back to Moscow. The culprit? Some kind of cholinesterase inhibitor, a drug that disrupts the nervous system, likely in his tea. The Kremlin critic was transferred and admitted to a German hospital, where doctors confirmed he was poisoned. Navalny now lies in an induced coma.
Poison is a tactic the Kremlin has often used to silence dissenters and deter others from campaigning against the Russian government. In 2018, opposition activist Pyotr Verzilov nearly lost his life after drinking a cup of tea on a Moscow-bound flight. Vladimir Kara-Murza, another activist, has survived two suspected poisonings, in 2015 and 2017. Former Russian intelligence operative Alexander Litvinenko died in 2006 after ingesting polonium-210 believed to have been in his tea. And then there was Anna Politkovskaya, a journalist investigating Moscow's response to the Beslan terrorist attack, who survived being poisoned on a flight in 2004, only to be murdered two years later in her apartment building.
One doesn't need to be a criminologist or an intelligence analyst to decipher the pattern.
Navalny's episode has led some observers to conclude the U.S. should cease dealing with Russia and begin treating the country as a full-blown adversary. Michael McFaul, the former U.S. ambassador to Russia during the Obama administration, bluntly referred to Putin as an "evil" man worth shunning.
The strong condemnation is more than understandable. Poisoning another human being to stifle his political views is revolting. But cutting off dialogue with Moscow or showering the Russian opposition with assistance will only incite more aggressive behavior from the Russian security services and do nothing to manage the security issues between Washington and Moscow.
It is during times when emotions are at their peak when policymakers need to keep their cool and look at the bigger picture. And the fact is, the U.S. and Russia have business to do.
The most important item on the docket is salvaging a strategic stability framework that prevents the world's two largest nuclear weapons powers from pursuing a 21st-century arms race. While U.S. and Russian officials are finally participating in arms control talks after a years-long hiatus, discussions thus far have been tepid. Washington is pushing Moscow to go beyond a straightforward extension of New START, the 2010 accord that limits both nuclear arsenals. After the latest round of talks with his Russian counterpart this month, U.S. envoy Marshall Billingslea suggested the Trump administration may be open to extending New START if Moscow agreed on a framework that would put all its nuclear weapons systems on the table.
The Russians are highly likely to reject a new, all-encompassing negotiating concept if U.S. missile defense systems are not included as well. But Washington and Moscow can kiss arms control negotiations goodbye if the U.S. simply pulls the plug and walks away.
The U.S. must also take into account possible reprisals from Moscow in the event that the U.S. decides to respond to Nalvany's suspected poisoning. While Russia is by far the weaker power in relation to the U.S., it is not without cards to play. The Trump administration must ask itself whether feel-good policy moves against the Kremlin would actually do anything to change the Russian government's behavior. As Washington has learned with China over the past four months, every action typically has an equal and opposite reaction.
Washington could sanction Russian officials, ministries or organizations thought to be linked to Navalny's suspected poisoning. Targets could include everyone from President Vladimir Putin himself to the local authorities in Siberia. Yet these sanctions would be merely symbolic, have little to no effect in terms of Moscow's policy calculus and force the Kremlin to take reciprocal actions against select U.S. officials.
The U.S. could kick out a few dozen Russian officials, as it did in 2018, after the failed assassination on British soil of former Russian intelligence officer Sergey Skripal. But this wouldn't necessarily be a significant policy response either. At that time, Moscow responded to the expulsions with its own expulsions of U.S. diplomats. The Russians would likely to respond in a similar way now, a tit-for-tat that would only constrict the channels of communication essential to weeding out misunderstanding between two major nuclear powers.
Earmarking more money for Russian civil society may have a lot of appeal on Capitol Hill, particularly for its symbolic way of sending Putin a message that he can't extinguish all of his political opponents with force. But this, too, would have adverse consequences. Links between Washington and anti-Kremlin activity on Russian soil will further empower Putin to stamp out anyone who dares to criticize his 20-year rule. Over the long run, it would provide the Russian government with an excuse to label dissenters as pro-Western miscreants, feeding into the already pervasive belief within Moscow that the U.S. is infringing on Russia's sovereignty and deliberately trying to weaken its influence. The likely result: an increase in the very disinformation and influence operations the U.S. is rightly concerned about.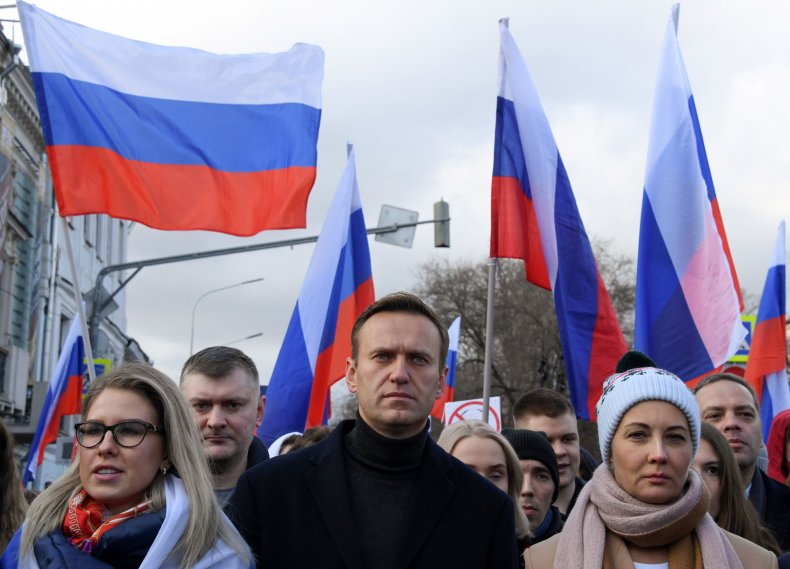 Nalvany appears to be one more heinous example of the Kremlin mercilessly attacking critics to preserve the current order. And if the urge in Washington to do something is strong now, it will be overwhelming if investigators find undeniable evidence of Moscow's involvement. (Russia, of course, is resisting calls for a criminal probe.)
The inevitable question then arises: How should Washington register its condemnation? Short of shattering the U.S.-Russia relationship into pieces, the blunt reality is that there little the U.S. can do. No amount of U.S. sanctions or diplomatic isolation is likely to change how the Kremlin deals with internal challenges to its authority. Besides calling on the Russian authorities to launch a complete, comprehensive investigation of the Navalny incident—ideally with international involvement—Washington's leverage is limited and highly unlikely to pressure Russia into adopting a more constructive course in league with U.S. demands.
The Navalny case is a highly emotional affair. One can only hope the perpetrators will eventually be held accountable for what certainly looks like a crime. But U.S. officials can't allow emotions, however strong, to guide U.S. foreign policy or catapult U.S.-Russia relations into a permanent state of hostility.
Daniel R. DePetris is a fellow at Defense Priorities.
The views expressed in this article are the author's own.