What Sort of Person Gives to Both Clinton and Trump?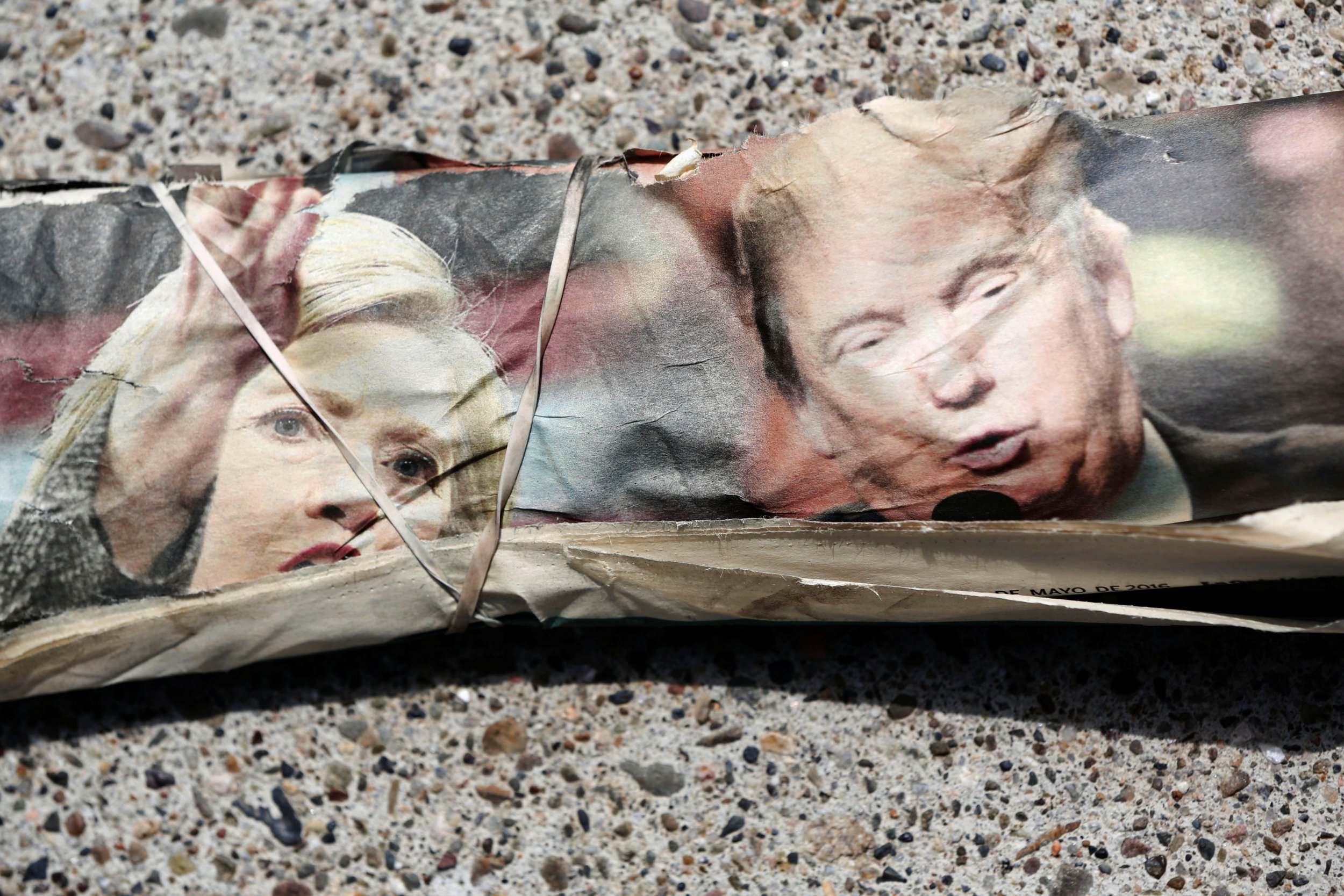 This article first appeared on the Center for Public Integrity site.
Democrat Hillary Clinton and Republican Donald Trump have precious little in common.
But the two all-but-certain presidential nominees do share this: at least three-dozen campaign contributors who gave money to both of them, according to a Center for Public Integrity review of federal campaign finance filings.
The donors compose one of the nation's smallest political clubs, to be sure, although it has its share of notable members. They include a former U.S. ambassador to Sweden, the heiress to the National Enquirer fortune, the mother of an Ohio state senator, a professional poker player, a writer for the ABC hit television series "Castle" and a law professor who has challenged the constitutional eligibility of former Republican presidential contender Ted Cruz.
The reasons for their double dealings vary. Some gave to both politicians after undergoing ideological conversions. Others donated because they were asked by friends or trusted associates. Some Clinton supporters just wanted Trump's iconic "Make America Great Again" hats — even if the money they spent would aid the billionaire businessman's presidential bid.
While Americans may only vote for one presidential candidate come November, there's nothing stopping them from giving money to multiple White House hopefuls. Nine of these overlapping donors contributed $2,700 — the legal maximum allowed during the primary — to both Clinton and Trump. Others gave more modest sums.
With the primary season now nearing its end, both Clinton and Trump are also aiming to make inroads with voters who typically vote for the other party in order to prevail on Election Day in November.
Trump is hoping his populism can win over some Democrats, while Clinton believes that Trump's brash antics will attract some Republicans to support her candidacy.
Both can already claim some converts.
Changes of heart
For instance, Victor Williams, a law professor at Catholic University in Washington, D.C., last year donated $400 to Clinton's campaign as a "dutiful Democrat."
But he now says he's "a Trump man" — and has donated $5,400 to Trump's campaign, $2,700 toward the primary and $2,700 toward the general election.
Another way he's trying to help Trump: He's been the main force behind a so-far-unsuccessful New Jersey lawsuit challenging Cruz's eligibility to be president. Cruz's mother was a U.S. citizen living in Canada when she gave birth to her son. (Presidents must be "natural-born citizens.")
In order to have legal standing for the case, Williams himself also launched a long-shot presidential bid.
On his campaign website, Williams asserts that Clinton should be "criminally indicted" for some of her actions as secretary of state. He further argues that "we must replace the feckless, weak Barack Obama with a strong, determined 45th president."
"What I'm genuinely excited about is the possibility that the established political order and those elites who have been at the trough for 40, 50 years will be sent home," Williams told the Center for Public Integrity . "It's really now or never."
Then there's Anthony Brennan, the owner of a Long Island, New York-based heating and air conditioning company. He says he regrets donating $2,700 to Clinton, whom he calls "corrupt to the core."
"I have no faith whatsoever that this lady can run a country," said Brennan, explaining that he made the contribution to Clinton after being asked to give by some people with whom he does business — and before he had done any research on her.
Campaign finance records indicate Brennan has now also contributed $244 to Trump — money that, he explained, went toward Trump gear, stickers and the 40 Trump signs he now displays in his yard.
"The country has written off the hard-working men who are the backbone, who keep this government funded with our payroll taxes," Brennan told the Center for Public Integrity, adding that he plans to donate up to $100,000 to pro-Trump efforts this year because "our country is in need."
"Finally there's a voice for us," he continued.
Professional poker player Daniel "Miami Boss" Suied also likes Trump's economic views.
Suied, who gave Clinton's campaign $500 last year at the behest of some Democratic Party friends in Florida, has also donated $367 to Trump's campaign, including at least $200 in April.
"I was a huge fan of Bill Clinton," Suied told the Center for Public Integrity . "I like Trump now."
Making hats great again
Meanwhile, New York City-based lawyer Chris DiAngelo, a self-described "Rockefeller Republican," told the Center for Public Integrity he gave Clinton's campaign $2,700 last June, after being asked by a friend.
Six months later he became a Trump campaign donor because, he says, he purchased six of Trump's "Make America Great Again" hats for a New Year's Eve party.
A "big hit" is how DiAngelo described the headwear.
So who will DiAngelo be supporting in November? "It's probably either going to be Hillary or nobody," he said. "Unless Trump does something amazing , like, I don't know, the pope is his running mate."
Television writer and producer Moira Kirland — whose credits include ABC's "Castle," CBS's "Madam Secretary" and the CW's "Arrow" — is a registered Democrat who likewise became a Trump donor after buying merchandise.
"I just wanted to wear that 'Make America Great Again' shirt ironically in January!" said Kirland, who is listed in campaign finance records as giving $211 to Trump and $900 to Clinton.
A similar story played out for Adam Conner, who works for technology company Slack in Washington, D.C., and spent $533 buying Trump hats while at the same time giving $360 to Clinton's campaign.
"I thought they'd be good gifts and a fun collector's item and didn't think I'd have very long to buy them. Guess I was wrong," Conner told The Daily Beast earlier this year.
Reached by the Center for Public Integrity , Conner stressed that he was "a committed Democrat who will support the Democratic nominee," even if his hat purchases helped fund Trump's campaign.
Giving big, saying little
For some of the people who have given money to both Clinton and Trump, their motivations aren't readily apparent. Nor are they particularly willing to discuss their political giving.
For instance, campaign finance records show that Nancy Beang, the former executive director of the Society for Neuroscience, donated $2,700 to Clinton in July. She then donated $250 to Trump in January.
Reached by phone, Beang, who was a member of the District of Columbia Women for Hillary Council during Clinton's 2008 presidential bid, declined to comment.
In March, Beang told The Daily Beast that she was backing Trump because she thought he would "make America great again."
For his part, Jeffrey Sherman, a financial advisor at J.P. Morgan Securities in Boston, gave $1,000 to Trump shortly after Trump launched his presidential bid last summer. Yet he's also given $739 to Clinton so far this year.
Why?
"I'm not commenting," Sherman told the Center for Public Integrity . "I'm the wrong guy to help you out."
Michael Beckel is Politics Reporter at The Center for Public Integrity.