What Is a Space Force? How a Trump Joke Became 'a Great Idea'
President Donald Trump said he wants to create an army capable of fighting wars in space in what began as a joke but he later said was "a great idea."
"My new national strategy for space recognizes that space is a war-fighting domain, just like the land, air, and sea," Trump told a crowd of Marines at the Miramar Marine Corps Air Station in San Diego, California.
"We may even have a Space Force, develop another one, Space Force. We have the Air Force. We'll have the Space Force. We have the army, the navy. I was saying it the other day because we're doing a tremendous amount of work in space. I said maybe we need a new force, we'll call it the Space Force. And I was not really serious. Then I said 'what a great idea, maybe we'll have to do that'."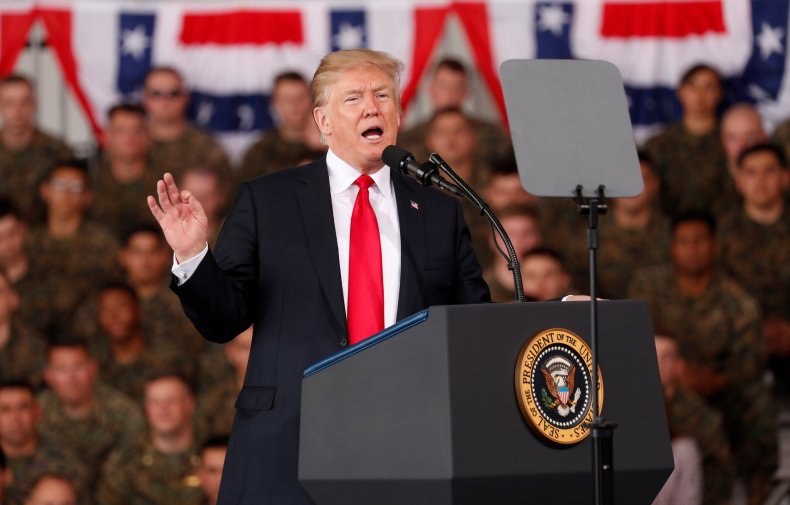 As the audience of Marines laughed and cheered, he added: "That could happen. That could be the big breaking story. Oh that fake news."
Trump continued: "So think of that: Space Force. Because we're spending a lot, and we have a lot of private money coming in, tremendous.
"From the very beginning, most of our astronauts have been soldiers and sailors, airmen, coastguardsmen, and Marines. And our service members will be vital to ensuring America continues to lead the way into the stars. We're going to lead the way in space.
"We're way, way behind. And we're catching up fast. So fast that nobody even believes it."
Trump appeared to be echoing a warning made by General John E. Hyten, commander of U.S. Strategic Command, in a statement to the House Committee on Armed Services on March 7.
"Today, deterrence is more than just our nuclear capabilities," Hyten said. "Deterrence requires integrated planning for all capabilities, across all domains. This enables the synchronized operation and decisive response to adversary aggression anytime, anywhere.
"We must make this concept operational for all domain warfighting throughout the DoD. We must normalize space and cyberspace as warfighting domains.
"There is no war in space, just as there is no war in cyberspace. There is only war, and war can extend into any domain."
The notion of a future where rival states fight in space is not a new one. Space is already used by states for military purposes, such as satellites for surveillance, and it was a focus of weapons research during the Cold War.
Back in 2015, the Department of Defense unveiled a new Joint Interagency Combined Space Operations Center (JICSpOC) "in conjunction with U.S. Strategic Command, Air Force Space Command, and the intelligence community".
"The center will have the capability to develop, test, validate and integrate new space system tactics, techniques and procedures in support of both DoD and Intelligence Community space operations," the DoD said in a release.
"Ultimately, the output of the JICSpOC will enhance U.S. space operations, contribute to operational command and control within the DoD, and improve the nation's ability to protect and defend critical national space infrastructure in an increasingly contested space environment."
JICSpOC was renamed in 2017 as the National Space Defense Center.
Trump is not the first person to come up with the concept of a U.S. Space Force.
Rep. Mike Rogers, a Republican in Alabama and former chairman of the House Armed Services strategic forces subcommittee, floated the idea of a Space Force in 2017.
"We have to acknowledge that the national security space structure is broken," he said in a speech at the 33rd Space Symposium, reported Space News.
"It's very hard for a government bureaucracy to fix itself, and that's exactly why congressional oversight exists. It's the job of the Armed Services Committee to recognize when the bureaucracy is broken and to see that it's fixed."
Rogers concluded: "My vision of the future is a separate Space Force within the Department of Defense."
In January 2018, Russia accused the U.S. of trying to "militarize" space.