What Is Spygate? Before Trump Investigation, It Was a New England Patriots Controversy
Updated | Continuing his crusade to advance the idea that the FBI had spies embedded in his campaign, President Donald Trump tweeted on Wednesday: "SPYGATE could be one of the biggest political scandals in history!"
If that particular turn of phrase sounds familiar, it's probably because the name Spygate has already been used for a high-profile scandal in the sporting world. Spygate has long been the moniker for the scandal that revealed the NFL's New England Patriots broke league rules by filming teams' signals on the sidelines.
ESPN has a helpful, thorough timeline of the scandal you can check out here. The major takeaway of the scandal was that, despite league rules, the Patriots were caught in 2007 filming opponents' signals on the sideline and were punished by the league for it. But the controversy continued when it was revealed the Patriots were required to hand over further tapes that were, in turn, destroyed by the league under orders from NFL Commissioner Roger Goodell. A subsequent report in 2015 from ESPN suggested that the Patriots had acquired deep reserves of film from opponents acquired by team employees disguised to look like media members. And that ESPN report, published years later, took a deep look at the Patriots' relationship with Goodell, revealing the tapes turned over to the league were physically stomped to pieces and that owners of other teams were skeptical of how the cheating scandal was handled.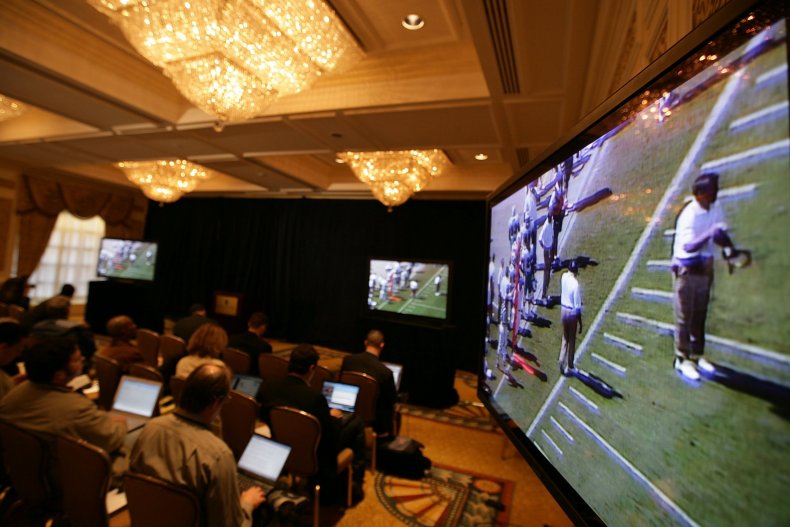 The New England Patriots are perhaps Trump's favorite NFL team—or, at least, the NFL franchise with the highest-profile supporters of the president. Team owner Robert Kraft is a longtime friend of Trump, despite recent reports that he said Trump's mission of discrediting players who kneeled during the national anthem was "divisive" and "horrible."
Coach Bill Belichick reportedly wrote Trump a fawning letter during the 2016 election that read in part: "You've proved to be the ultimate competitor and fighter. Your leadership is amazing. I have always had tremendous respect for you, but the toughness and perseverance you have displayed over the past year is remarkable."
Trump and Patriots quarterback Tom Brady, meanwhile, are longtime buddies, and the famous athlete—while cagey with his political beliefs—notably displayed a "Make America Great Again" hat in his locker.
Update: This post was corrected to remove language that suggested the Patriots secretly filmed practices, which was an allegation denied by the team made in a report that was walked back. Further information about the alleged taping practices from the team was added as well.