What Started the California Camp Fire? Power Line Fault May Be Connected to Deadly Blaze
Pacific Gas and Electric (PG&E) Company experienced a "power outage" on a remote line in northern California immediately before the Camp Fire that has devastated northern California ignited.
The utility company told the California Public Utilities Commission that it experienced an outage on the 115-kilovolt Caribou-Palermo line in Butte County at 6:15 a.m. Thursday, reported KQED.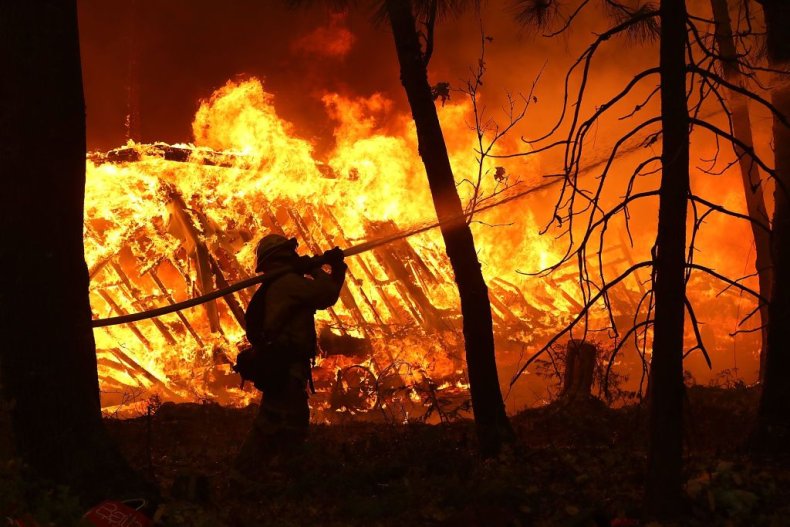 According to the California Department of Forestry and Fire Protection (Cal Fire), the blaze started at 6:29 a.m. on Thursday in a spot near that where the fault was reported.
PG&E send a plane to inspect the fault and noticed damage to a transmission tower on the affected line, the company said. It is not yet clear whether the damage was caused by the blaze.
Cal Fire spokesman Scott McLean said Friday that the cause of the fire is still being investigated, but added that the agency is "looking into all possibilities including electrical equipment failure."
The Camp fire is the most destructive in state history, and has destroyed more than six thousand homes and other buildings, killed nine people and spread to more than 90,000 acres.
The company already faces billions in potential liability in connection with previous wildfires in the state.
The California Public Utilities Commission told the San Francisco Chronicle that the report on the outage would form part of its investigation into the electronics infrastructure in the area where the blaze started.
In a statement to the publication, PG&E spokesman Jason King said that the cause of the Camp Fire has not yet been determined.
"Nothing is more important than the safety of our customers, employees, contractors and the communities we serve," he said. "PG&E has provided an initial electric incident report to the Safety and Enforcement Division of the California Public Utilities Commission. The information provided in this report is preliminary and PG&E will fully cooperate with any investigations."