What State Governors Have Said About Plans To Reopen Their Economies During Coronavirus Pandemic
President Donald Trump announced federal guidelines on Thursday aimed at easing social distancing while carefully reopening the economy to avoid reigniting the coronavirus.
Trump outlined the federal guidelines and strategies in an 18-page document to the 50 state governors during a phone conversation, which included phased reopening of some businesses such as gyms, bars, and movie theaters, the continued practice of remote working and social distancing, and resuming elective surgeries.
The federal guidelines for reopening come a month after most of the country went into lockdown at the start of the coronavirus pandemic.
Meanwhile, most states have either unveiled their plans for a phased reopening, are working on a comprehensive reopening, or have issued executive orders to reopen their economies in a way that prevents the spread or resurgence of COVID-19. However, seven states -- Arkansas, North Dakota, South Dakota, Wyoming, Iowa, Nebraska, and Utah -- have not issued a stay-at-home order.
Here are what individual states have announced regarding reopening amid the pandemic:
California
On the West Coast, California, Oregon and Washington have formed a regional alliance to consider lifting the stay-at-home orders of each state.
"This cannot be a permanent state," California Governor Gavin Newsom said in a Los Angeles Times report. "These stay-at-home orders have a profound impact on the economy."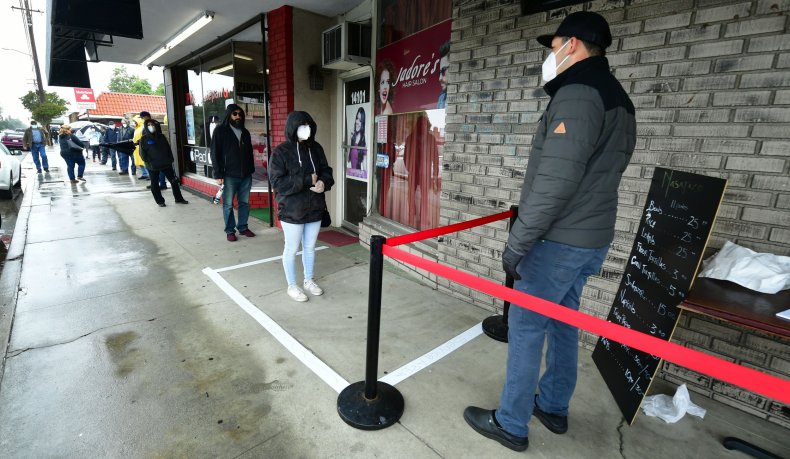 Some of the guidelines California and neighboring states are considering include: Expanding coronavirus testing, protecting high-risk groups, including seniors, and the immune compromised, ensuring hospitals are prepared and equipped to care for patients, creating and developing effective coronavirus treatments, maintaining physical distancing.
Oregon
Oregon Governor Kate Brown said she supported Trump's federal guidelines for reopening and was working toward a similar that included a gradual lifting of social distancing restriction, and reopening businesses as COVID-19 cases begin to decline.
Washington
Washington Governor Jay Inslee said the state won't reopen until the coronavirus curve is flattened.
"We are not to the first gate even in their (federal) guidelines, which is to have a downward curve for 14 days," Inslee said in a Seattle Post-Intelligencer report.
Inslee added that social distancing would remain in practice and the infection rate would have to decline sharply before Washington state planned a phased reopening.
Nevada
Nevada Governor Steve Sisolak said he and other state leaders were working on a plan to reopen the state after weeks of quarantine that will make the health and safety of citizens a top priority. Sisolak said there is no specific date set and that the closure will remain in effect at least through the end of April.
Arizona
Arizona Governor Doug Ducey began reaching out to business leaders statewide to gather ideas for reopening the state's economy and tourism. Ducey said the eventual plan would also involve consulting with health care leaders as well as continued social distancing measures.
New Mexico
New Mexico Governor Michelle Lujan Grisham has been asked by small business leaders, but apparently believes it's too soon, according to a report in the Las Cruces Sun-News.
"We appreciate their suggestions, and we will evaluate them thoroughly, but the plain overriding fact is we cannot put the cart before the horse," Lujan Grisham said in response to the federal guidelines.
Colorado
Colorado Governor Jared Polis outlined a number of criteria for reopening the state's economy on Wednesday. Polis said the state will focus its energies on suppressing the coronavirus, increasing testing for and containing the virus, enhancing the state's health care system to meet demand, protecting those who are most at risk of the coronavirus, continued social distancing, and continued monitoring and evaluation of policies.
Idaho
Idaho Governor Brad Little said Friday that he and other Idaho leaders are in sync with Trump's guidelines for a phased reopening of the economy. Little added that the guidelines indicate that the state is moving in the right direction, but social distancing and the use of face coverings must be maintained for now.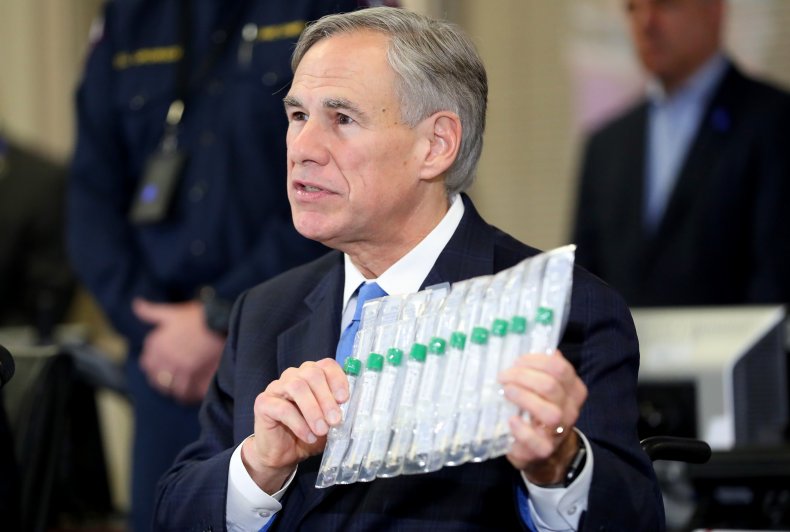 Texas
Texas Governor Greg Abbott announced a phased and comprehensive plan to reopen that would begin early next week and continue through the end of April. The phased will be lead by Abbott's hand-picked team that consists of Lt. Governor Dan Patrick, House Speaker Dennis Bonnen, Attorney General Ken Paxton, and State Comptroller Glenn Hegar. The first phase calls for continued social distancing, the closure of schools for the remainder of the school year, and the reopening of state parks starting on April 20.
Oklahoma
Oklahoma Governor Kevin Stitt announced plans to reopen the state at the beginning of May. Stitt said Oklahoma, which has 2,465 active coronavirus cases, is in great shape with cases trending down. The plan, Stitt said, will be based on scientific data and the advice of health care professionals.
Kansas and Missouri
The states of Kansas and Missouri are discussing a possible plan of creating a pact of reopening their economies, much like the pacts formed by states along the East and West Coasts, according to the Kansas City Star. Missouri Governor Mike Parson isn't as enthusiastic about a pact as Kansas Governor Laura Kelly, who feels it is the right thing to do for their respective states.
So far, there is no plan, and Kansas legislators have grown wearying of waiting and wrote to Kelly demanding a plan of action moving forward.
Minnesota
Minnesota Governor Tim Walz issued an executive order on Friday promoting outdoor activities and allowing outdoor facilities such as golf courses, parks, marinas and campgrounds.
Louisiana
Louisiana Governor John Bel Edwards and other state leaders are mapping out a plan to restart the state's post-coronavirus economy. Like Texas, Edwards is launching a task force that will open businesses and protect the health of citizens. Edwards did not say when this plan will be presented.
Mississippi
Mississippi Governor Tate Reeves said Thursday that a state task force to reopen the economy, according to The Clarion-Ledger. The task force, dubbed the Restart Mississippi Task Force, are members of the Governor's Commission on Economic Recovery. Reeves has not set a date to reopen the economy, but extended the state's stay-at-home order, previously set to expire on April 20, for an additional week.
Alabama
Alabama Gov. Kay Ivey directed Lt. Governor Will Ainsworth to work with small business task force to come up with a plan of action. On Friday, the team released a 162-page its phase one report of Reopening Alabama Responsibly. Alabama has been on a strict stay-at-home order since April 3. Ivey says she will review that order before April 28.
Tennessee
Tennessee Governor Bill Lee said the state is planning a phased reopening in May, but did not provide a specific target date, the Nashville Business Journal reported.
Kentucky, Indiana, Wisconsin, Illinois, Minnesota, Michigan
Kentucky Governor Andy Beshears said Wednesday that Kentucky will partner with six other states to coordinate reopening the regional economy by May. Beshears said he'd had discussions with Ohio Governor Mike DeWine and Indiana Gov. Eric Holcomb, as well as governors from Wisconsin, Illinois, Minnesota and Michigan.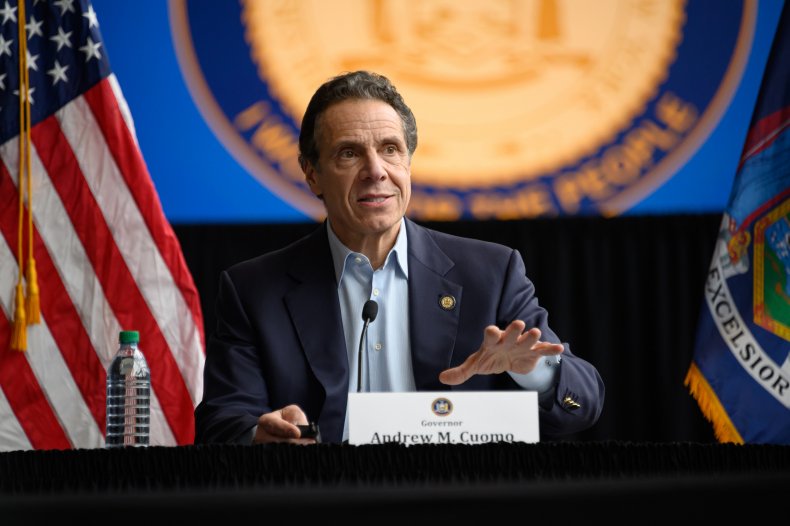 New York, New Jersey, Connecticut, Massachusetts, Pennsylvania, Delaware, Rhode Island
Several East Coast states announced this week they were joining forces to reopen their state economies in the wake of the coronavirus. The coalition, led by New York Governor Andrew Cuomo, includes Connecticut, Massachusetts, Pennsylvania, Delaware, Rhode Island and New Jersey, CNN reported.
Florida
Florida Governor Ron DeSantis has opened some of Florida beaches, as well as a few parks, too. However this is no plan yet for the rest of the state economy, which relies heavily on tourism and its beaches.
Georgia
Georgia Governor Brian Kemp said it may too soon to reopen the state's economy as they work to increase the state's coronavirus testing capacity.
South Carolina
South Carolina Governor Henry McMaster said he is working to have the state's economy running normally by the end of June. McMaster said on Thursday that he is formulating a plan called "Accelerate South Carolina" that will help create the best practices toward that goal.
North Carolina
North Carolina Governor Roy Cooper said the new normal in the state will rely heavily on testing. Cooper said the plan leaders are working on for North Carolina will require federal assistance and is within the parameters of federal guidelines.
Virginia
Virginia Governor Ralph Northam said the social distancing measures implemented are working, and state leaders are cautious about setting a timeline for reopening the state's economy. Virginians are under a stay-at-home order through June 3.
Maryland
Maryland Governor Larry Hogan said the state remains under a stay-at-home order, but there're signs of improvement. Hogan said that while there is no timeline to reopen the state's economy. Hogan is working with a task force that includes creating a plan to expand the state's testing capacity.
Maine, Vermont, New Hampshire
Maine Governor Janet Mills said Thursday she is formulated plans to reopen with the governors of Vermont and New Hampshire. However, each state has to coordinate reopening when stay-at-home orders are lifted.
Alaska
Alaska officials are asking everyone to maintain their social distancing despite having one of the lowest infection rates at just 300 confirmed coronavirus cases. Alaska Gov. Mike Dunleavy announced plans on Wednesday to reopen parts of the state's health care industry in areas that require minimal personal protective equipment. Officials have not unveiled any plans to reopen the state's economy.
Hawaii
Hawaii Governor David Inge said while the state has among the fewest cases of coronavirus in the U.S with just 11, it may not meet the criteria for a phased opening of the economy, according to federal guidelines, the Star-Advertiser reported.
Montana
Montana Governor Steve Bullock said Friday that a phased plan for reopening the state's economy is in the works with a target of the first week of May. The plan includes easing restrictions for social distancing and working closely with health care providers and business leaders to ensure a smooth transition.
West Virginia
West Virginia Governor James Justice has put a stay-at-home orders in place until further notice. West Virginia was one of the last states in the U.S to report any cases of coronavirus and has not yet seen a peak in the state.