What is a Storm Surge, Eyewall, Landfall? Key Hurricane Florence Terms Explained
As the Carolinas get battered by Hurricane Florence, a number of key and often confusing terms that have suddenly entered the public consciousness could use some explaining.
Shortly after 7 a.m. ET Friday, Florence made landfall near Wrightsville Beach, North Carolina, with winds for the Category 1 hurricane clocked at 90 mph. The storm had died down significantly in terms of wind speeds, but state and federal officials were still issuing warnings for residents to either evacuate or stay as far away from Florence as possible.
While local residents may have felt some minor relief that a more severe storm would not hit the coastline, Florence was still projected to carry well into southeast North Carolina and into the heart of northeast South Carolina.
The terms below will be key for residents and those around the country concerned about Florence and its path.
Eyewall
Also referred to as a wall cloud, the eyewall of a hurricane—or tropical cyclone—is the clouds that surround the very center of the storm. Florence's eye hit North Carolina Friday morning.
Storm Surge
Now considered the biggest threat from Florence, a storm surge is an unusual rise in sea level that results from a hurricane. According to the National Oceanic and Atmospheric Administration, the height of a storm surge is measured by "the difference between the observed level of the sea surface and the level that would have occurred in the absence of the cyclone."
Officials estimated Florence could generate storm surges along the Carolinas' coastline as high as 13 feet.
Indirect Hit
Florence was considered a massive storm in terms of its width, touching a number of areas without its eye hovering over a particular region. Thus, many areas that are not considered to be in Florence's path would still feel an indirect hit, which includes hurricane-like winds and "tides of at least four feet above normal," according to the NOAA.
Landfall
Simply put, landfall is when the center of the hurricane hits the coastline. The National Hurricane Center reported that Hurricane Florence made landfall on the North Carolina coast with wind speeds of 90 mph.
Tropical Storm
Florence was projected to die down into a tropical storm late Friday evening and into early Saturday morning. The difference in the wind speeds is substantial but a tropical storm remains extremely dangerous. A tropical storm has winds as high as 73 mph and as low as 39 mph.
Tropical Depression
By late Sunday night and early Monday morning, Florence was projected to become a tropical depression and carry well into a number of states like Tennessee, West Virginia, Kentucky, Maryland, Ohio, Pennsylvania and the northeast. A tropical depression has winds of 38 mph or lower.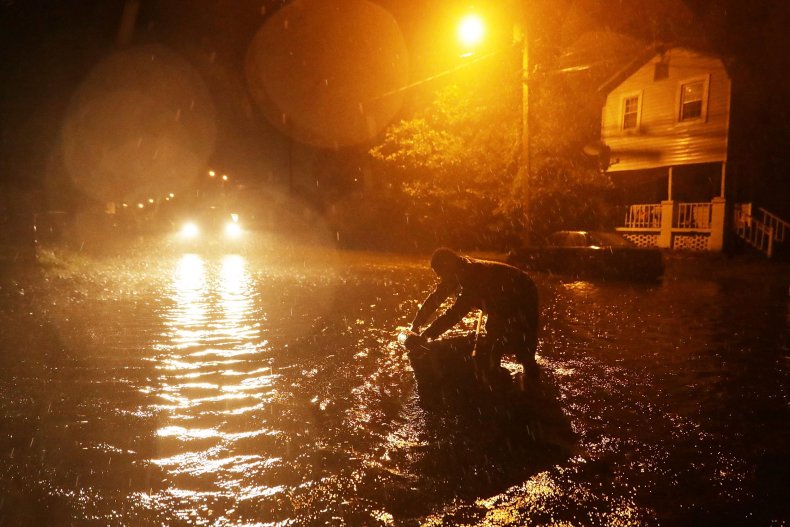 What is a Storm Surge, Eyewall, Landfall? Key Hurricane Florence Terms Explained | U.S.