What Is Taylor Swift's 'ME!' About? Everything You Need To Know About The Single, Video Featuring Panic! At The Disco's Brendon Urie
Taylor Swift released a new single to mark the beginning of her seventh album cycle, or TS7 as Swift's fans call it, Friday at midnight ET. The song, titled "ME!" was only announced by the singer two hours before its premiere. Along with the announcement came news that Panic! At The Disco lead singer Brendon Urie would be featured on the single.
"ME!" was released after daily clues on Swift's Instagram account, and eventually, the reveal of a related mural in Nashville on Thursday afternoon. Here's everything you need to know about the new single, its message and what it means for Swift's new era.
What Is rhe Message?
Swift's "ME!" is a self-love anthem that makes a broad statement about individuality, and accepting oneself. The message is clear: Swift is an individual, and there's no one like her. It's a message she seemingly wants to give to fans: embrace individuality and a sense of self, and don't apologize for being exactly who you are.
What Does The Video Feature?
The video begins with a pink and white snake, a clear ode to Swift's Reputation era, which was littered with snakes and defiant personality. The snake then explodes into dozens of butterflies. From there, Swift's world evolves into a celebration of color and self. She walks through a room full of clouds, out into the street with marching bands and a glass, colorful castle. Through most of it, Swift is accompanied by Panic! Singer Urie, who brings his own personal flare to the celebration of self and accepting one another.
The graphic below, provided by Statista, shows Swift's most viewed videos on YouTube.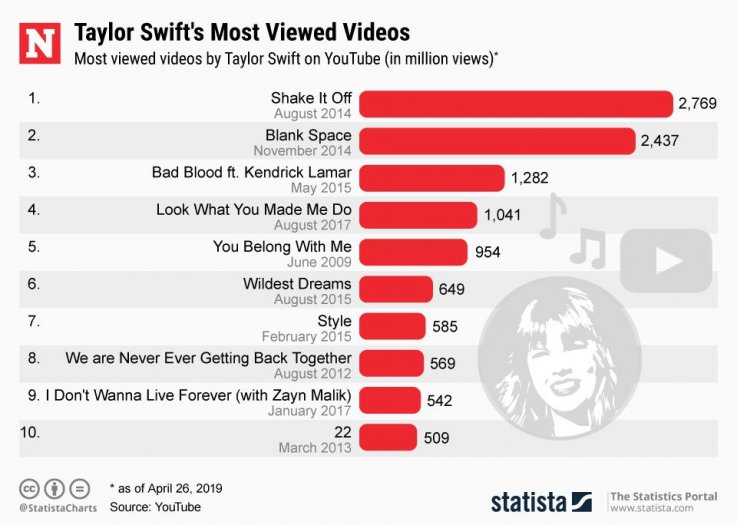 What Is Brendon Urie's Role?
Urie has an extensive feature in the song. He first enters in the second verse, and continues his own parts, both solo and accompanying Swift, through the end of the single. Urie is also ever-present in the video, where he and Swift storm the streets of a colorful city in explosions of color and joy.
What Does "ME!" Mean For Swift's Seventh Album
"ME!" may not speak for the entire seventh Swift album, which is sure to come after, but the difference between the track and the entirety of Swift's Reputation era is stark and dramatic. "ME!" is a celebration, an ode to self and an expression of joy. It's wildly different from Reputation, in which Swift presented a dark-colored, reinvention of herself.
Instead of reinvention in the new era, Swift seems to be regrouping with her roots, ones of positivity and fun. From light colors to the new pop-base-filled tune — there's no hip-hop beat in sight, sorry Reputation — Swift seems to be making a statement on accepting who you truly are. The tune is nearly a throwback to Swift's "Blank Space" release, a song that was ironically self-identifying by taking on personalities the media had previously assumed of Swift. "ME!" is similar in Swift's way of calling out her own characteristics, but instead of mockery, this time, it's genuine.
This article was updated to include an infographic.
What Is Taylor Swift's 'ME!' About? Everything You Need To Know About The Single, Video Featuring Panic! At The Disco's Brendon Urie | Culture