What Tia Mowry Learned About 'Privilege' While Watching Her Mother Be Discriminated Against at the Height of 'Sister Sister'
Tia Mowry knows all too well about the privilege that white people in the U.S. experience compared to black Americans. She witnessed it first-hand while growing up in a biracial household.
In a heartfelt message on Instagram on Thursday the actor opened up on some of the most unsettling moments of her childhood she faced while being raised by her white father and black mother, Timothy and Darlene Mowry. Tia Mowry said some of her most memorable experiences witnessing racism came while she and her twin sister Tamera Mowry-Housley were at the height of their careers with the very successful long-running sitcom, Sister Sister, which aired from 1994 to 1999.
"#tbt This is a photo of my beautiful mother. Growing up #biracial, mom is black and dad is white, it was very clear to me seeing the #privilege that my dad had as opposed to my #mother," Tia Mowry wrote. "Some examples, during our #sistersister days when traveling for work we would often fly first class. There were several times my mother was asked if she was in the right seat. Another incident that stood out for me was when we were buying our first home as a family. My mother walked in the house model with us asking for a brochure. A person had said the houses were sold out. My dad walked in and it was a different story."
Tia Mowry's post comes during a time of civil unrest in the U.S. as many people across the country have taken to the streets to protest racial injustice, particularly police brutality and the killing of unarmed black Americans following the death of George Floyd, a black man in Minnesota who was killed by white officer Dereck Chauvin last week. Tia Mowry has used her platform to call for justice for Floyd's death and has shared a number of resources for fans who are also hoping to eradicate racism and police brutality.
The Tia Mowry at Home star continued by saying that her "#goal is to see #change" in the way black people are treated.
"This year has been a tough year. Several tears have been shed. However, a friend told me these tears will not be wasted. The #love and #support around the world has kept me going. A #change is gonna come," she said.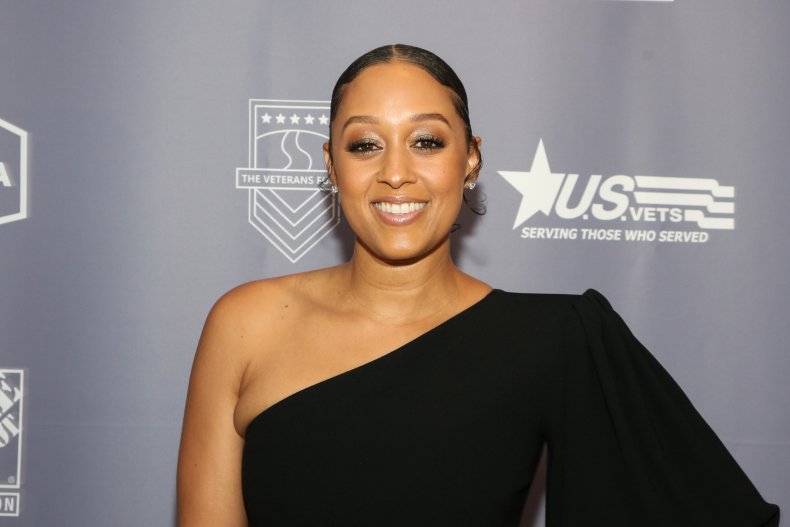 Newsweek reached out to Tia Mowry but she did not respond by publication.
This isn't the first time a Mowry twin has opened up on their experiences being discriminated against. After tying the knot to Adam Housley, a white journalist, in 2011, Mowry-Housley received an outpour of racist criticism from naysayers, however, her mother's wisdom and experiences helped The Real co-host see beyond the negative comments.
"When my mom found out that I was dating a white man, she said, 'Listen, I went through a lot and I want to make sure you love this man, because it's not easy. You'll face scrutiny. So make sure that you guys are in this together and make sure you understand what you will face.' I said, 'Mom, what are you talking about? It's 2005. People aren't going to care!' But she was right," Mowry-Housley said in a 2017 interview with Momtastic.
She added: "I look at my parents and I think, 'Wow, they must be really strong, because what they've been through is 100 times worse than what we've gone through.'"