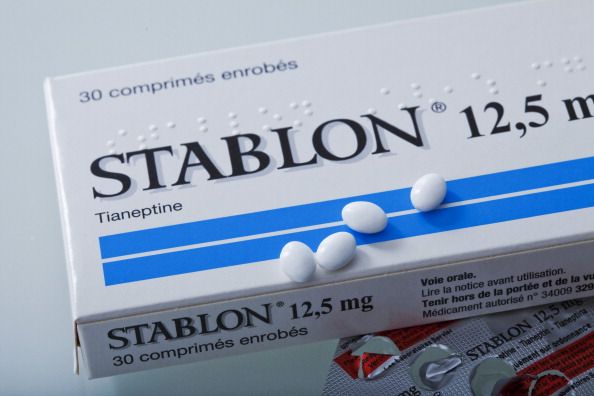 Tianeptine is a drug that can give users an opioid-like high. It is used as an antidepressant in some countries, but has not received approval from the U.S. Food and Drug Administration. And since it's easy to buy online, it's sometimes abused.
Calls to U.S. poison control centers about the drug have soared since 2015, according to a new report published by the Centers for Disease Control and Prevention. Health officials are now concerned that tianeptine could pose a public health threat.
The National Poison Data System documented about 218 calls relating to tianeptine exposure between 2000 and 2017. Most of the calls happened during the last four years, according to the report.
"In light of the ongoing U.S. opioid epidemic, any emerging trends in drugs with opioid-like effects raise concerns about potential abuse and public health safety," the report said.
Lawmakers are also taking note. In April, Michigan Gov. Rick Snyder passed legislation to reclassify tianeptine as a Schedule II controlled substance after a series of overdoses last year.
"It's an extremely dangerous drug which has just entered the Michigan market over the last year," Sen. Rick Jones, a Republican from Grand Ledge who sponsored the bill, told the Associated Press just before the legislation passed.
Abuse of the drug can lead to dependence. The clinical effects of withdrawal were reported by many of the callers who were seeking assistance from poison control experts.
The report found that most tianeptine exposures occurred among people between the ages 21 and 40 years old. They suffered from neurologic, cardiovascular, and gastrointestinal symptoms, with some effects mimicking opioid toxicity.
Internet chatrooms could be helping to fuel the problem. "Several online discussion forums among users describe the euphoregenic effects of tianeptine," the report said.
The authors also noted that in 83 of the incidents, tianeptine was used in combination with other drugs, including 26 cases in which it was used with phenibut, another a depressant and is also taken recreationally. In 10 cases tianeptine was used with opioids.
In April, a substance abuse recovery coach Alyssa Wood testified before the Senate Judiciary Committee about her addiction to tianeptine.
"I could not get out of bed, go to work, have a normal functioning day without (tianeptine sodium) in my life," she said during the hearing. "I am convinced that (it) is the next epidemic."
Uncommon Knowledge
Newsweek is committed to challenging conventional wisdom and finding connections in the search for common ground.
Newsweek is committed to challenging conventional wisdom and finding connections in the search for common ground.
About the writer
Lisa Spear is a science writing fellow at Newsweek. She's previously contributed to a number of other outlets including Time and PBS Frontline. She most recently worked as a health reporter for the Daily Hampshire Gazette in Massachusetts.