What A Tie With Wales Means for U.S. Chances to Win World Cup
The U.S. faced off against Wales in its first World Cup game this year, and a disappointing ending handed the U.S. one point instead of three after a penalty forced the two teams to settle for a draw.
The United States men's national team (USMNT) made its return to the world's biggest soccer stage for the first time in eight years on Monday. Despite a strong start thanks to an opening goal from Tim Weah, Wales' Gareth Bale seized on a penalty, scoring a point that tied the game 1-1.
With the game at full time, USMNT came away with one point, instead of the three points they could have had if they held onto the lead they carried throughout the first half of the game. Teams receive three points for a win, while a draw or tie only results in one point. No points are given for a loss.
Countries are battling it out for the top two spots in each group. The U.S. is in Group B with Wales, England and Iran. Now that the U.S. is tied for second with Wales, with one point apiece, the current standings have England in the lead with three points and Iran in last with zero. Monday's tie means the U.S. will need an even stronger performance in the first round of the tournament to advance to the round of 16 before the quarter-finals.
If two teams are tied by the end of the first knockout stage, which would most likely be between the U.S. and Wales at this time, the team that moves forward with England would come down to the goal differential. As it stands, the two teams have scored the same number of goals this World Cup.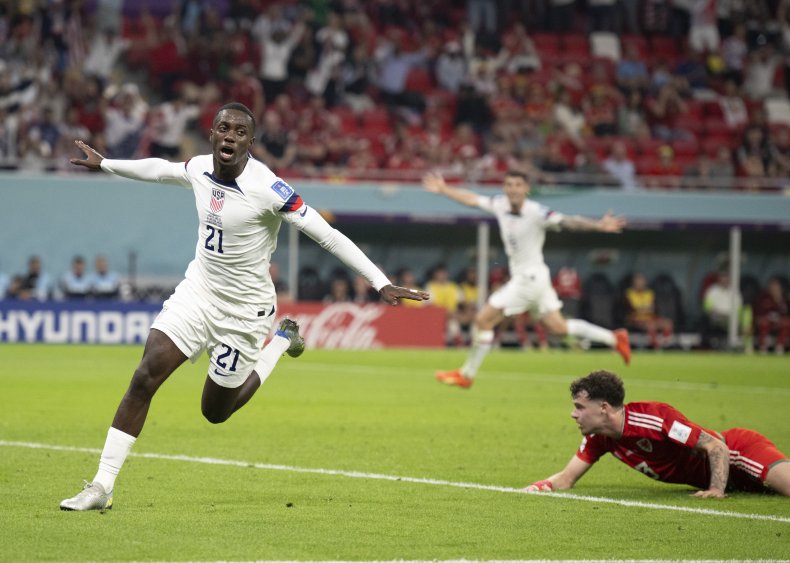 The tournament is split into eight groups, A to H. In April, the groups were drawn randomly from four pots based on their FIFA world ranking. The highest four teams were placed in the first pot, the next four in the next pot, and so on.
The next USMNT game will take place on Friday against England. The team will then play Iran next Tuesday.
European competition has historically hurt U.S. chances of victory. Of the 21 World Cup matches against a European team, the USMNT has won just three games.
Of Group B, England has always been thought to be the best team. England handily won against Iran on Monday, suggesting that the second team that will make it out of this round will ultimately come down to which one can fare against Iran.
Update 11/21/22 5:09 p.m. ET: This article was updated with more information.